How's this for putting up the numbers: Mike Macenko, Rich Petrunyak and Dock Booker combined to go 18-for-18 with 18 home runs . . . that's right, 18-18-18 . . . for Dave Neale's Nationwide Advertising Services team from Cleveland in the 1981 Shrine Classic at Spartanburg, S.C. That was in one game!
Mike Macenko, Dock Booker and Rich Petrunyak had a herculean game for Nationwide Advertising of Cleveland in the 1981 Shrine Classic in Spartanburg, S.C. All they did was combine to go 18-for-18 with 18 home runs!
Bruce Meade hit one with a titanium bat in a hitting exhibition at the Pif in Canada one year that cleared the stands on top of the hill and landed in the street . . . well over 500 feet. The 6-foot-6, 265-pounder they called "The Bruiser" hit many, many shots that are legend in parks all over the country. But he would always tell you: "I'm a line drive hitter. I'd rather have a good batting average." And he did.
The most consistent home run hitters (because they hit towering blasts): Mike Macenko, Craig Elliott and Rick Scherr. And they consistently put up the big numbers to prove it. The late Dirk Androff hit towering blasts too . . . but he was like Meade. He went for the batting average. There were other great home run hitters — Jim Galloway, Paul Tomasavich, Tex Collins, Don Arndt, Stan Harvey, Ron Patterson, Bert Smith, H.T. Waller, Al White, Rick Wheeler, Mike Parrott, Charles Wright, James Boyett, Bill Gatti, Benny Holt,, Herman Rathman, Chic Downing, James Abercrombie, Buddy Alley, Jim Fuller, Dave Steffen and Mighty Joe Young to name a few. Of course, before they are through Carl Rose, Wendell Rickard, J.C. Phelps, Dewayne Nevitt, Rusty Bumgardner, Hank Garris, Larry Carter, Dan Schuck, Todd Joerling, Larry Fredieu and Jeff Wallace will rank right up there on the all-time list.
Mighty Joe Young always said he could hit it out with a rolled up newspaper. And he did hit it out with street shoes on . . . one night when he was running late and did not have time to change his shoes. He was running late at the 1977 ASA national tournament, had a tussle with the parking lot attendant because he parked in the wrong area and was left off the all-tournament team, despite having a top-notch weekend as Nelson's came out of the losers bracket to beat Ken Sanders twice for the title.
Ten HRs in a game . . . that was accomplished by Don Arndt, Mike Macenko and Ricky Huggins.
Mike Macenko had 16 and 15 HRs in doubleheaders during Steele's barnstorming days.
Mike Nye earned a mind-boggling 13 MVP awards in regular season tournaments in two years — 1975 for Nelson's and 1976 for Warren Motors. Plus he shared the ASA MVP award with teammate Ron Ford at the end of the 1976 season.
During a 6-year stretch for Steele's (1985-90), Mighty Mike Macenko racked up 3,192 home runs and 6,298 RBI. His HR totals: 315, 410, 844, 830, 385, 408 (in a total of 1,581 games). The team's total: 26,372 That's an average of 15.7 per game. Steele's had 6,690 HRs in 365 games in 1987 and 6,331 in 386 games in 1988.
Elite, based out of Gordon, Ga., compiled a 332-33 record for three years (1983-85), winning 40 of 49 tournaments. The 1985 team, with the likes of Bruce Meade, Charles and Paul Wright, Bill Pollock, Cecil Whitehead, Steve Williams, Freddie Trice, Ron Ford, Doug Brown, Rick Wheeler and Buddy Slater, was 72-5 through the regular season, winning 11 of 12 tournaments and holding season margins over Steele's (8-3) and Howard's (9-2), the only other Super teams that year. However, Elite had to come out of the losers bracket to win the final leg of the Triple Crown (the USSSA after Howard's won the ISA and Steele's the ASA). Slater had two called third strikes on behind-the-back pitches in one inning vs. Steele's in the Petersburg, Va., NIT. Elite won the "Pif" in Canada that year despite hitting only 13 home runs in 5 games, and two of the HRs were inside-the-parkers by Paul Wright in the same game. Elite pulled several double plays, and an around-the-horn triple play.
Other low loss seasons around that time were 4 by Little Caesar's out of Detroit in 1970, 2 by Warren Motors of Jacksonville in 1976 (both to Tom's of Columbus, Ga.) and 5 by Smythe Sox of Houston in 1986. Nelson's 1979 team went 80-10 and the Smythe Sox of 1987 went 96-10. Of course, the Steele's Silver Bullets went 226-9 in 1990, including 142 wins in a row. Campbell's Carpets of California went 118-12 in 1980 and Howard's/Western Steer out of North Carolina went 160-15 in 1981 en route to their Triple Crown achievements. Other big won-lost ledgers: 117-14 and 122-15 for Howard's Furniture in 1973-74; 111-18 for Nelson's in 1977; 93-15 for Campbell's in 1978. Ken Sanders out of Alabama had good years with good players in the late '70s and early '80s, but managed only one championship — the NSPC in 1982.
How about this game in 1985 between two teams that were not Super powers? Newman's of Tallahassee outlasted Ray's of Alachua, Fla., 55-54, in an 8-inning game in the Rose City tourney at Thomasville, Ga. Newman's was enjoying a 40-19 lead before drawing blanks in the sixth and seventh. Ray's, the ASA Major runner-up the year before, tied the score on Randall McGee's fourth HR in two innings, then Newman's hit for 15 runs on 9 HRs in the top of the extra inning. Ray's came back with 14 runs, but came up one short. The final home run count: 31-29 Newman's. Earlier in the tournament, Fred Miller had two grand slams in a 23-run inning for Newman's.
Steele's had 3 players go 12-for-12 in a 108-run game May 25, 1987 at Wichita Falls, Texas — the first three batters in the order (Doug Roberson, Mike Bolen, Mike Macenko). Macenko had 9 HRs, Roberson and Bolen 6 each. Ricky Huggins was 11-for-12, with 7 HRs. Macenko had 17 RBI, Jeff Stamps and Ken Dain 16 each. Dain had 7 HRs, Stamps 6. Ron Parnell, the last man in the lineup, had 6 HRs. Steele's had 22 runs in 1 inning, 26 and 23 in others. It was a 6-inning game.
Carl Rose had 15 successive HRs at Poway, Calif., in 1997 when Lighthouse came out of the losers bracket to double dip Sunbelt. He was 9-for-9 with 7 HRs in one game. He had 28 for the tournament. Lighthouse totaled 200 in 6 games. Mike Macenko had strings of 10 and 12 HRs in a row. When this scribe fielded a team in Panama City (1964-76), Johnny B. Newsome, recruited from the high school baseball team, had 13 HRs in succession.
The most HRs in a tournament? 32 by four players . . . David Beaird did it for Ken Sanders in 1977 at Spartanburg, S.C.; Herman Rathman did it for Nelson's in 1978 at Marietta, Ga.; Britt Hightower did it for Ritch's/Superior in 1994 at Salem, Va.; and Chris Graves did it for Brandon's in 1997 at Chattanooga, Tenn. Three players have hit 30 . . . Warren Scarborough for Barbeque Kitchen in 1979 at Panama City, Fla., Dave Steffen for Converters/Vernon's in 1994 at Brooklyn Center, Minn., and Rusty Bumgardner for Shen Valley in 1997 at Maryville, Tenn. Wendell Rickard had 35 in 1997 for a "pick-up" team in an offseason tournament at Lake City, Fla.
Ricky Huggins once had 20 HRs in 21 swings over four games in two days (believe it or not, Sunday in Georgia and Monday in Kennewick, Wash.) That was during Steele's road days too.
Steele's had 10 HRs in succession on a stop at Wyoming, Mich., in 1987.
When he was with the Steele's barnstorming team, Doug Roberson had 20 RBI in one game and 21 in a game the very next night. Believe it or not, one game was played in Utah, the other in California. Steele's had some wild and crazy scheduling back then. Yours truly was the "mad" scheduler.
A couple of years earlier, Roby had 44 RBI in 3 games in Colorada. And he had 2 grand slams in 1 inning . . . twice. How about those numbers? Don Clatterbaugh, who is still playing at 50-plus, once had 2 slams in 1 inning for Dave Carroll's team. He had 13 slammers that season.
The All-Steele's team from 1983-89: Rick Weiterman, p; Craig Elliot, c; Dennis Graser, 1b; Mike Macenko, 2b; Charles Wright, 3b; Ron Parnell, ss; Doug Roberson, of; Scott Virkus, of; Joe Young, of; Ricky Huggins, of; Bill Blake, dh; Greg Whitlock, Mike Bolen, Monty Tucker, utility.
The All-Steele's team from 1971-81: Larry Garrard, p; John Geckle, c; Al White, 1b; John Brenner, 2b; Tim Haley, 3b; Ted Keysor, ss; Cliff Carpenter, of; Dennis Helmig, of; Joe Young, of; Henry McBeth, of; Rick Hasty, dh; Ray Crisp Sr., Steve Barrington, Bob Mulcahy, utility.
Steele's holds records for runs and home runs in a game in both the ASA Super Nationals and the USSSA World Series. Steele's beat Capitol Insulation of California 84-22 in the 1987 USSSA World Series at Waterloo, Iowa. Steele's had 53 home runs — 8 by Kenny Dain, 6 each by Mike Macenko and Craig Elliott and 5 each by Doug Roberson, Ron Parnell, Monty Tucker and Jeff Stamps, 4 each by Scott Virkus and Mike Bolen. Steele's scored 47 of the runs in back-to-back innings. Then in the 1989 ASA Super at Oklahoma City, Steele's beat Instant Landscape of Florida 75-21, with a 19-run inning and a 20-run inning. Back then, there was no rule run and both games went seven innings. Steele's was the home run vs. Capitol. Steele's had 56 HRs vs. Instant — 8 by Dirk Androff, 6 each by Bill Blake and Todd Joerling, 5 each by Ron Parnell and Ernie Montgomery and 4 by four players (Craig Elliott, Monty Tucker, Ken Loeri and Scott Virkus).
Only three players have led the Majors in home runs and batting averages in the same year — 1983 Craig Elliott 390 HRs, .765; 1991 Carl Rose 230 HRs, .751; 1994 Jimmy Powers 175 HRs, .790. Two other times, the batting average lead is unofficial: 1973 Bert Smith 218 HRs, .694; 1982 Rick Scherr 356 HRs, .708.
John Keigley has played on four USSSA World Series runner-up teams since 1990 — Superior/Apollo in 1990, Williams/Worth in 1992, Shen Valley/DJ's in 1995 and Dan Smith in 1996.
Remember Dave Elder? The little, bespectacled pitcher from Louisville. He was the key reason for a less than super team winning the Smoky in 1988. And it just wasn't because he was a good pitcher. All he did was go 8-for-9 with 3 homers and 9 RBI when Starpath upended Marlton Trucking 59-56 in the finals at Maryville. Dave Johnson made a diving catch in the outfield of a knuckleball that was the biggest play in the game. Later that same season. "D.J." also ended up being the MVP at the ASA Super Nationals in Oklahoma City in which Starpath came out of the loser's bracket to double-dip Sports Heroes of Minnesota 18-15 and 17-13 (after having squeaked by Steele's 22-21 in the losers bracket). Johnson hit .688 with 11 home runs and 22 RBI.
How about this for a season . . . a career for some folks? In 1990 for the Steele's Silver Bullets, Mike Macenko (we called him Mighty Mike and Mike The Masher back then; he liked Roy Hobbs — The Natural; now he goes by The Big Cat) batted .728 with 408 HRs in 231 games; he batted .717 with 162 HRs in 77 tournament games; and he batted an awesome .783 with 51 home runs in 20 Grand Slam championship games. He was the MVP in the NSA and the co-MVP with teammate Monty Tucker in the ASA. And his contribution when Steele's won the Smoky Mountain Classic: .750 batting average with 17 HRs in six games. "Mike was right there for us in every big tournament," stated manager Dave Neale.
The year after H.T. (Herschel Tucker) Waller won the MVP for the runner-up Jo's Pizza team (1969), he was intentionally walked 13 times in a tournament in Cottonwood, Ala. Four of the times, Jim Duncan, former UofF baseballer and now a high school principal in Oak Ridge, Tenn., followed up with a home run. By the way, Waller played football at FSU.
Bert Smith did not give the opposition many chances to "pick it" in the 1973 Pick of Dixie Invitational in Chattanooga, Tenn. He powered Howard's to the title by going 31-for-33 with a whopping 27 home runs. How about that HR ratio!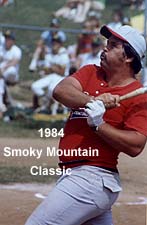 Craig Elliott . . . cranking one for Elite . . . hit 390 HRs in 1983 for 1.93 ratio
Five home runs in one inning! Yes, that's right . . . Craig Elliott did it in Muncie, Ind., one night for the barnstorming Steele's Silver Bullets. Many players have had 4 home runs in one inning. Steve Craven almost had 5 in one inning for Lighthouse one year in Tullahoma, Tenn. His would-be fifth curved foul.
Two other players had five home runs in one inning . Jimmy Powers for Steele's/Sunbelt in 1992 at Fort Worth . . . Carl Rose had five in one inning for Williams/Worth in the Cajun Classic . . . Steele's scored 106 runs in that game at Fort Worth. Steele's earlier had 108 and 109 runs in games in 1986 and 1987. Later Williams/Worth scored 110 runs in a game at Thomasville, Ga., in 1993. W/W had a record 65 HRs. Steele's had 62 and 63 HRs in their big games. Steele's had 50 runs in an inning once, Lighthouse/Worth 48 and 49 in different years at Tullahoma, Tenn. Then along came Shen Valley with a 122-run game in 4 innings at Little Rock, Ark., in 1996. SV scored 49 runs in one inning, 59 in another . . . with 25 and 29 HRs. Jimmy Powers had a big day in that one. He batted 13 times, had 12 hits and a walk. Seven of the hits were home runs. Tot Powers and Todd Martin each had 8 HRs in that game. They each had 6-for-6, 4-HR innings. Jimmy had 16 RBI, Randell Boone 15 and Tot 14. Then in 1998 at Portland, Team TPS had 69 runs and 31 HRs in one inning.
There's a story concerning Steele's 106 runs in 1 game at Fort Worth in 1992 . . . Steele's/Sunbelt did not win the tournament. Afterwards, Jimmy Powers goes up to Dave Neale: "Dave, next weekend you keep my $300 and buy my brother (Tot) a plane ticket if you want to win." The Powers brothers played together before, and they have been playing together since.
Ray Molphy, the traveling announcer, used to call Tot "Tote" . . . It took several reminders and a verificaton from Tot that his name wasn't "Tote" before Ray got the message.
Jimmy and Tot played on the same football team in high school. Tot was the quarterback, Jimmy the running back. Both were loggers. Other loggers who were softball stars included Stan Harvey, Mike Cobb and Larry Fredieu. Most people won't recognize the name Mike Cobb. He was a Pete Rose lookalike who was a very strong hitter for teams out of Panama City in the 1970's and early 1980's. He beat Warren Motors with a home run in the bottom of the 7th in the Pick of Dixie at Chattanooga in 1973. He's got a son, Andy, who is a young power hitter.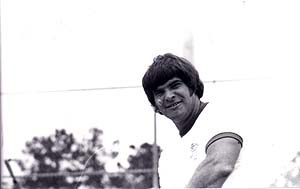 Mike Cobb . . . a Pete Rose lookalike from Panama City . . . after being coaxed out of fast pitch, he was a powerful hitter for Panama City and Northwest Florida teams in the 1970s and early 1980s.
Another note on Tot Powers: They called him "Heavy" and when the next batter, Dave Steffen, stepped into the box, they called him "Heavier" Converters won the USSSA World Series that year (1994) . . . Jimmy and Tot played on another USSSA World Series winner with Shen Valley/Superior/Taylor (1996).
Nobody has played on more Smoky Mountain Classic champions than Charles Wright . . . 10 — six in a row in 1982-87 with Ken Sanders, Elite and Steele's and four in row in 1993-96 with Ritch's/Superior and Sunbelt. The Columbus, Ga., product played on the same Ken Sanders team with Craig Elliott that lost two 1-run games to Nelson's in the finals of the greatest national tournament ever — the ASA in 1977 at Parma, Ohio. Elliott set the Smoky home run record with 26 in 1981. That stood until Rusty Bumgardner hit 30 for runner-up Shen Valley in 1997. Rusty's came in 10 games, the Cranker's in six.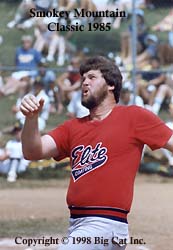 Charles Wright . . . "The Georgia Peach" from Columbus six successive Smoky Mountain Classic winners between 1982-87 (Ken Sanders, Elite 3 years, Steele's 2 years), then on another four in a row from 1993-96 (Ritch's/Superior 3 years and Sunbelt).
Guess who has played on more championship teams than anybody in the history of slow pitch softball? Rick Weiterman . . . 33. That total includes the old pro league, the USSSA, ASA, NSA and ISA. He was the MVP in the pro league in 1980 at the age of 21. The Milwaukee product played on three pro league championship teams. He was the MVP for Steele's Silver Bullets in the 1988 USSSA World Series at Long Beach, Calif. Seventeen of those championships came in a 4-year span — 3 with Steele's in 1990 and 14 with Ritch's/Superior in 1991-95. The R/S Express won the Grand Slam in 1992. Weiterman, a pitcher and Mr. Automatic at the plate as a base hitter, was on one championship team as a third baseman — Elite in the USSSA in 1994. With Steele's, he had a streak where he hit .740, .750, .760 for the season, mostly by base-hitting. But there was a night in Cheyenne, Wyoming, when he hit eight . . . that's right, 8 . . . home runs. In one game!
No. 2 on the champions list is none other than Buddy Slater with 29. Twelve of his was as the manager of Ritch's/Superior, when he played only sparingly. He pitched for such teams as Nelson's, Campbell's, Howard's, Elite and Smythe Sox . . . and a little for Steele's where he was used mostly as a coach. He was a part of back-to-back Triple Crown winners — Campbell's in 1980 and Howard's in 1981. Randy Gorrell managed both of those teams, with some of the same players — Slater, Dick Bartel, Richard Willborn and Bill Ferguson. Big Mickey McCarty, who was drafted in three professional sports out of Texas Christian, played on the Campbell's team and was to be a member of the Howard's team, but he suffered a stroke. Other leaders on the champions list: Britt Hightower and Doug Roberson 25 each Cecil Whitehead 22 Ron Parnell, Paul Drilling and Dirk Androff 21 each Charles Wright 20. Androff played on his 21 title teams between 1988 and 1997 with Steele's and Ritch's/Superior. He died on an exercise bike at the age of 34 in the fall of 1997.
Cecil Whitehead had 11 home runs and 3 walks in his first 14 at-bats for Ritch's in the 1990 USSSA World Series at Greensboro, N.C. He finished the tournament with 15 home runs (Jim Fuller of Superior had 14) and a .783 batting average, and earned the MVP award as Ritch's beat Superior in the finals. That was the year that Steele's Silver Bullets were supposed to win (they had won the first 3 legs of the Grand Slam and just about everything else that season), but they lost to Sports Hero's from Minnesota, who had lefthander Teddy Larson doing the pitching, and Bell Corp. Steele's lost only 9 games that year, and three of them were to Bell. Bell ended Steele's 142-game winning streak in at Sterling Heights, but Steele's came back to win that tourney. Back to Whitehead, he played on consecutive USSSA winners in 1984-85-86-87 for Elite and Smythe. He played on a few more USSSA winners with R/S.