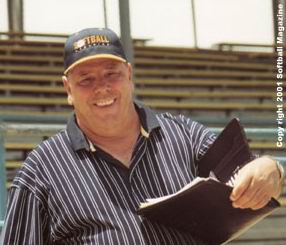 His Message Board he started back in 2000 I still the place to go to find out what is going on in the Softball World. Thanks to Dale "DW" Weiser for maintaining it and keeping Gordie's memory alive.
Old Scout Message Board – http://members3.boardhost.com/TheOldScout/
Hi! I would like to introduce myself to the softball world, who haven't met me, or know me. My name is Gordie Heagle and I was born and raised in Phoenix, New York, and moved to the North Syracuse area in my freshman year. I attended North Syracuse High School, and played football, basketball, baseball and also played hockey. I have been married 38 years to my wonderful wife Joan, my childhood sweetheart. We have three daughters Colleen, Kathleen and Maureen and nine grandchildren one of which is Taylor Gordon Sheridan, our angel, who we lost to a 2-year battle to childhood cancer, Neuroblastoma at 2 1/2 years old. My oldest, daughter Colleen is married Jeff Wallace. Jeff has been in our family since he was 16 years old living next door to us for a few years and I watched him play baseball in high school. He was a very talented player.
After high school, I played semi-pro baseball in the old N.Y. State League I then formed my own team in 1964 and ran that for two years. In 1966, I took some of the players that played for me on my baseball team and started playing softball in the local leagues. That's when my love for the game started to grow. I continued to play softball through my life, right up to today where I play in a senior softball league in Daytona Beach, Florida, where I reside in the winter months. As well as playing the game, I also had interest in umpiring from time to time. In 1984, I purchased a night club facility with 15 acres of land, where we built two softball fields. We ran weekly leagues and many weekend tournaments. I brought in many entertainers over the years such as, Rick Nelson, Dell Shannon, The Belmont's, Bo Didley and had one Major outside concert on the ball fields with Ray Charles and Martha Reeves and the Vandelas. I also promoted and put on professional wrestling at our facility and also other places.
In 1987 to 1990, I put together one of the best softball teams, that ever came out of the Central New York area. The name of the team was called A.F. Pristera's out of Utica, New York. I used six players from the Syracuse area which included, Jeff Wallace, his brother David Wallace and six players from the Utica area. We did not play any NIT Tournaments we just played in money tournaments every weekend. This team in a three-year span played forty-eight tournaments and won forty-six of them earning over $40,000.00 in prize money. After disbanding this team, I put together a Class A team and got a Louisville Slugger bat contract and began to play all over the country in Major A, AA tournaments. We played for two years with my goal being to expose Jeff Wallace around the country to other teams. You can see it paid off for Jeff as he was picked up by PACE out of Rochester, New York a very good AA team. Jeff was able to go to two USSSA World Series, the rest is history. I also watched Brett Helmer over the years playing against him in local tournaments I made a big mistake myself by not picking Brett up. Take a look where Brett Helmer is today.
Here's a little story about my own personal life. I worked twenty years at the Nine Mile Plant II Nuclear Power Plant, in Oswego, New York and retired in 1984. I spent eight years as an on-ice official in professional hockey. I worked in the old Eastern Pro-League and also worked some American Hockey League games, did some NHL exhibition games and had the privilege to work in 1974 the Russian Hockey Team that played in Syracuse, New York in an exhibition game. One of my biggest thrills was working a game with Montreal Canadian Toronto Maple Leaf's old timers hockey leagues. Another thrill was attending the AHL training camp for the officials in being instructed by one of the games great legends Boston Bruin's defenseman Eddie Shore. Probably the greatest thrill for me in hockey was doing a clinic with the greatest of them all, Detroit Red Wing Gordie Howe. I've always been an avid sport fan enjoyed attending all sporting events. Over the years I have attended twelve Baseball World Series, eleven Super Bowls, fifteen Stanley Cup Playoff Finals, two Heavy Weight Champion Fights and the Sugar Ray Leonard-Roberto Durand fight in Olympic Stadium in Montreal.
---
THIS WAS THE LAST SOFTBALL REPORT GORDIE DID FOR HIS OLD SCOUT WEBSITE
I will close by saying it's been a wonderful ride being the Old Scout all these years. I've met some great people over the years, and I'll never forget any of you. I've had a lot of critics over the years. I've had some people who didn't agree with me, but I can tell you all I had much more that did. I can also say I did it my way, and that is why my website was very good with millions of hits over the years. I told the whole story whether you liked it or not. I want to wish all my readers good luck in your life and enjoy the great game of softball. To all my critics when I pass, I hope they bury me upside down so you can kiss my ass, ha ha Bobby Knight. I do plan on writing a column once in awhile on the new board. And as always, I'll sign off by saying this time there will be no more next time, goodbye the Old Scout.
P.S I want to thank some very special people who helped me through the years: Richard Howard, John Daniels, Travis Resmondo, Dan Smith, Ed Menosse, Pat Dalsanders, Jerry Backman, Jeff Hague, Greg Blackburn, Woody Bell, Dave Neall, Bill Taylor, Mike Glascock, Hank Bassett, Jackie Hayes, Mike Cunningham, Carlie LaRoche, Cheeze, Pat Kehoe and Gene from Pace, but most of all my website readers, all the bigtime players who I got to watch play and know, thanks for all the memories. Also, to all the sponsors I got to know, the bat manufacturer reps., a special thank you to Steve Dimitry, you're the best, and also a very very special thank you to my good friend Bubba Tatum, you are a class act. I may have left out some, but I won't forget you all.
The Old Scout…
---
Sad to say but all good things come to an end, Gordie Heagle passed away on January 7, 2013 after being in failing health for 18 months. He will always be remembered by all who had the pleasure of meeting him and getting to know him.  RIP Gordie. Here is the obituary for Gordie L. Heagle.
---
In Memory of Gordon L. Heagle (1944 – 2013)
January 7, 2013
Gordon L. Heagle, 68, a resident of Oswego passed away on Monday, at home following a lengthy illness.  Very special thanks and appreciation to University hospital for their compassionate care of Gordie these last 18 months.  Gordon was born November 11, 1944 in Fulton. He is the son of Leon and Lillian (Stoutenger) Heagle. He attended Phoenix and North Syracuse schools. He worked and retired from Local Laborers Union #214, Oswego during the construction of Nine Mile Point, unit 2.
Gordon will always be remembered for his hockey days as a linesman for the Syracuse Blazers in the early 1970's, and also for many years traveling the country with the World Softball Association and his many years playing softball at Hopkins Road and Senior Softball during his retirement years in Daytona Beach, Florida. He created "Gordies Double Play" softball complex and entertainment venue in addition to authoring "The Old Scout" web site dedicated to softball coverage at a national level, following several years of playing and coaching in various leagues in Central New York.
Gordon was a loving husband,father, Papa and great-grandfather. He leaves behind his devoted wife of nearly 50 years, Joan M. (Pfeiffer) Heagle. Gordie is also survived by his three daughters; Colleen Wallace of Phoenix, and Kathy Sheridan (Keith) of Oswego, and Maureen (Mickey) Haney (Terry) of Phoenix.
Gordon is also survived by eight grandchildren; Erica Ward (Dan), Hope and Brooke Wallace, Brett, Alexis and Zach Sheridan and Paige and Connor Haney. He was pre-deceased by grandson Taylor Gordon Sheridan in 1996. Gordon also is survived by three great grandsons Jacob and Hunter Ward and Landon Wallace. Gordon is also survived by two brothers, Ted Heagle (Marilyn) of Corning NY, Leon Heagle (Sue) Heagle of Parish, NY and sister Linda Heagle of Florida. He is predeceased by his parents Leon Heagle and Lillian Stoutenger, also predeceased by a brother Elwin (Bucky) Heagle. In lieu of flowers, those who wish may make a donation to Make A Wish in honor of our wonderful grandson, Taylor Gordon Sheridan who passed away from Neuroblastoma in back in 1996.