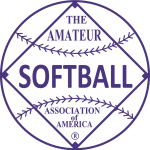 1969 held at Chattanooga, Tennessee.
---
Champion: Converse Dots, Hialeah, Florida
Runner Up: Satellite Beach Comets, Satellite Beach, Florida
---
After The Comets came through the losers bracket and beat the Dots 9-8, this set the stage for the winner take all final championship game. The Dots Scored 3 runs in top of 13th to win the final game 6-3. MVP Nancy Oldham of Satellite Beach set a record by being named to the ASA all-tournament team for the 5th straight year. Oldham's defense at Shortstop combined with her clutch hitting made her an easy choice for MVP. Judy Hedgecock pitched all eight games for the Dots (7-1) to get them the championship.
---
MVP – Nancy Oldham, Satellite Beach Comets (17-34, .500, 1 HR, 6 RBI, 11 Runs)
Home Run Leader – Wanda Evans, Escue Pontiac (8-23, .348, 11 RBI, 8 Runs) – 4
Batting Leader – Kay Smith, One-Eyed Jacks (9-15, 1 HR, 4 RBI, 3 Runs) -.600
Batting Leader – Emma Pope, Bill's Restaurant (9-15, 6 RBI, 3 Runs) -.600
---
1969 FIRST TEAM ALL AMERICANS
P – Judy Hedgecock, Satellite Beach Comets (14-32, .438, 1 HR, 12 RBIs)
C – Erma Richardson, Escue Pontiac (7-19, .368, 2 RBIs)
C – Margaret Humphrey, Satellite Beach Comets
1B – Karen McGrath, Satellite Beach Comets (13-30, 2 RBIs, .433)
SS – Nancy Oldham, Satellite Beach Comets
OF – Donna Wolfe, Escue Pontiac (9-24, .375, 2 RBIs, 5 Runs)
OF – Charlene Larrick, Carter's Rebels
OF – Sandy Hamilton, Converse Dots (12-27, .444 3 RBIs)
UTIL – Karen Vickers, Satellite Beach Comets (12-36, .333, 7 Runs)
UTIL – Betty Raddick, Carter's Rebels
UTIL – Fran Howell, Satellite Beach Comets (12-28, .429, 1 HR, 1 RBI)
UTIL – Sharon Harris, Satellite Beach Comets (10-27, .370, 1 RBI)
UTIL – S.Jones, Cox Shell Service
---
OTHERS
Jenny Johnson (SS), Escue Pontiac (10-24, .458, 3 HR, 12 RBI, 11 Runs)
Wanda Evans, Escue Pontiac (8-23, .348, 4 HR, 11 RBI, 8 Runs)
Kay Smith, One-Eyed Jacks (9-15, .600, 1 HR, 4 RBI, 3 Runs)
Emma Pope, Bill's Restaurant (9-15, .600, 6 RBI, 3 Runs)
---
FINAL STANDINGS
1. Converse Dots, Hialeah, FL (7-1)
2. Satellite Beach Comets, Satellite Beach, FL (7-2)
3. Escue Pontiac, Cincinnati, OH (6-2)
4. Carter's Rebels, Jacksonville, FL (5-2)
5. One-Eyed Jacks, Little Rock, AR (5-2)
6. Glen Manufacturing, Columbus, MS (4-2)
7t. Fansler Tires, Garden City, KS (4-2)
7t. Soul Sisters, Detroit, MI (4-2)
9t. Metro Buicks, Cincinnati, OH (4-2)
9t. Robinettes, Springfield, OH (4-2)
9t. Mavericks, Lexington, KY (3-2)
9t. Backers, Butler, WA (3-2)
13t. Cox Sell, Macon, GA (3-2)
13t. Blue Notes, St. Louis, MO (3-2)
13t. Haas-Davis, Mobile, AL (3-2)
13t. Grace Rebels, Atlanta, GA (3-2)
17t. Bill's Restaurant, Virginia Beach, VA (3-2)
17t. Royals, Knoxville, TN (2-2)
17t. Elmer's Dog House, Aurora, IL (2-2)
17t. Zukies, Indianapolis, IN (2-2)
17t. Scotties, Richmond, VA (1-2)
17t. Park Pontiac, Charleston, WV (1-2)
17t. Draft Builders, Waynesboro, VA (1-2)
17t. Ridge Maintenance, Cleveland OH (1-2)
25t. Rebels Drive-Inn, Chattanooga, TN (1-2)
25t. Potproff Standard, Columbus, IN (1-2)
25t. P.A.L., Lynn, MA (1-2)
25t. Oak Creek, Milwaukee, WI (1-2)
25t. Jennings Red Coat Inn, Minneapolis, MN (1-2)
25t. Henrietto, Rochester, NY (1-2)
25t. Huntington YMCA, Long Island, NY (1-2)
25t. Cardinals, Thomasville, NC (1-2)
33t. Oregons, Toledo, OH (1-2)
33t. Devilettes, Jacksonville, KY (1-2)
33t. Kings, STratford, CT (1-2)
33t. Tinkerettes, Oklahoma City, OK (1-2)
33t. Mr. Arthurs, Minneapolis, MN (0-2)
33t. Holy Cross, Santo Cruz, NM (0-2)
33t. Westvaca, Charleston, SC (0-2)
33t. Lucky Lager, Butte, MT (0-2)
33t. St. Anthony Parks, St. Paul, MN (0-2)
33t. Carpenter Furniture, Santa Rosa, CA (0-2)
33t. Rainbows, Rutland, VA (0-2)
33t. Elk Grove, Sacramento, CA (0-2)
33t. Schrieber, Granite City, IL (0-2)
33t. Sparks, Sprader, LA (0-2)
33t. Monroe Royals, Monroe, MI (0-2)