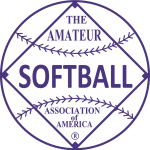 1955 held at Pittsburgh, Pennsylvania.
---
Champion – Lang's Pet Shop, Covington, Kentucky
Runner Up – Tresler's Comets, Cincinnati, Ohio
---
Lang's Pet Shop defeated Tresler's Comets 6-1 in the winners bracket final and watched as the Comets beat Rhodes-Garden Club of Pennsylvania 11-5. Rhodes had previously eliminated last year's champ, Waldeck's Tavern by a 13-6 score.
Tresler's Comets then eliminated Rhodes-Garden 5-1 to get another crack at Lang's. The Comets defeated Lang's 7-6 behind the big bat of Jack Carmichael and then forced another game.
Lang's prevailed in the final championship game 19-13. Paul Zembrodt was 3-4 with a triple, 2 HR and 5 RBI for Lang's. Ralph Bo Stuntebeck, Jack Nie and Gene Dittoe (2B, 3B, HR, 3 RBI), also collected 3 hits apiece. Bill Zeigler smacked a 3-run homer to chip in for Lang's. Ed Reuter (HR, 4 RBI) and Art Merten (3B, 3 RBI) led Tresler's with 3 hits each. Jack Carmichael added 2 more hits, including a double and 2 RBI to complete an outstanding tournament performance. Lang's pitcher Tom Infield won 5 straight including the winner's bracket final giving up only 9 runs, he hurled 3 consecutive 1-Run games to the King Seat.
Tresler's Comets played in the same league as Shield's Realty, Waldeck's Tavern, and the Cincinnati Firefighters.
---
MVP – Jack Carmichael, Tresler's Comets
HR Leader – Jack Carmichael, Tresler's Comets
Batting Leader – Gene Dittoe, Lang's Pet Shop –  .667
Outstanding Pitcher Award – Tom Imfield, Lang's Pet Shop
---
FIRST TEAM ALL-AMERICANS
P – Tom Imfield, Lang's Pet Shop (6-1 record, gave up only 5 runs in the first 5 games)
C – Francis Scumaci, Continental Can
1B – Art Merten, Tresler's Comets
2B – Ralph Bo Stuntebeck, Lang's Pet Shop
3B – Joe Ober, Tresler's Comets
SS – Bob Trainor, Waldeck's Tavern
SF – Ed Rueter, Tresler's Comets
OF – Jack Carmichael, Tresler's Comets
OF – Walt Wherry, Lang's Pet Shop
OF – Albert Tankosh, Rhodes-Garden Club
OF – Gene Dittoe, Lang's Pet Shop (16-24, .667)
---
FINAL STANDINGS
1. Lang's Pet Shop, Covington, KY (6-1)
2. Tresler's Comets, Cincinnati, OH (6-2)
3. Rhodes-Garden Club, McKees Rocks, PA (4-2)
4. Continental Can, Pittsburgh, PA (5-2)
5t. Waldeck's Tavern, Cincinnati, OH (4-2)
5t. Perry Social, Pittsburgh, PA (2-2)
7t. Sheffield Bronze, Cleveland, OH (3-2)
7t. Oscar's Alleys, Islip Terrace, NY (3-2)
9t. Delco DIAA, Dayton, OH (2-2)
9t. Jackie's Bar, Detroit, MI (2-2)
9t. Maltese Drug, Wantagh, NY (2-2)
9t. Homestead Café, Hamilton, OH (1-2)
13t.Engineers, Chattanooga, TN (2-2)
13t. Blue Grass Athletic Club, Louisville, KY (1-2)
13t. Fire and Police, Rossville, GA (1-2)
13t. Victory Club Rainbows, Middleton, CT (1-2)
17t. Oscar's Boys, Louisville, KY (1-2)
17t. Packard Electric, Warren, OH (1-2)
17t. Steve Master's Grill, Rochester, NY (0-2)
17t. Twin City Automatics, Minneapolis, MN (0-2)
17t. Slovak Club, Glassmere, PA (0-2)
17t. First Baptist Church, Frankfort, KY (0-2)
17t. Baldwin Piano, Cincinnati, OH (0-2)
17t. McAdenville Reds, McAdenville, NC (0-2)
---