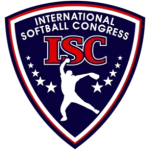 1953 held at Portland, Oregon.
---
Champion – Erv Lind Florist, Portland, Oregon
Runner Up – Utah Shamrocks, Salt Lake City, Utah
---
Despite the heroic effort of Shamrocks pitcher, Wilma Freston, who pitched every single inning for the Utah squad, 8 games (one win was via forfeit). She hurled all 70 innings, had 51 Strikeouts ad only gave up 6 runs.
Shortstop Bonnie Martin made some incredible stops at her shortstop position and even though she only had 7 hits, most of them accounted for a run. But, they didn't just face any ordinary pitcher in the championship games.
Future ASA Hall of Famer Betty Evans was hurling for the Erv Lind squad. She was virtually unhittable as she led the Portland girls all the way to the best of 3 final championship series. Evans tossed a 15 inning 1-0 shutout in the first game.
Robbie Mulkey won the game with a dramatic HR to centerfield in the 15th inning. That was only the second hit Freston surrendered in the game.
Doris Barrett came into pitch the second game as Evans injured her ankle. Barrett pitched a 1-hit 2-0 shutout to win the game and the series.
The only hit the Shamrocks could muster off Barrett was from the bat of MVP Bonnie Martin.
Evans finished the tournament with a 6-1 record, including 67 strikeouts in the 57 innings she pitched. All 6 of her wins were shutouts.
By the way, the A1 Queens came into the tournament a heavy favorite as they had 96-12 record. They finished the season 99-16.
It is noted that Charlotte Armstrong pitched until May and then took off for the remainder of the season, as she went to business school in Michigan.
Nancy Vandeventer pitched for the Queens the remainder of the season in Armstrong's absence and did a great job.
---
MVP Award – Bonnie Martin, Shamrocks (Shortstop, played great defense and was 7-28, .250 average)
Outstanding Pitcher – Betty Evans Grayson, Erv Lind (6-1, 57 IP, 67 Ks, 6 shutouts, including 1-0 15 inning win in first final)
Leading Hitter – Nancy Vandeventer, Phoenix (6-18, also 3-3 as a pitcher) – .333
Miss Softball Award – Dixie McCarthy, A-1 Queens (Left Fielder)
---
1953 NSC ALL WORLD TEAM
P – Wilma Freston, Utah Shamrocks (5-3)
P – Betty Evans Grayson, Erv Lind Florist (6-1)
P – Alice Jorgensen, Seattle Nash Airflytes (4-3)
C – Beverly Wadsworth, Erv Lind Florist
C – Pat Whitmore, Utah Shamrocks
1B – Shirley Topley, Crowhurst Motors
2B – Sue Sharpe, San Diego Slick Chicks
3B – Jan Newman, Phoenix A-1 Queens
SS – Bonnie Martin Heuser, Utah Shamrocks
OF – Shirley Soggie, Seattle Nash Airflytes
OF – Robbie Mulkey, Erv Lind Florist
OF – Dodie Nelson, Phoenix A-1 Queens
UTIL – Beverly Cox, Phoenix A-1 Queens
UTIL – Margaret Dobson, Erv Lind Florist
---
FINAL STANDINGS
1. Erv Lind Florists, Portland, OR (7-2)
2. Shamrocks, Salt Lake City, UT (6-3) *
3. Seattle Air-Flytes, Seattle, WA (4-3)
4. A-1 Queens, Phoenix, AZ (3-4)
5t. La Mesa Slick Chicks, San Diego, CA (3-3) *
5t. Crowhurst Mutual, Vancouver, BC (2-3)
7t. Friedman Clothiers, West Allis, WI (1-2)
7t. Tulsa Merchantettes, Tulsa, OK (0-2)
9t. Cincinnati All Stars, Cincinnati, OH (0-2)
9t. Industrial Bank, Denver, CO (0-2) (forfeit)
NOTE: Semi-Finals and Finals were best of 3 series
* includes 1 forfeit win