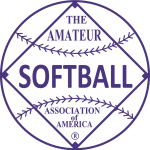 From the start of ASA Slow Pitch in 1953 the pitching arc 3 feet from release (pitcher's hand) to 10 feet. Sound familiar?
In 1975 at the ASA National Convention they voted to go to an unlimited arc. This lasted for two seasons.
Mike Nye hit an incredible .769 at nationals in 1976 with an unlimited arc.
Umpires would call anything that didn't land within 6 inches of the back of home plate a ball.
Zinn's Diner fielded a team with 10 small people and a pitcher that could throw a 25 foot arc for strikes. The were beating national powers like York Barbell and Howard's Furniture.
In 1977 they switched to a 6 foot to 12 foot arc from the ground.
For the 2010 season ASA switched to a 6 foot to 10 foot arc from the ground.
Other changes to field dimensions:
In 1982 the bases moved from 60 feet to 65 feet.
In 1989 the pitching plate was moved back from 46 feet to 50 feet.
In 2010 the bases were moved from 65 feet to 70 feet.