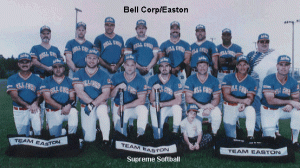 Woody Bell's 1993 Bell Corp/Easton team came out of the losers bracket to double dip Williams of Texas to cap a run of five wins in a row on the final day to win the USSSA World Series at Daytona Beach, Fla.; The Bell Ringers played in 16 tournaments in 1993, finishing first or second in all but one (that one was a third)
L-R, standing: Coach Earl Williams, Ken Schuck, Jeff Arnold, Monty Tucker, Kerry Everett, Mark Martin, Larry Carter, Sponsor Woody Bell
L-R, kneeling: Manager Terry Perryman, Allie Squartino, Todd Joerling, Dan Schuck, Greg Cannedy, Don Rardin, Phil White, Kim Seaman.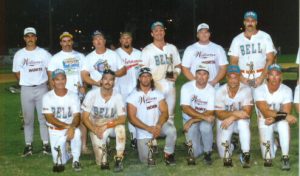 The 1993 USSSA World Series all-world team. Left to right, bottom row: Terry Perryman, Bell manager; Greg Cannedy, Bell pitcher and defensive award winner; Jon Meyers and Carl Rose of Williams; Dan Schuck, the Bell MVP; Phil White of Bell; Back row: Ed Starcher of the runner-up Williams team; Larry Fredieu of Ritch's/Superior; Ricky Huggins and Dewayne Nevitt of Vernon's; Todd Joerling of Bell; Wendell Rickard of Williams; Jeff Arnold of Bell.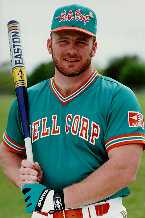 Todd Joerling . . . from New Melle, Mo. . . . a very productive hitter and one of the greatest shortstops of all time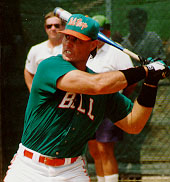 Kim Seaman . . . from Pascagoula, Miss. . . . had 32 consecutive hits in the Twitty/Worth Classic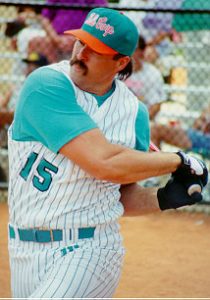 Jeff Arnold . . . from Mobile, Ala. . . . big man hit a lot of long balls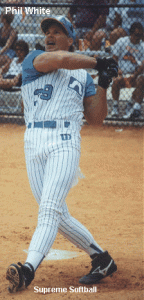 Phil White . . . from Anniston, Ala.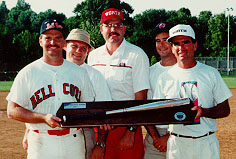 Andy Cook . . . from Garner, N.C. . . . MVP in 1992 Smoky Mountain Classic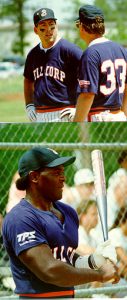 Mark Martin . . . from Orlando . . . MVP in 1991 Smoky Mountain Classic
Mike Ambers . . . from Houston . . . MVP in 1988 ASA Major at Gadsden, Ala.