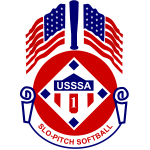 2021 held at Melbourne, Florida on September 29-October 2.
---
Champion – Smash It/Schiffhauer Strong, Rochester, NY
Runner Up – Comatose/S2N/Subway, Beloit, WI
---
Smash It Sports/Schiffhauer Strong a 'B' team from New York survived some close early 1 run victories at the USSSA 'B' World tournament in Viera, Florida at the Space Coast Softball Complex September 29-30, 2021.  They knocked off Titans (OH-B) 10-9 in the 2nd round then beat Thunder/Chosen 22-21 Wednesday night after trailing by 10 going into the bottom of the 7th.
On Saturday they made it to the winner's final where Comatose/S2N/Subway (WI-B) ended their 5 game win streak by beating them 19-15.
Smash It rebounded to beat Kut4 Sports/OI Livingston/D2E (GA-B) 24-13 in the loser's bracket finals and then "double dipped" Comatose 10-9 and 9-6 in the championship games Thursday night using speed, defense, and pitching from their MVP pitcher Brian Titus to take the title.
Kut4 Sports won 9 games to finish 3rd and Denver Stars/Miken Worth (CO-B) finished 4th in the 54 team event.
---
MVP – Brian Titus, Smash It/Schiffhauer Strong
Defensive MVP – Richard Laganiere, Smash It/Schiffhauer Strong
Offensive MVP – Corey Volden, Comatose/S2N/Subway
---
2021 ALL WORLD TEAM
Lindy Lopez, Denver Stars/Miken Worth
Tristan Johnston, Comatose/S2N/Subway
Chase Benfield, Denver Stars/Miken Worth
Mike Jacobson, Comatose/S2N/Subway
Mike Rauma, SmashIt/Schiffhauer Strong
David Teerlinck, SmashIt/Schiffhauer Strong
Josh Cardwell, Kut4 Sports/OI Livingston/D2E
Trey Martin, Kut4 Sports/OI Livingston/D2E
Jesse Sharbutt, Kut4 Sports/OI Livingston/D2E
William Scott, SmashIt/Schiffhauer Strong
Andrew Mrozek, SmashIt/Schiffhauer Strong
Alex Abraham, Comatose/S2N/Subway
Corey Volden, Comatose/S2N/Subway
Zack Wegner, Comatose/S2N/Subway
Joseph Perrotta, SmashIt/Schiffhauer Strong
Ben Smith, SmashIt/Schiffhauer Strong
---
FINAL STANDINGS
1. Smashit/Schiffhauer Strong, Rochester, NY (8-1)
2. Comatose/S2N/Subway, Beloit, WI (6-2)
3. Kut4 Sports/OI Livingston/D2E, Peachtree City, GA (9-2)
4. Denver Stars/Miken Worth, Denver, CO (5-2)
5t. Goodtimes/Florida's Best/Dirty, St. Petersburg, FL (4-2)
5t. Rebel/Prime Threadz/Koval/GMS/Grzy, Rockwood, MI (4-2)
7t. Dirtyvegas/Steel/Allredi/AZGM, Beaumont, TX (4-2)
7t. Thunder/Chosen/Competitive Edge/SOG, Gladewater, TX (4-2)
9t. Titans, Paris, OH (5-2)
9t. Meirtran/Compressor Services/TBS, Rockford, IL (3-2)
9t. Levels, Denver, CO (2-2)
9t. Bay Area Legends/Non Stop Grind, San Leandro, CA (2-2)
13t. Bellys/CSB/Tropics/Headlines, Cincinnati, OH (4-2)
13t. Fiftyfifty/BSM Apparel, Blackshear, GA (3-2)
13t. Loony Bin/Team 199/Nitro Circus, Davidsonville, MD (3-2)
13t. Cheap Suits/Republic Realty/Express, Stockton, CA (2-2)
17t. TRU/JDDE Logistics/Mojo/Eshore, Fairfax, VA (3-2)
17t. JEC/P5 Sports/Kevitt, Brooklyn Park, MN (3-2)
17t. TG Brand, Flint, MI (2-2)
17t. BB/PG/OSS, Merrimack, NH (2-2)
17t. Platinum, Dunkirk, MD (2-2)
17t. Dudley/Gas, St. Louis, MO (2-2)
17t. Young Guns/Miken/Worth, Fort Pierce, FL (2-2)
17t. WM Roofing/Revolution Athletics, Berlin, OH (1-2)
25t. SAL-8/La Lawns, Sutherlin, VA (2-2)
25t. Classy/SLM/Sourceone, Avondale, AZ (2-2)
25t. Silverbacks/Revolution Ath/Koval, Topeka, IN (2-2)
25t. NWO/Mayhem, Adairsville, GA (2-2)
25t. One Step Ahead/AJC, Riverside, CA (2-2)
25t. Stay Schemin', Daytona Beach, FL (2-2)
25t. Abeytu'/Salt Riot, Salt Lake City, UT (1-2)
25t. MVP/Old School/Beltway Diesel, Houston, TX (1-2)
33t. Nuff Said/Treedem, Palm Coast, FL (1-2)
33t. Lund Mortgage/Whoareyou/Proton, Chandler, AZ (1-2)
33t. PF/Beloli, Shrewsbury, MA (1-2)
33t. Fish Head/Family First/LBT, Arbutus, MD (1-2)
33t. Hustle Sports, St. George, UT (1-2)
33t. Statewide/SMC/BKB/Klutch/Worth/Mike, Elm City, NC (1-2)
33t. Siteman/Rise/Easton/Legendary/OTR, St. Louis, MO (1-2)
33t. S2S/S2Sn Ravens Reloaded 907, Anchorage, AK (1-2)
33t. LSR, Morristown, IN (0-2)
33t. BNS/SIS/Easton, Shawnee, KS (0-2)
33t. Rowley White RV, Scottsdale, AZ (0-2)
33t. Smash/The Lodge Card Club, Round Rock, TX (0-2)
33t. Homebridge Financial/Kbas Inc/LRS, Denver, CO (0-2)
33t. J&I/Westcoast, Lacey, WA (0-3)
33t. Miller Time/Bay Equity/EA, Olympia, WA (0-2)
33t. SIS/ELVT, Arroyo Grande, CA (0-2)
49t. Briggs/FLS/Papps Boys, Charlotte, NC (0-2)
49t. Team Bryce/GTF, Live Oak, FL (0-2)
49t. D&S, Orlando, FL (0-2)
49t. J's Southland Tow Service, Raymore, MO (0-2)
49t. Felix Solutions/Onyx Bats, Orange, CA (0-2)
---