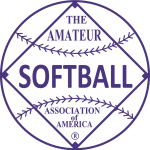 2020 held at Drakes Creek Park in Hendersonville on August 22-23.
---
Champion – Precision/Sonnys/H. Auto/Sprizzi/Bulldawg Trucking, Chicago, Illinois
Runner Up – MPT Anarchy, Toms River, New Jersey
---
This was the first time ASA had run the AA Nationals since 2005 when it was termed "Major".
A pair of champions were crowned today in Hendersonville, Tenn. with the conclusion of the 2020 USA Softball Men's Class AA and Women's Open Slow Pitch National Championships. For the Men's Class AA, it was Precision/Sonnys/H. Auto/Sprizzi/Bulldawg Trucking who emerged with the National Championship title after going a perfect 4-0 through bracket play with a 20-18 win over MPT/Anarchy in the Championship Game. For the Women's Open division, Smash it Sports/Derby Girls/Sonnys/STG/Easton held up the National Championship trophy. The team went undefeated during their run in Hendersonville, which saw them earn three run-rule victories, including a 17-1 (six innings) win over Low Bobs/Shirts & Logos for the title.
In the Men's AA division, MPT/Anarchy battled through the loser's bracket to earn a rematch with Precision in the Championship Game. Hot right out of the gate, MPT/Anarchy took a six-run lead and never looked back in a 24-7 (six innings) semifinal win over Thunder/Chosen. Scoring in every single at-bat, MPT/Anarchy was led by Chris Greinert and David Johnson, who each sent two out of the park for five RBI apiece.
That win sent MPT/Anarchy to the Championship Game, however the offense did not follow the team to the next round as Precision capitalized on timely hitting and the strong swing of Daniel Cayton to earn the 20-18 win. Cayton finished the game with a perfect 3-for-3 outing at the plate, including two home runs, while Patrick Ellwanger also went yard twice to drive in four runs.
Precision was led by Travis Clark throughout bracket play, with Clark leading the team with eight home runs and 21 RBI in four games played. Cayton finished second on the team with 14 RBI and six home runs.
---
MVP – Travis Clark, Precision/Sonnys/H. Auto/Sprizzi/Bulldawg Trucking
HR Champion – Kyle Pearson, MPT/Anarchy – 8
HR Champion – Travis Clark, Precision/Sonnys/H. Auto/Sprizzi/Bulldawg Trucking – 8
HR Champion – Chris Greinert, MPT/Anarchy – 8
Batting Champion – Filip Washington, MPT/Anarchy – .867
---
ASA AA FIRST TEAM ALL AMERICANS
PITCHER – Travis Clark, Precision/Sonnys/H.Auto/Sprizzi/Bulldawg Trucking (19-22, .864, 8 HR, 21 RBI, 12 Runs)
INFIELD – Greg Connell, Daddy Rocks/Hoffman/Ductech (13-19, .684, 5 HR, 8 RBI, 9 Runs)
INFIELD – Brian McBryde, Thunder/Chosen (10-15, .667, 2 RBI, 5 Runs)
INFIELD – Austyn Dawe, Thunder/Chosen (13-15, .867, 1 HR, 5 RBI, 10 Runs)
INFIELD – Kevin Bazat, Precision/Sonnys/H.Auto/Sprizzi/Bulldawg Trucking (15-19, .789, 8 RBI, 12 Runs)
INFIELD – Daniel Cayton, Precision/Sonnys/H.Auto/Sprizzi/Bulldawg Trucking (16-21, .762, 6 HR, 14 RBI, 12 Runs)
OUTFIELD – Patrick Ellwanger, Precision/Sonnys/H.Auto/Sprizzi/Bulldawg Trucking (15-21, .714, 5 HR, 9 RBI, 10 Runs)
OUTFIELD – David Johnson, MPT/Anarchy (18-24, .750, 5 HR, 13 RBI, 10 Runs)
OUTFIELD – Colin Baartman, Precision/Sonnys/H.Auto/Sprizzi/Bulldawg Trucking (11-19, .579, 5 HR, 13 RBI, 10 Runs)
OUTFIELD – Jeremy Yates, Daddy Rocks/Hoffman/Ductech (14-19, .737, 1 HR, 8 RBI, 7 Runs)
UTILITY – Chris Greinert, MPT/Anarchy (20-24, .833, 8 HR, 16 RBI, 17 Runs)
UTILITY – JD Genter, MPT/Anarchy (17-22, .773, 4 HR, 15 RBI, 8 Runs)
UTILITY – Brad Lunda, Precision/Sonnys/H.Auto/Sprizzi/Bulldawg Trucking (11-18, .611, 1 HR, 5 RBI, 6 Runs)
UTILITY – Kyle Pearson (LA), Thunder/Chosen (14-18, .778, 8 HR, 16 RBI, 13 Runs)
UTILITY – Filip Washington, MPT/Anarchy (19-26, .731, 6 HR, 12 RBIs 17 Runs)
---
FINAL STANDINGS
1. Precision/Sonny's/H. Auto/Sprizzi/Bulldawg Trucking, Chicago, IL (4-0)
2. MPT/Anarchy, Toms River, NJ (4-2)
3. Thunder/Chosen, Gladewater, TX (2-2)
4. Daddy Rocks/Hoffman/Ductech, Stillwater, MN (2-2)
5t. Bad Draw/Rapid Fire/Easton, Gainesville, VA (1-2)
5t. Bigger Den Me, Live Oak, FL (1-2)
7t. Drip City/Monsta, Grimes, IA (0-2)
7t. Southern Monsta, Spring, TX (0-2)
---
OTHERS
Frank Fish, Bigger Den Me (10-11, .909, 3 HR, 5 RBI, 5 Runs)
Shannon Smith, Southern Monsta (9-11, .818, 4 HR, 4 RBI, 7 Runs)
Jeff Roxby, Daddy Rocks/Hoffman/Ductech (12-18, .667, 3 HR, 10 RBI, 11 Runs)
Cory Briggs, Thunder/Chosen (12-18, .667, 2 RBI, 7 Runs)
Jason Magnum, Thunder/Chosen (12-18, .667, 3 HR, 8 RBI, 9 Runs)
Matt Schrage, Thunder/Chosen (12-18, .667, 4 HR, 11 RBI, 11 Runs)
Josh Riley, Thunder/Chosen (12-19, .632, 2 HR, 9 RBI, 9 Runs)
Jonathon Williams, MPT/Anarchy (14-23, .609, 4 HR, 10 RBI, 12 Runs)
Jason Branch, MPT/Anarchy (15-26, .577, 7 HR, 15 RBI, 13 Runs)
BJ Fulk, Daddy Rocks/Hoffman/Ductech (9-19, .474, 8 Runs)
---