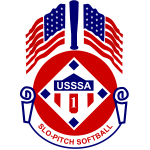 2013 held at Orlando, Florida.
---
Champion – Enough Said/Easton, Tallahassee, Florida
Runner Up – Incognito, Detroit, Michigan
---
Enough Said won the World Series for the seventh time in a row that they participated. They won three from 2006-2008, then elected not to enter in 2009, came back the next year to win 2010, 2011, 2012 and this tournament in 2013. They have been 31-6 in World Series play since 2006.  This year, with the 3 game bracket, they only went 3-2, but did just enough to defeat Incognito of Detroit 10-9 in the Championship game.
---
MVP – Tracy Bougere, Enough Said
Defensive MVP – Tabitha Dykes, Incognito
Offensive MVP – Stacie Symonds, Enough Said
---
2013 ALL WORLD TEAM
Mary Hoff, Enough Said/Easton
Bernadette Martinez, Incognito
Nyreka Smith, Enough Said/Easton
Sirene Johnson, Enough Said/Easton
Gina Oliver, Karphone
Leigh Campbell, Karphone
Jeanenne Jenkins, Incognito
Diana Williams, Enough Said/Easton
Deanna Faircloth, Incognito
LaTonya Slaughter, Supersonics
Shenique Brass, Supersonics
Tawana Howard, Enough Said/Easton
Ashley Esparza, Karphone
Patrika Barlow, Incognito
Crystal Chambers, Supersonics
---
FINAL STANDINGS (Incomplete)
1. Enough Said/Easton, Tallahassee, FL
2. Incognito, Detroit, MI