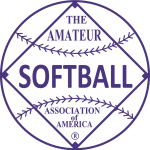 2011 held at Oklahoma City, Oklahoma.
---
Champion: Enough Said, Tallahassee, Florida
Runner Up: Armed Forces, Washington, D.C.
---
The 2011 ASA Women's Open Slow Pitch National championship trophy landed in familiar hands on Saturday evening at ASA Hall of Fame Complex. Enough Said (Tallahassee, Fla.) defeated Armed Forces 16-2 in the "if necessary" game to capture back-to-back Women's Open titles. Ending the day with a 3-1 record and outscoring its opponents 44-17, Enough Said was led by tournament All American, batting champion (.867) and Most Valuable Player Aree Jenkins. The outfielder went 13-for-15 with 10 runs scored, one home run and five RBI. Armed Forces forced the "if" game by beating Enough Said 7-6 in the first final. The championship was not close as Enough said won 16-2 highlighted tournament MVP Aree Jenkins who went 4-4 with 2 doubles. Sirene Johnson also hit a home run, Johnson was 4-4 with 3 RBI in the final game. Johnson finished up the tournament 10-15 (.667) with 7 runs scored. Stacey Symonds was 9-13 (.692) in the tournament.
---
MVP – Aree Jenkins, Enough Said (13-15, .867, 1 HR, 5 RBI, 10 Runs)
Batting Leader – Aree Jenkins, Enough Said (13-15) – .867
HR Leaders – Windy Klein, Quiet Storm (4-6, .667, 8 RBI, 3 Runs, 5 IBB)  – 3
HR Leaders – Christan Dowling, Derby Girls (7-12, .583, 7 RBI, 7 Runs) – 3
---
2011 FIRST TEAM ALL AMERICANS
P – Mary Hoff, Enough Said (2-10, .200, 1 Run, 4-0 Pitching)
IF – Diana Williams, Enough Said (7-13, .538, 1 RBI, 1 Run)
IF – Ashley Camp, Armed Forces (11-19, .579, 1 RBI, 5 Runs)
IF – Lorita Williams, Quiet Storm (8-11, .727, 2 RBI, 4 Runs)
IF – Trina McGee, Armed Forces (14-21, .667, 7 Runs)
IF – Stacie Symonds, Enough Said (9-13, .692, 3 RBI, 7 Runs)
OF – Aree Jenkins, Enough Said (13-15, .867, HR, 5 RBI, 10 Runs)
OF – Shaqina Smith, Armed Forces (12-18, .667, 3 RBI, 5 Runs)
OF – Stefanie Watt, Derby Girls (8-12, .667, 4 RBI, 5 Runs)
OF – Andrea Jackson, Quiet Storm (8-12, .667, 2 RBI, 3 Runs)
UT – Tracy Bougere, Enough Said (7-13, .538, HR, 3 RBI, 4 Runs)
UT – Karrie Warren, Armed Forces (13-22, .591, 5 Runs)
UT – Christan Dowling, Derby Girls (7-12, .583, 3 HR, 7 RBI, 7 Runs, 3 IBB)
UT – Mya McRae, Derby Girls (7-9, .778, 2 RBI, 1 Run)
UT – Sirene Johnson, Enough Said (10-15, .667, HR, 4 RBI, 6 Runs)
---
FINAL STANDINGS
1. Enough Said, Tallahassee, FL (3-1)
2. Armed Forces, Washington, DC (4-2)
3. Derby Girls, Seattle, WA (2-2)
4. Quiet Storm, Killeen, TX (1-2)
5t. Ian's Pride, Calhoun, GA (1-2)
5t. Hit List Softball, Moore, OK (0-2)