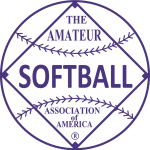 2010 held at Oklahoma City, Oklahoma.
---
Champion:  Enough Said, Tallahassee, Florida
Runner Up: Derby Girls, Seattle, Washington
---
After Enough Said defeated the US Armed Forces 7-5, the Derby Girls eliminated the Armed Forces 18-15 in the Losers Bracket Final to get a shot at the Championship against Enough Said. But, it wasn't meant to be. Despite the power of Derby Girls' Christan Dowling who cracked 5 HRs and had 17 RBIs in the tournament, Enough Said put the Derby Girls away with a 12-4 Championship game win. Enough Said went undefeated with a 3-0 record to claim the ASA Women's Open National Championship title defeating Derby Girls/Combat (3-2), 12-4, in the title game. Enough Said worked its way through the winner's bracket with two wins against Derby Girls, the Championship victory and 18-7 victory, and a 7-5 win over Armed Forces. Enough Said earned its spot in the Championship Game after defeating Armed Forces 7-5. Armed Forces and Derby Girls/Combat then met up to avoid elimination and earn a spot in the title game. Derby Girls staved off elimination defeating the Armed Forces 18-15. The Derby Girls took an early 11-2 lead in the first and would hold the lead the entire game. The Armed Forces wouldn't go down without a fight scoring four runs in the top of the seventh to threaten but the Derby Girls held their lead for the win. Misty Smith of the Derby Girls was 2-for-3 with four RBI to lead the team. With a victory, the Derby Girls moved on to face Enough Said for the Championship game. Enough Said and Derby Girls both put a run up in the first with Enough Said scoring three more in the third to take the lead of which they would never give up. It looked like the Derby Girls would cut the lead in the sixth when they loaded up the bases. However a fly out left runners stranded. Enough Said scored three unanswered runs in the top of the seventh to take away a 12-4 victory and National Championship performance for the second consecutive year. Nikki Hall, who was later named the Batting Champion, was ecstatic about the weekend and very thankful to her teammate, coach and the ASA. Hall finished the tournament 9-for-11 with six runs scored and five RBI, hitting .818.
---
MVP – Nikki Hall, Enough Said (9-11, .818, 5 RBI, 7 Runs)
Batting Leader – Nikki Hall, Enough Said (9-11) – .818
Home Run Leader – Christan Dowling, Derby Girls (12-20, .600, 17 RBI) – 5
---
2010 FIRST TEAM ALL AMERICANS
P – Deb Tix, Derby Girls
C – Erin Brown, Derby Girls
IF – Christian Camp, Armed Forces
IF – Nikki Hall, Enough Said
IF – Christan Dowling, Derby Girls
IF – Stacie Symonds, Enough Said
OF – Shannika Taylor, Armed Forces
OF – Tracy Bougere, Enough Said
OF – Aree Jenkins, Enough Said
OF – Jessie Griffin, Enough Said
UT – Jamie McCoy, LOA
UT – Misty Smith, Derby Girls
UT – Diana Williams, Enough Said
---
FINAL STANDINGS
1. Enough Said, Tallahassee, FL (3-0)
2. Derby Girls, Seattle, WA (3-2)
3. Armed Forces, Washington, D.C. (1-2)
4. LOA, Purcell, OK (1-2)
5. Hit List, Moore, OK (0-2)