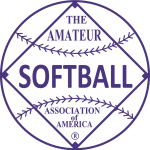 2008 held at ASA Hall of Fame Stadium Complex in Oklahoma City, Oklahoma on August 3-10.
---
Champion – Gold Coast Hurricanes, Plantation, Florida
Runner Up – Corona Angels Tyson, Corona, California
---
When the Gold Coast Hurricanes 18U-Norman Gold team was in need of a lift recently in Altamonte Springs, Parkland's Meghan King delivered.
King won three games, had a 0.88 ERA, and eight strikeouts for the Hurricanes, which won six consecutive games out of the losers' brack-et, to earn a spot in the Amateur Softball Asso-ciation of America (ASA) Gold Nationals Soft-ball tournament last month in Oklahoma City.
Rylan Harvey, Dakota Villella and Gwen Svekis let their bats do the talking. Harvey fin-ished 12-of-24 (.500) with three homers and a double in elimination games. She also added seven RBI, while allowing no earned runs in seven innings pitched.
Villella, of Hollywood, was 11-for-23 (.478) with three RBI, including a two-run single in the sixth inning to defeat the Central Florida Hurricanes, 4-2, and advance to the losers' bracket final.
Svekis, of Davie, contributed with a walk-off RBI single against the Gainesville Gold, who attempted to intentionally walk her. In the championship game, Svekis smacked a walk-off sacrifice fly against the Florida Select-Ritter team to give the Hurricanes a 2-1 win in eight innings to secure the berth.
Svekis added a double to her .381 bat-ting average.
As a reward for her stellar plays at third, Davie's Christie Parsons batted .318 with a triple and three sacrifice bunts.
Managed by Jeff Norman, the Hurricanes became the seventh team from Florida to qualify for the ASA Gold Nationals' 68-team field, joining the Gold Coast Hurricanes Cooper, Miami Stingrays, Gators Gold Flannery, Tampa Mustangs, Florida Storm, and Sarasota Heat.
Lending a hand in the Hurricanes' 7-1 weekend was Rachael Imig, Kiersten Coffman, Amanda Penton, Chrissy Horton, Sam Sharkey, Jessica Matias, Kristen Scott, Sarah Angulo, Hailey Leonard, Kersten Legacki, Carly Comito and Stephanie Chaiser.
---
FINAL STANDINGS
1. Gold Coast Hurricanes, Plantation, FL (7-0)
2. Corona Angels Tyson, Corona, CA (7-2)
3. AZ Hotshots Gold Gatti, Scottsdale, AZ (5-2)
4. So Cal Explosion, Tustin, CA (5-2)
5t. So Cal Athletics, Upland, CA (6-2)
5t. Shamrocks, Vienna, VA (7-2)
7t. Washington Lady Hawks D'Amico, Kirkland, WA (4-2)
7t. California Cruisers, Oceanside, CA (7-2)
9t. East Cobb Bullets, Stockbridge, GA (3-2)
9t. Kc Peppers, Olathe, KS (3-2)
9t. Atlanta Vipers Vallery, Atlanta, GA (3-2)
9t. Texas Impact Gold, Houston, TX (5-2)
13t. GA Elite, Douglasville, GA (3-2)
13t. O.C. Batbusters, Anaheim, CA (3-2)
13t. Sorcerer Gold Phil, Concord, CA (3-2)
13t. Valley Breeze, Woodland Hills, CA (4-2)
17t. MN Irish, Rosemont, MN (2-2)
17t. San Jose Sting, San Jose, CA (2-2)
17t. So Cal Diamonds, Newbury Park, CA (2-2)
17t. NW Bullets Gold, Beaverton, OR (3-2)
17t. Omaha Quakes Gold, Omaha, NE (3-2)
17t. Wagner's Gold, Arnold, MD (3-2)
17t. So Cal Choppers, Valencia, CA (3-2)
17t. Worth Firecrackers, Huntington Beach, CA (3-2)
25t. Beverly Bandits, Orland Park, IL (2-2)
25t. Lady Sharks Gold Barrera, San Jose, CA (2-2)
25t. Sudden Impact Gold, Chappell Hill, TX (2-2)
25t. Texas Blaze Gold, Round Rock, TX (2-2)
25t. AZ Desert Thunder, Tucson, AZ (2-2)
25t. Cal Lite, Chino, CA (2-2)
25t. New Jersey Breakers, Monroe, NJ (2-2)
25t. Corona Angels Gold Adishian, Corona, CA (1-2)
33t. Katy Heat, Katy, TX (1-2)
33t. LA United, New Iberia, LA (1-2)
33t. OK Babes Gold, Midwest City, OK (1-2)
33t. Tulsa Eagles, Tulsa, OK (1-2)
33t. TX Travelers Gold Marks, Joshua, TX (1-2)
33t. Miami Valley Xpress, Xenia, OH (1-2)
33t. Oregon Silver Bullets, Aloha, OR (1-2)
33t. Polar Crush, Ashby, MA (1-2)
33t. So Cal Pumas, Ventura, CA (1-2)
33t. St. Louis Chaos, St. Louis, MO (1-2)
33t. Texas Express Gold, Katy, TX (1-2)
33t. Texas Glory Gold Shelton, McKinney, TX (1-2)
33t. Texas Magic, Missouri City, TX (1-2)
33t. Washington Ladyhawks Miller, Puyallup, WA (1-2)
33t. Atlanta Vipers Gold Seamon, Marietta, GA (0-2)
33t. Colorado Stars Gold Hayner, Golden, CO (0-2)
49t. Combat Panthers, Newbury Park, CA (0-2)
49t. East Coast Elite, South Plainfield, NJ (0-2)
49t. Florida Gold, Pembroke Pines, FL (0-2)
49t. CA Grapettes Gold, Lodi, CA (0-2)
49t. GT Shockers, Beaumont, TX (0-2)
49t. GA Fire 18 Gold, Roswell, GA (0-2)
49t. Georgia Blitz, Tyrone, GA (0-2)
49t. Indiana Magic, Rochester, IN (0-2)
49t. Michigan Finesse, Sterling Heights, MI (0-2)
49t. Oklahoma Attack, Bixby, OK (0-2)
49t. SD County Breakers, Carlsbad, CA (0-2)
49t. Team North Florida, Wewahitchka, FL (0-2)
49t. Texas Fusion, Irving, TX (0-2)
49t. Texas Storm Demarini, Pearland, TX (0-2)
49t. Tulsa Shootout, Broken Arrow, OK (0-2)
49t. TX Eclipse Gold, Hockley, TX (0-2)
---