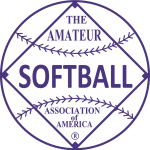 1998 held at Cargill Park in Shreveport, Louisiana on September 24-27.
---
Champion – Wine Trucking, Fredericksburg, Virginia
Runner Up – Austin Spurs, Austin, Texas
---
Wine Trucking of Virginia took the title in the ASA Men's Slow-pitch Class B National Championship held at Cargill Park last weekend.
Wine Trucking went undefeated (8-0) taking a victory of 24-10 over the Austin Spurs from Texas in the final game on Sunday.
The area's host team, the Ark-La-Tex Pallets finished thirteenth out of 78 participating teams. The team lost its first game and won the next four before being eliminated Saturday evening with a loss to the Miller Screwballs from Maine. 25-12.
"We made a lot of fielding mistakes and didn't hit the ball as well as we have," said Palletts coach Bill Bennett, who said several of the teams at the tournament were impressive. "Teams that could hit the ball inside the field after hitting the three home runs that were allowed, were the one that won."
In ASA Class B three home runs are allowed per team per game, any home run made after that is counted as an out for that tourney.
The tournament marked the end of the softball season. but Bennett said they will be ready for next year. "I think our team will be intact for next year," he said.
The other top five finishers were Select Specialty from Virginia. Willimantic Brewery/Anderson Builders, of Connecticut, Flyjuice, of Connecticut and Powertel/Team Victory), of Tennessee.
The Most Valuable Player award went to pitcher Bobby Fox from Wine Trucking. The Batting champion and Home-run champion was Dean Thomas of Acme Woodworking from Massachusetts, who hit .826 (19 of 23) and had 10 home runs during the tournament.
---
MVP – Bobby Fox, Wine Trucking
Batting Champion – Dean Thomas, Acme Woodworking (.826)
Home Run Champion – Dean Thomas, Acme Woodworking (10)
---
ASA B ALL AMERICANS FIRST TEAM
P – Bobby Fox, Wine Trucking
C – Greg Harlow, Wine Trucking
1B – Wil Searcy, Select Specialty
2B – Billy Lenzi, Wine Trucking
3B – Dave Cushman, Willimantic Brewery/Anderson Builders
SS – Russ Desrocher, Willimantic Brewery/Anderson Builders
OF – Mike Fayard, Wine Trucking
OF – Ernest Kee, Powertel/Team Victory
OF – Darrell Lambert, Select Specialty
OF – Phil Sheets, Select Specialty
EP – Terrell Townsend, Austin Spurs
UTIL – Ronald Acker, Austin Spurs
UTIL – William Thomas, Wine Trucking
UTIL – Scott Schaefer, Austin Spurs
UTIL – Ernest Teague, Austin Spurs
ASA B ALL AMERICANS SECOND TEAM
P – Richie Corder, Southern Spray
C – Dennis Quarlis, Southern Spray
1B – Richard Phillippi, Wine Trucking
2B – Mike Fayard, Wine Trucking
3B – Mark Bowles, Wine Trucking
SS – Mark Pevey, Austin Spurs
OF – Kevin Dollins, Austin Spurs
OF – Chris Spates, Austin Spurs
OF – Keith Savoie, Willimantic Brewery/Anderson Builders
OF – John Gustafson, Willimantic Brewery/Anderson Builders
EP – David Kuchinsky, Willimantic Brewery/Anderson Builders
UTIL – George Coffey, Select Specialty
UTIL – Todd Byrd, Select Specialty
UTIL – Darrin Nicely, Select Specialty
UTIL – Dane Davidson, Southern Spray
ASA B ALL AMERICANS THIRD TEAM
P – Eric Killinger, Wine Trucking
C – David Richardson, Wine Trucking
1B – Steve Laxton, Deluxe Bakery
2B – Mike Taylor, Deluxe Bakery
3B – Steve Piniero, Deluxe Bakery
SS – Gary Lynch, Team Talikka
OF – Rennis Rouse, Team Talikka
OF – Jack Penrod, Powertel/Team Victory
OF – Joey Kite, Powertel/Team Victory
OF – Joe Cennamo, Flyjuice
EP – Barry Shular, Flyjuice
UTIL – Chris Jones, Flyjuice
UTIL – Jimmy Guy, Southern Spray
UTIL – Mike Reed, Southern Spray
UTIL – Andy Harris, Wine Trucking
---
FINAL RESULTS
1. Wine Trucking, Fredericksburg., VA (8-0)
2. Austin Spurs, Austin., TX (7-2)
3. Select Specialty, Palmyra., VA (5-2)
4. Willimantic Brewery/ Anderson Builders, Willimantic., CT (5-2)
5t. Flyjuice, Stamford., CT (5-2)
5t. Powertel/Team Victory, Millington., TN (5-2)
7t. Minnesota Merchants/Mizuno, Eden Prairie., MN (6-2)
7t. Southern Spray, Memphis., TN (5-2)
9t. Deluxe Bakery, Bellmawr., NJ (5-2)
9t. Twohig Iii, Lakewood., OH (4-2)
9t. Miller Screwballs, Berwyn., IL (5-2)
9t. Accu Truss/The Sun Deck/Vessels, Elizabeth Town., KY (3-2)
13t. Team Talikka, Mentor., OH (5-2)
13t. Tulsa Heat, Tulsa., OK (5-2)
13t. Acme Woodworking/Doc Holidays, Wakefield., MA (5-2)
13t. Ark-La-Tex Palletts, Haughton., LA (4-2)
17t. Sun Valley, Maryland Heights., MO (3-2)
17t. Driftwood Lounge, Whapeton., ND (3-2)
17t. S&S Landscaping/Xtreme Softball, Ashaway., RI (3-2)
17t. T&B, Glen Ellyn., IL (3-2)
17t. Mizuno On-A-Mission, Roberts., WI (2-2)
17t. Franchise, Crete., IL (2-2)
17t. Ichabod'S, Effington., IL (2-2)
17t. Logomax, Coalvalley., IL (2-2)
25t. Boomers, San Antonio., TX (3-2)
25t. Hot Rod Café, Post Falls., ID (3-2)
25t. Moose's Saloon, Kalispell., MT (3-2)
25t. Millinax Ford/Steele, Parma., OH (3-2)
25t. Turner Motor Company, Dardanelle., AR (3-2)
25t. A&B Contracting, West Columbia., WV (2-2)
25t. Team Yager, Kalispell., MT (2-2)
33t. Hooters-Memphis, Memphis., TN (3-2)
33t. Frame-All, Hinds Dale., MA (2-2)
33t. LA Express, Bossier City., LA (2-2)
33t. K.R. Plaza, Iowa City., IA (2-2)
33t. Baker Insurance, Bismark., ND (2-2)
33t. Bartok Kennels, Enterprise., AL (1-2)
33t. A1 T's, Utica., NY (1-2)
33t. Telequip Storm, Hickory Creek., TX (1-2)
33t. Team Dudley, Houston., TX (1-2)
33t. Hooters-Dropped Out, Thibodeaux., LA (1-2)
33t. Spirit Softball Club, Sacramento., CA (1-2)
33t. Spirit Graphics, Mechanicsville., VA (1-2)
33t. Odd Fellows Lodge, Bloomington., IN (1-2)
33t. Ultimate, Franklin., WI (1-2)
33t. Potomac Valley Brick, Wheaton., MD (1-2)
33t. Brent'S Carpet, Belmont., MS (1-2)
49t. OEI/S.S. Softball, Livonia., MI (2-2)
49t. T-Shirt Express, Edinburgh., IN (2-2)
49t. Cleary's Home Plate, Greenfield., WI (1-2)
49t. Pudgy's Cycle, Auburn., ME (1-2)
49t. Team Thirsty's, Kearney., NE (1-2)
49t. Regulators, Cedar Rapids., IA (0-2)
49t. Warren Construction, Smyrna., TN (0-2)
49t. Allsport Mfg/Equalizer, Mercer Island., WA (0-2)
49t. Bigelow Enterprises, Bryon., MN (0-2)
49t. National Roofing, Grand Blane., MI (0-2)
49t. All American Athletics, Lumberton., TX (0-2)
49t. Free Agents, Port Lavaca., TX (0-2)
49t. Jimmy's Fish & Seafood, Brownsdale., MN (0-2)
49t. Bat Source, Manchester., TN (0-2)
49t. Mayslack's/Déjà Vu, Minneapolis., MN (0-2)
49t. Hooters Softball Club, Plano., TX (0-2)
65t. Brew/Kidd Jones, Tyler., TX (0-2)
65t. Stingers, Waco., TX (1-2)
65t. Jackson Softball Club, Jackson., WY (0-2)
65t. Colby Telephone, Harrisville., RI (0-2)
65t. Gem City, Frankfort., IN (0-2)
65t. GPAC/Reda Sports, Easton., PA (0-2)
65t. Advantage Softball, Papillion., NE (0-2)
65t. Memphis Reds, Olive Branch., MS (0-2)
65t. Sports Fanatic/Acorns, Amesbury., MD (0-2)
65t. Three Star Construction, Browersville., MN (0-2)
65t. P.A.C., Booneville., MS (0-2)
65t. Shelter Insurance, Lockesburg., AR (0-2)