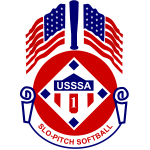 2007 held at Orlando, Florida.
---
Champion – Enough Said, Tallahassee, Florida
Runner Up – Juice, Houston, Texas
---
Once again, Enough Said lost their first game. Minnesota Ice beat them 6-3. They traveled the losers bracket route to get to the finals, They reeled off seven straight wins, scoring 122 runs along the way, including two wins over Juice of Houston (17-5 and 20-10) to claim the Championship.
---
MVP – Stacie Symonds, Enough Said
Defensive MVP – Heather, Wright, Juice
Offensive MVP – Danielle Brown, Enough Said
---
2007 ALL WORLD TEAM
Mary Hoff, Enough Said
Sirene Johnson, Enough Said
Karla Martinez, Chata
Nidia Salas, Chata
Shannon Pigott, Juice
Diane Williams, Enough Said
Yen Wilson, Juice
Gina Perez, Juice
Christan Dowling, Enough Said
Tammie Haywood, Supersonics
Crissy Hixon, Supersonics
Lillie Davis, Juice
Ruby Nugent, Enough Said
Tracy Bougere, Supersonics
---
FINAL STANDINGS
1. Enough Said, Tallahassee, TN (7-1)
2. Juice, Houston, TX (4-2)
3. Supersonics, Warner Robins, GA (3-2)
4. Chata, Downey, CA (3-2)
5t. Minnesota Ice, North St. Paul, MN (2-2)
5t. Team Karphone, Los Angeles, CA (1-2)
7t. MN Thunderboltz, Little Canada, MN (1-2)
7t. Hotgirlz, Cincinnati, OH (1-2)
9t. Lady Zapp, Atlanta, GA (1-2)
9t. Citgo/MTO, Racine, WI (0-2)
9t. No Chit, Fountain Valley, CA (0-2)
9t. Diamond Queens Softball Club, Nashville, TN (0-2)