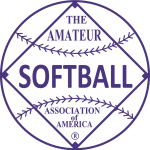 2007 held at Stratford, Connecticut.
---
Champion – Stratford Brakettes, Stratford, Connecticut (56-5)
Runner Up – Southern California Sliders, Yorba Linda, California
---
The format of the tournament changed to pool play with teams being seeded into a double elimination bracket.
Tournament never completed, Brakettes and Sliders were both 2-0 and in the winners bracket finals, Brakettes were leading Sliders 2-0 in winners bracket final when rain washed away the game and remainder of the tournament. By virtue of fewest runs allowed in Winners Bracket (9-1, 4-0 for a total of 1 run allowed), Brakettes were awarded the Championship and Sliders second (3-1, 7-3 for a total of 4 runs allowed). Katie Burkhart of the Brakettes (2-0, 7 IP, shutout, 12 K) was pitching the last game when the rains came. She had her team up 2-0 in the 3rd giving up 1 hit and already struck out 5. Leslie Malerich (1-0) won the other game for the Brakettes as they finished 4-0. In the losers bracket final, the Carbondale Cougars and the So Cal Hurricanes game had just started before it was washed out.
---
MVP – Courtney Bures, Stratford Brakettes
HR Leader – N/A
Batting Leader – Sarah Clynes, Carbondale Cougars (9-15) – .600
Bertha Tickey Pitching Award – Brandice Balschmiter, Stratford Brakettes
Erv Lind Defensive Award – Not awarded
---
FIRST TEAM ALL-AMERICANS
P –  Brandice Balschmiter, Stratford Brakettes (2-0, she hurled a 5 inning 10-0 no-hitter with 8 K and then came back and tossed a 6-0 one-hitter with 8 K). All total, she was 2-0, 12 IP, 16 K, 1 hit and 0 Runs.
P – Leslie Malerich, Stratford Brakettes
P – Angelica Seldon, California Sliders
C – Melissa Roth, South California Hurricanes
1B – Stephanie Denlinger, Topton VIP's
2B – Amanda Fishback, Stratford Brakettes
3B – Michelle Armentrout, South California Hurricanes
SS – Courtney Bures, Stratford Brakettes (was 3-3 in the 9-1 win 2 doubles and 2 RBI; then in the final game, Bures laid down a perfect suicide squeeze which scored a run and then another runner scored on an error on the subsequent throw.). She played great defense from her shortstop position as well.
OF – Sarah Clynes, Carbondale Cougars
OF – Sari Jane Jenkins, Stratford Brakettes
OF – Danielle Kinley, California Sliders
OF – Lindsay Pickering, Carbondale Cougars
UTIL – Sarah Coppert, Indiana Slammers
UTIL – Samantha Marder, California Sliders
UTIL – Melissa Sanchez, California Sliders
SECOND TEAM ALL-AMERICANS
P – Megan Denny, Carbondale Cougars
P – Sarah Hoffman, New York Freedom
P – Helen Pena, South California Hurricanes
C – Abby Gross, Indiana Slammers
1B – Rachel Folden, South California Hurricanes
2B – Crista Cerrone, New York Freedom
3B – Candace Clark, Topton VIP's
SS –  Courtney Martinez, South California Hurricanes
OF – Katie Gollhardt, South California Hurricanes
OF – Jenny Jacobs, Indiana Slammers
OF – Cambra Miranda, California Sliders
OF – Christina Novak, Impact Fastpitch
UTIL – Tonya Callahan, Carbondale Cougars
UTIL – Toni DeFillippo, Topton VIP's
UTIL – Morgan Wheeler, Impact Fastpitch
---
FINAL STANDINGS
1. Stratford Brakettes, Stratford, CT (2-0)
2. California Sliders, Montclair, CA (2-0)
3. Carbondale Cougars, Carbondale, IL (2-2)
4. Southern Cal. Hurricanes, Lake Forest, CA (3-2)
5t. Topton VIP's, Topton, PA (3-2)
5t. Indiana Slammers, Hobart, IN (2-2)
7t. New York Freedom, Babylon, NY (2-2)
7t. Impact Fastpitch, Churubsuco, IN (2-2)
9t. Midland Lady Explorers, Midland, MI (0-2)
9t. Bloomington Lady Hearts, Bloomington, IL (0-2)
9t. Saints, St. Louis, MO (0-2)
9t. KAM/Hooters, Portage, MI (0-2)
---