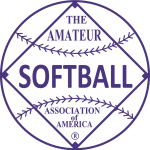 1990 held at Redding, California.
---
Champion – Raybestos Brakettes, Stratford, Connecticut (65-5)
Runner Up – Redding Rebels, Redding, California
---
Barbara Reinalda pitched the final 6-0 shutout for the Brakettes. She and Lisa Fernandez led the Brakettes pitching and both were named to the All-American team. Dot Richardson's defensive plays and timely hitting earned her the MVP Award.
---
MVP – Dot Richardson, Raybestos Brakettes
Bertha Tickey Pitching Award – Michele Smith, Redding (4-1, pitched 3-0 one-hitter over Whittier Raiders to get Rebels to final, only to lose 6-0 to the Brakettes, She also went 4-12, .333 batting average)
Erv Lind Defensive Award – Dot Richardson, Raybestos Brakettes
Batting Leader – Chenita Rogers, California Invasion (9-20) – .450
HR Leader – N/A
---
1990 FIRST TEAM ALL AMERICANS
P – Michele Smith, Redding Rebels
P – Lisa Longaker, Whittier Raiders
P – Lisa Fernandez, Raybestos Brakettes
C – Michelle Gromacki, Redding Rebels
C – Karen Sanchelli, Raybestos Brakettes
1B – Kelly Jackson, Redding Rebels
2B – Pam Newton, California Invasion
3B – Cindy Cooper, Redding Rebels
SS – Dot Richardson, Raybestos Brakettes
OF – Bobby Rogers, California Invasion
OF – Alani Silva, California Invasion
OF – Yvonne Gutierrez, California Knights
OF – Jill Justin-Coffel, Raybestos Brakettes
DP – LeaAnn Jarvis, Raybestos Brakettes
UTIL – Debbie Schneider, California Invasion
1990 SECOND TEAM ALL AMERICANS
P – Kathy Arendsen, Raybestos Brakettes
P – Michele Granger, California Knights
P – Lori Sippel, Redding Rebels
C – Barb Booth, Orange County Majestics
C – Denise Correa, Whittier Raiders
1B – Cathy Wylie, Michigan Cruise
2B – Valerie Van Kirk, Whittier Raiders
3B – Sharon Sodano, California Knights
SS – Julie Standering, Prindle Royals
OF – Amy Gelbach, Whittier Raiders
OF – Pat Dufficy, Raybestos Brakettes
OF – Rina Foster, Redding Rebels
OF – Camille Spitaleri, California Knights
DP – Trish Johnson, Michigan Cruise
UTIL – Suzie Gaw, Orange County Majestics
1990 THIRD TEAM ALL AMERICANS
P – Margie Wright, Fresno Force
P – DeDe Weiman, Orange County Majestics
P – Barbara Reinalda, Raybestos Brakettes
C – Laura Jensen, California Invasion
C – Jennifer Gaylor, Sacramento Breeze
1B – Sheila Cornell Douty, Raybestos Brakettes
2B – Jill Matyuch, Orange County Majestics
3B – Michele McAnany, Whittier Raiders
SS – Liz Mizera, Whittier Raiders
OF – Vicky Rios, Sacramento Breeze
OF – Sue Lewis, California Invasion
OF – Priscilla Rouse, California Knights
OF – Barbara Jordan, Redding Rebels
DP – Lindy James, Raybestos Brakettes
UTIL – JoAnn Ferrieri, California Invasion
---
FINAL STANDINGS
1. Raybestos Brakettes, Stratford, CT (6-0)
2. Redding Rebels, Redding, CA (6-2)
3. Whittier Raiders, Whittier, CA (4-2)
4. California Knights, Burbank, CA (3-2)
5t. California Invasion, West Covina, CA (4-2)
5t. Fresno Force, Fresno, CA (4-2)
7t. Prindle Royals, Bridgeport, CT (2-2)
7t. Michigan Cruise, Ann Arbor, MI (2-2)
9t. Orange County Majestics, Orange, CA (3-2)
9t. Topton VIPs, Topton, PA (2-2)
9t. Sacramento Breeze, Sacramento, CA (2-2)
9t. Sun City Saints, Sun City, AZ (2-2)
13t. East Peoria Avantis, East Peoria, IL (1-2)
13t. Budweiser Belles, Parsippany, NJ (1-2)
13t. St. Louis Classics, St. Louis, MO (1-2)
13t. Plymouth Blue Wave, Plymouth, MA (1-2)
17t. Decatur Rockettes, Decatur, IL (1-2)
17t. Portland Blues, Portland, OR (1-2)
17t. Capitaland Jimmies, Albany, NY (0-2)
17t. NorCal Tremors, Stockton, CA (0-2)
17t. Celina Suns, Celina, OH (0-2)
17t. Silver Bullets Fastpitch (0-2)
17t. Allentown Pates, Allentown, PA (0-2)
17t. Sacramento Express, Sacramento, CA (0-2)