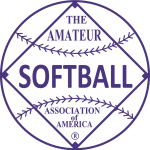 2005 held at Stratford, Connecticut.
---
Champion – California/Schutt Hurricanes, Burbank, California
Runner Up – Stratford Brakettes, Stratford, Connecticut (51-17)
---
The format of the tournament switched to a three game guarantee bracket.
The Schutt Hurricanes came from behind in the championship game to defeat the Brakettes 3-2. This was Suzy Brazney's last ASA National Championship Tournament and she ended her 26 year career as a winner. She was the Schutt Hurricanes Catcher and batted .333 in the tournament. Schutt went undefeated in the tournament (5-0). Ashley Herrera and Kim Gonzalez both had run scoring singles in the 7th inning to give the Hurricanes the 3-2 lead. That's all Mowatt needed as she finished off the Brakettes in the bottom of the 7th.
Anne Wells and Kristen Brust, Storm USA combined for 21 RBI.
Leslie Malerich went 1-0. Kaci Clark went 1-0. Cat Osterman went 0-1, 8 IP, 11 K.
---
MVP – Ashley Herrera, Hurricanes
HR Leader – Becky Turi, Hurricanes – 2
HR Leader – Christie Lotti, CT Breakers – 2
HR Leader – Anne Wells, Storm USA – 2
HR Leader – Kristen Brust, Storm USA – 2
Batting Leader – Kristine Rochette, Connecticut Classics  – .500
Bertha Tickey Pitching Award – Taryne Mowatt, Hurricanes
Erv Lind Defensive Award – Jessica Brady, Storm USA
---
FIRST TEAM ALL-AMERICANS
P – Taryne Mowatt, California Hurricanes (3-0, 21 IP, 19 K, She had 14 K and beat the Brakettes Cat Osterman 1-0 in 8 innings in winners bracket final and also won the 3-2 final game over Sarah Pauley)
P – Monica Abbott, California Hurricanes (2-0)
P – Sarah Pauley, Stratford Brakettes (2-1 with shutout, 29 IP, 25 K)
C – Suzy Brazney, California Hurricanes
1B – Kristen Brust, Storm USA (6-17, .353, 2 HR)
2B – Ashley Herrera, California Hurricanes (8-19, .421) – RBI single in 7th inning tied score in final, walk off SF won WB final 1-0 in 8th
3B – Callie Piper, Stratford Brakettes
SS – Becky Turi, California Hurricanes
OF – Courtney Lewis, Storm USA
OF – Amanda Jensen, Stratford Brakettes
OF – Krista Colburn, California Hurricanes
OF – Denise Dennis, Stratford Brakettes
UTIL – Anne Wells, Storm USA (9-21, .429, 2 HR)
UTIL – Kristine Rochette, Connecticut Classics (6-12, .500)
UTIL – Jennifer Dykstra, Storm USA
SECOND TEAM ALL-AMERICANS
P – Lauren Anderson, Storm USA
P – Danielle Shields, Storm USA
P – Viveca Patterson, New Jersey Divas
C – Killian Rossner, Stratford Brakettes
1B – Christie Lotti, Stratford Breakers
2B – Erica Sobel, Stratford Brakettes
3B – Amy Hillel, Storm USA
SS – Lovena Chaput, Stratford Brakettes
OF – Jamie Dacey, Storm USA
OF – Linda Secka, Stratford Brakettes
OF – Jessica Brady, Storm USA
OF – Germaine Fairchild, Stratford Brakettes
UTIL – Kelly Ogden, Storm USA
UTIL – Brianna Hout, Buffalo Bisons
UTIL – Amanda Acompora, Connecticut Classics
---
FINAL STANDINGS
1. California Hurricanes, Lake Forest, CA (5-0)
2. Stratford Brakettes, Stratford, CT (4-2)
3. Storm USA, Corona, CA (4-2)
4. Buffalo Bisons, Buffalo, NY 3-3
5t. New Jersey Divas, Linden, NJ (3-2)
5t. Stratford Breakers, Stratford, CT (2-2)
7t. Connecticut Classics, New Haven, CT (2-2)
7t. Staten Island Saints, Staten Island, NY 1-3
9t. Connecticut Mirage, Canton, CT (1-2)
9t. Lehigh Valley Patriots, Lehigh Valley, PA 1-3
9t. New York Raiders, Suffern, NY 0-3
9t. St. Louis Saints, St. Louis, MO (1-2)
13. Stratford Seahawks, Stratford, CT (1-2)
---