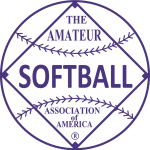 2005 held at McAllen, Texas on August 26-28.
---
Champion – Bestway Semitrailers, McDonough, Georgia
Runner Up – Sheppard Senators, Wichita Falls, Texas
Bestway slipped by with a 16-15 victory against Worthington advancing to the semi-finals to battle 2004 defending champion Sikorsky Aircraft (Stratford, Conn.).
On Sunday, the Semitrailers continued to control the tournament defeating Sikorsky 22-14 sending the former champs to the loser's bracket. Waiting for its opponents, the Semitrailers watched as the Sheppard Air Force Base Senators (Wichita Falls, Texas) advanced with a 16-15 intense decision over Sikorsky. Bestway halted the Senators hopes however taking home the National Championship hardware with an 11-9 final game victory.
---
MVP – Mark Knight
Batting Champion – Payton Guess
HR Champion – Jorge Chavez
---
ASA INDUSTRIAL MAJOR ALL AMERICANS FIRST TEAM
P – Mark Knight, Bestway Semitrailers
C – Dean Patterson, Bestway Semitrailers
1B – Ron Pearce, Bestway Semitrailers
2B – Steve Swazay, Sheppard Senators
3B – Jimmy Phillips, Bestway Semitrailers
SS – Payton Guess, Bestway Semitrailers
OF – Toby Starks, Bestway Semitrailers
OF – Jorge Chavez, Sheppard Senators
OF – Chris Pittner, Sheppard Senators
OF – Ronnie Black, Bestway Semitrailers
UTIL – Jim Davis, Sheppard Senators
UTIL – Alejandro Rodriguez, Sikorsky Aircraft
UTIL – Jeff Toni, Sikorsky Aircraft
UTIL – Todd Ringhiser, Worthington Industries
UTIL – Steve Gifford, Sheppard Senators
ASA INDUSTRIAL MAJOR ALL AMERICANS FIRST TEAM
P – Mark Mihalick, Sikorsky Aircraft
C – Marc Bukowski, Sheppard Senators
1B – Ed Muzyka, Sikorsky Aircraft
2B – Josh Lynch, Bestway Semitrailers
3B – Scott Chafin, Bestway Semitrailers
SS – Matt Brown, Sheppard Senators
OF – Scott Holder, Sheppard Senators
OF – Dave Miles, Sheppard Senators
OF – Edward Nelson, Sikorsky Aircraft
OF – Tom DeBernardo, Sikorsky Aircraft
UTIL – Mike Houck, Sheppard Senators
UTIL – Jason Morris, Bestway Semitrailers
UTIL – Charles Curtis, Worthington Industries
UTIL – Billy Moler, Worthington Industries
UTIL – Jason Russell, Worthington Industries
---
FINAL STANDINGS
1. Bestway Semitrailers, McDonough, GA (4-0)
2. Sheppard Senators, Wichita Falls, TX (4-2)
3. Sikorsky Aircraft, Stratford, CT (1-2)
4. Worthington Industries, Columbus, OH (1-2)
5t. Solutia Stars, Alvin, TX (0-2)
5t. Clute Champs, Clute, TX (0-2)