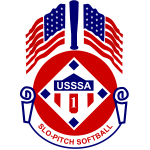 1988 held at Garland, Texas.
---
Champion – Empress Chili, Cincinnati, Ohio (74-23)
Runner Up – County Sports Mice, Levittown, NY
---
This is also the third straight year that Empress has won the World Series. No team has ever done that before. They won 5 straight games to clinch the title. Four of the games, they won pretty easily, their quarterfinal match against Steele's Sports was their toughest game as they had to come from behind twice to win 9-8. Pam Patrus was the MVP as she went 14 for 19 (.737 average) and also pitched and won all five games. Including the final game against the County Sports Mice of Long Island. That score was 10-1.
---
MVP – Pam Patrus, Empress Chili (14-19, 737, plus 5-0 pitching)
Batting Leader – Debbie Brajevich, County Sports Mice (16-21) – .761
HR Leader – N/A
Defensive MVP – Rita Rodriguez, County Sports Mice
Offensive MVP – Debbie Brajevich, County Sports Mice (16-21) – .761
---
1988 ALL WORLD TEAM
P – Pam Patrus, Empress Chili
P – Gail Wasmus, County Sports
C – Jan Deters, Empress Chili
1B – Ann Heider, Huntel Systems/TMI
2B – Marti Bronikowski, Bandit Messengers
2B – Debbie Brajevich, County Sports
2B – Sharon Graham, Empress Chili
3B – Leslie Kanter, Steele's Sports
3B – Jenny Johnson, Empress Chili
3B – Rita Rodrigues, County Sports
SS – Sue Kozoil, Steele's
SS – Joann VanVliet, Mrs A's Express
SS – Lisa Stellato, County Sports
OF – Karen Heeney, Huntel Systems/TMI
OF – Jill Goldberg, Yankees
OF – Allison Cole, Steele's
OF -Sharon Veltre, County Sports
OF – Tina May, Empress Chili
OF – Rhonda Adams, Empress Chili
Manager – Gloria Hill, Empress Chili
---
FINAL STANDINGS (Incomplete)
1. Empress Chili, Cincinnati, OH
2. County Sports Mice, Levittown, NY
3. Steele's Sports, Grafton, OH
4. Huntel Systems/TMI, Blair, NE