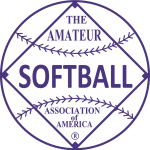 2004 held at South Bend, Indiana on August 5-8.
---
Champion – The Farm Tavern, Madison, Wisconsin
Runner Up – Broken Bow Spirit, Broken Bow, Nebraska
---
Pitcher Dean Holoien (British Columbia) of The Farm Tavern made his first appearance in an ASA National Championship one to remember by hurling a no-hitter in beating Broken Bow Spirit, (6-0) in the championship game. Holoien (4-0) fanned 14 of the 22 batters he faced in winning his fourth game, allowing only one runner when he walked Ray Reinagel to open the third inning. Holoien finished with a tourney-high 65 strikeouts in 26 2/3 innings, allowing two runs (earned) and eight hits to give The Farm Tavern its 10th consecutive win in ASA national championship play (They were (5-0) last year and finished up (5-0) in this year's championship). Holoien, who also batted .267, walked only three batters and finished with an ERA of 0.52.
Dean Holoien hurled a (6-0) no-hitter in championship game with 14 K. Todd Budke hit a HR and Broomer Bush had a triple to lead the batsmen. Doug Middleton took the loss for Broken Bow.
Paul Algar, Farm Tavern went 1-0, with a shutout.
---
MVP – Dean Holoien, The Farm Tavern
Batting Leader – Tim Hatten, Blackhawk Athletic Club – .667
HR Leader – Todd Budke, The Farm Tavern – 3
Herb Dudley Pitching Award – Dean Holoien, The Farm Tavern
---
FIRST TEAM ALL-AMERICANS
P – Dean Holoien, The Farm Tavern (4-0, 65 K, 27 IP, 0.52 ERA, batted .267. He had 21 K in 7 inning game prior to the final. He threw a no-hitter in the championship game. He also batted .267)
P – Gerald Muizelaar, Broken Bow Spirit (4-0, 26 IP, 0 ER, 49 K)
P – Rob O'Brien, Circle Tap
C – Todd Garcia, The Farm Tavern
1B – Tim Hatten, Blackhawk Athletic Club (8-12)
2B – Bill McDonald, Heflin Builders
3B – Todd Budke, The Farm Tavern
SS – David Boys, The Farm Tavern
OF – Tony Gabriel, Heflin Builders
OF – Rob Gray, The Farm Tavern
OF – Chad Maxon, Blackhawk Athletic Club
OF – Steve Schott, Broken Bow Spirit
UTIL – Chris Delarwelle, Circle Tap
UTIL – Chris Delorit, The Bull/Townline
UTIL – Steve Price, Heflin Builders
SECOND TEAM ALL-AMERICANS
P – Frank Cox, Broken Bow Spirit
P – Sebastian Gervasutti, The Bull/Townline
P – Jeremy Manley, Pueblo Bandits
C – Russ VanWyk, Fred's Interiors
1B – German Alcantara, Heflin Builders
2B – Raul Moraga, Broken Bow Spirit
3B – Tom Montgomery, Circle Tap
SS – Jeffrey Goolagong, The Bull/Townline
OF – Mike Dryer, Broken Bow Spirit
OF – Brent Evans, HIS Construction
OF – Nick Needham, Fred's Interiors
OF – Jason Shea, Pueblo Bandits
UTIL – Quentin Matzner, Fred's Interiors
UTIL – Blake Miller, Heflin Builders
UTIL – Todd Twachtman, The Farm Tavern
---
FINAL STANDINGS
1. The Farm Tavern, Madison, WI (5-0)
2. Broken Bow Spirit, Broken Bow, NE (6-2)
3. Circle Tap, Denmark, WI (3-2)
4. The Bull/Townline, DePere, WI (5-2)
5t. Fred's Interiors, Quad City, IA (2-2)
5t. Heflin Builders, Balston Spa, NY (4-2)
7t. HIS Construction, Houston, TX (2-2)
7t. Blackhawk Athletic Club, Rockford, IL (2-2)
9t. Lafayette Pub, St. Louis, MO (1-2)
9t. Winterset A's, Winterset, IA (1-2)
9t. Imaging Solutions Knights, Fargo, ND (1-2)
9t. Pueblo Bandits, Pueblo, CO (2-2)
13t. Midland Explorers, Midland, MI (1-2)
13t. Bloomington Stix, Bloomington, IL (1-2)
13t. The Freight, Vandalia, IL (1-2)
13t. Dolan & Murphy Shamrocks, Aurora, IL (1-2)
17t. Indiana Jaybirds, Anderson, IN (0-2)
17t. Plangger's Furniture, South Bend, IN (0-2)
17t. Coors Light, Ashland, OH (0-2)