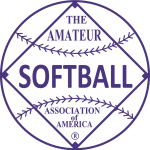 2004 held at Marietta, Georgia on August 9-14.
---
Champion – Southern Force, Johnston City, Illinois
Runner Up – California Cruisers, La Palma, California
---
Sharma Diller's RBI-single in the bottom of the 10th inning captured the Amateur Softball Association 18-and-under Gold National Tournament title for the Southern Force Sunday.
Diller, of Bloomington, drove Toni Whitfield of Johnston City in with the winning run in a 2-1 victory over the California Cruisers in Marietta, Ga. With the win, the Force became what's believed to be the first team from the Midwest to ever win the tournament.
"We wanted it big time," said Force coach Gerry Glasco. "I really felt positive that we were going to win, because we won the Canada Cup in a 0-0 game in the eighth inning."
University of Georgia pitcher Kasi Carroll, who pitched Norris City-Omaha-Enfield to the Class A State '- Softball Tournament as a senior in 2003, notched the win for the Force off the mound Sunday. Carroll allowed four runs in 10 games over the five-day tournament that began Aug. 11.
The Force beat Impact (Texas) Gold 1-0 in Saturday night's semifinals and topped two Division I recruits in the Sunday finals. Anjelica Selden, who signed with the University of California-Los Angeles, and Arizona State signee Mindy Cowles both pitched for the Cruisers in the title game and allowed both runs.
Cowles started the game, was relieved by Selden, and came back in the 10th inning, when the Force loaded the bases with nobody out.
Under the international tiebreaker, the Force began the inning with Whitfield on second base. Kacey Coonce was intentionally walked, bringing up Mount Vernon's Katie Wagner. Wagner attempted to sacrifice Whitfield over to third, but reached base when the Cruisers' first baseman pulled her foot off the bag, leaving the bases loaded for Diller.
She then smacked Cowles' first pitch up the middle into center field for the game-winner.
"Everybody had a part in it," Glasco said. "Wagner made a sacrifice. and Whitfield made a nice catch the other night, taking away a double. Chelsea Petty had big hit after big hit all week long. Wagner, Glasco, Petty and Coonce — they've played together for years, and they're all from small towns.
"They pulled together better. The Cruisers came from all over the United States; their team would pull them in for every weekend and pay for all of their expense."
The Cruisers scored the first run of the game in the top of the eighth, but the Force responded with a run in the bottom half off a wild pitch.
The Force ended at 59-9 overall, and will try to duplicate the feat next season.
Carroll will be ineligible next season, but Glasco said Belleville East fireballer Dylan Mathis of Roxana could play with the team next summer.
---
FINAL STANDINGS
1. Southern Force, Johnston City, IL (7-0)
2. California Cruisers, La Palma, CA (10-2)
3. Impact Gold, Houston, TX (5-2)
4. O.C. Batbusters, Santa Ana, CA (6-2)
5t. Corona Angels, Corona, CA (4-2)
5t. Georgia Elite Gold, Douglasville, GA (4-2)
7t. Arizona Heatwave Gold, Tempe, AZ (4-2)
7t. Gordon's Panthers, Canyon Lake, CA (5-2)
9t. Valley Breeze Gold, Agoura, CA (3-2)
9t. Blast Gold, Beaumont, TX (3-2)
9t. Vancouver Ford, Vancouver, WA (4-2)
9t. Anaheim O.C. Batbusters, Garden Grove, CA (4-2)
13t. Shamrocks, Vienna, VA (3-2)
13t. Southern Cal Athletics, Montclair, CA (3-2)
13t. San Diego Co. Breakers, Carlsbad, CA (4-2)
13t. Arizona Hotshots, Tempe, AZ (4-2)
17t. Gold Coast Hurricanes, Plantation, FL (2-2)
17t. American Pastime, Upland, CA (2-2)
17t. Runnin' Rebels, Stockton, CA (2-2)
17t. Sorcerer Softball, San Ramon, CA (3-2)
17t. Worth Firecrackers, Huntington Beach, CA (3-2)
17t. Fresno Force, Fresno, CA (3-2)
17t. Oregon Sun Supply, Portland, OR (3-2)
17t. Team Smith, Yorba Linda, CA (3-2)
25t. Texas Storm, Pearland, TX (2-2)
25t. KC Peppers, Olathe, KS (2-2)
25t. Austin Storm, Austin, TX (2-2)
25t. Beverly Bandits, Orland Park, IL (2-2)
25t. Magic Gold, Missouri City, TX (2-2)
25t. Clearwater Lady Bombers, Largo, FL (2-2)
25t. South Houston Mystixx, Houston, TX (2-2)
25t. Strikkers, San Jose, CA (2-2)
33t. Tulsa Eagles Gold, Tulsa, OK (1-2)
33t. Texas Elite Easton, Grand Prairie, TX (1-2)
33t. American Athletics Gold, Fountain Valley, CA (1-2)
33t. Washington Spirit Gold, Richland, WA (1-2)
33t. Houston Power Gold, Katy, TX (1-2)
33t. Phoenix Storm, Phoenix, AZ (1-2)
33t. St. Louis Chaos, St. Louis, MO (1-2)
33t. Georgia Fire Gold, Roswell, GA (1-2)
33t. Washington Lady Hawks, Lake Forest, WA (1-2)
33t. Omaha Finesse, Omaha, NE (1-2)
33t. Nashville Nighthawks, Madison, TN (1-2)
33t. Wichita Mustangs, Wichita, KS (1-2)
33t. Atlanta Vipers, Fayetteville, GA (1-2)
33t. Southern Cal Vipers, Moreno Valley, CA (1-2)
33t. Beach Girls Gold, Brooklyn, NY (1-2)
33t. Colorado Stars Gold, Boulder, CO (1-2)
49t. Filly's, Mira Loma, CA (1-2)
49t. GA Fire Black, Lawrenceville, GA (0-2)
49t. Maddogs, Alliance, OH (0-2)
49t. Finesse, Sterling Heights, MI (0-2)
49t. Delong AZ Outlaws, Peoria, AZ (0-2)
49t. Strike Zone, Hayward, CA (0-2)
49t. California Lite Gold, Rialto, CA (0-2)
49t. East Cobb Bullets, Marietta, GA (0-2)
49t. East Cobb Angels, Marietta, GA (0-2)
49t. Rock N Fire, Manassas, VA (0-2)
49t. Oklahoma Dynamites, Edmond, OK (0-2)
49t. Lady Gators, West Palm Beach, FL (0-2)
49t. Grapettes, Lodi, CA (0-2)
49t. Chattanooga Yankettes, Chattanooga, TN (0-2)
49t. Miami Valley Xpress, Dayton, OH (0-2)
49t. Wagner's, Glen Burnie, MD (1-2)
65t. Team Florida, Palm Harbor, FL (0-2)