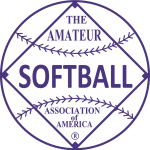 2003 held at Pekin, Illinois.
---
Champion – Stratford Brakettes, Stratford, Connecticut (65-5)
Runner Up – Team Smith Inc., Placentia, California
---
The National Pro Fastpitch League conducted a draft in December after nationals and many players from this year's championship were drafted. How this effects the top women's fastpitch national championship is to be determined.
---
MVP – Kelly Kretschman, Stratford Brakettes
HR Leader – N/A
Batting Leader – Lyndsey Angus, Storm USA – .556
Bertha Tickey Pitching Award – Kaci Clark, Stratford Brakettes
Erv Lind Defensive Award – Lea Mishlan, Stratford Brakettes
---
FIRST TEAM ALL-AMERICANS
P – Kaci Clark, Stratford Brakettes (2-0, 14 IP, 21 K)
P – Danielle Henderson, Stratford Brakettes (3-0, 2 ER, 2 shutouts, including the one that in the championship game, 4-0)
P – Jodie Cox, Team Smith Inc
C – Mackenzie Vandergeest, Team Smith Inc
1B – Kellie Wilkerson, Stratford Brakettes
2B – Lyndsey Angus, Storm USA (10-18, .556)
3B – Gina Oaks, Team Smith Inc
SS – Lea Mishlan, Stratford Brakettes
OF – Kelly Kretschman, Stratford Brakettes (6-12, HR, 5 RBI – drove in 2 runs in 5-0 championship)
OF – Stephanie Ramos, Team Smith Inc
OF – Kristen Zaleski, Storm USA
OF – Germaine Fairchild, Stratford Brakettes
UTIL – Nicole Bohnenstiehl, St. Louis Saints
UTIL – Oli Keohohou, Team Smith Inc
UTIL – Lindsey Klein, Team Smith Inc
SECOND TEAM ALL-AMERICANS
P – Piper Marten, Storm USA
P – Crystal Draper, Team Smith Inc
P – Kirsten Voak, California Schutt Hurricanes
C – Suzy Brazney, California Schutt Hurricanes
1B – Emily Starkey, Bloomington Lady Hearts
2B – Cheryl Bolding, Storm USA
3B – Amiee Lonigro, East Peoria Avanti's
SS – Natalie Peters, St. Louis Saints
OF – Bridget Fournie, St. Louis Saints
OF – Alicia Smith, Stratford Brakettes
OF – Erin Mobley, California Schutt Hurricanes
OF – Brooke Rutschman, California Schutt Hurricanes
UTIL – Andea Wirkus, St. Louis Saints
UTIL – Shae Wesley, Bloomington Lady Hearts
UTIL – Teri Goldberg, California Schutt Hurricanes
---
FINAL STANDINGS
1. Stratford Brakettes, Stratford, CT (5-0)
2. Team Smith Inc., Placentia, CA (4-2)
3. California Schutt Hurricanes, Riverside, CA (4-2)
4. St. Louis Saints, St. Louis, MO (4-2)
5t. Storm USA, Lake Forest, CA (4-2)
5t. Bloomington Lady Hearts, Bloomington, IL (2-2)
7t. East Peoria Avantis, East Peoria, IL (3-2)
7t. St. Louis Heat, St. Louis, MO (3-2)
9t. Allentown Patriots, Allentown, PA (2-2)
9t. Indiana Slammers, Hobart, IN (1-2)
9t. Amherst Lightning, Amherst, NY (1-2)
9t. East Peoria Lady Rage, East Peoria, IL (1-2)
13t. Cigs Sting, Decatur, IL (1-2)
13t. Elite Force, Palos Hills, IL (1-2)
13t. Celina Suns, Celina, OH (1-2)
13t. Carbondale Cougars, Carbondale, IL (1-2)
17t. Springfield Rockettes, Springfield, IL (0-2)
17t. Lisle Powerhouse, Lisle, IL (0-2)
17t. Peoria Outlaws, Peoria, IL (0-2)
17t. Pekin Lettes, Pekin, IL (0-2)
---