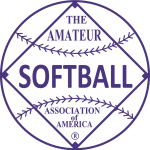 2000 held at Clearwater, Florida.
---
Champion – Phoenix Storm, Phoenix, Arizona (17-6)
Runner Up – Team Texas, Houston, Texas
---
Phoenix Storm won first 3 games, before losing to Team Texas, then won 5 straight to capture the title. They finished 8-1 in the tournament. On the Final day, Erica Beach pitched 5 innings of shutout ball, before yielding to Keira Goerl who finished up for the save over the Decatur Twisters. Then Goerl pitched a 3-1 complete game victory over the Raybestos Brakettes.
Then the Storm had to defeat undefeated Team Texas twice. Goerl pitched a 2-0 shutout to win the first final. Goerl started the final game and went 3 innings, before giving way to Amanda Scott who went the rest of the way and was the winning pitcher as in the 9th inning,
Beach walked off of Team Texas pitcher Susie Parra, Amanda Scott got a hit. Parra issued a walk Shelly Musser to load the bases. Dana Sorenson was brought in to relieve Parra and promptly gave up the game winning hit to Katie Swann.
Amanda Scott was 1-0 and Erica Beach was 3-1 for the Storm. Nicole Thompson led the Storm Offense as she went 10-27 (.370).
Suzy Parra of Team Texas by the way shutout the Brakettes 3-0 to advance to the final as the Brakettes went 4-2 and finished 3rd.
---
MVP – Keira Goerl, Phoenix Storm
HR Leader – Jen Stump, Florida Sun Sox – 2
Batting Leader – Jen Stump, Florida Sun Sox – .429
Bertha Tickey Pitching Award – Keira Goerl, Phoenix Storm
Erv Lind Defensive Award – Natasha Whatley, Team Texas
---
FIRST TEAM ALL-AMERICANS
P – Keira Goerl, Phoenix Storm (4-0, 33 IP, 31 K, 1 Save, only gave up 2 runs)
P – Courtney Blades, Brakettes (2-0, 2 saves, 30 K, pitched a perfect game)
P – Michelle Hawkins, CIGS Twister (3-2)
C – Suzy Brazney, Team Texas
1B – Jen Stump, Sun Sox (6-14, .429, 2 HR)
2B – Missy Hixon, Phoenix Storm
3B – Germaine Fairchild, Brakettes
SS – Natasha Watley, Team Texas
OF – Shelly Musser, Phoenix Storm
OF – Alicia Smith, Brakettes
OF – Trena Peel, Team Texas
OF – Nichole Thompson, Phoenix Storm
UTIL – Kara Brun, Phoenix Storm
UTIL – Jennifer Smith, Brakettes
UTIL – Robin Zielinski, Yuengling A's
SECOND TEAM ALL-AMERICANS
P – Dana Sorensen, Team Texas (2-1)
P – Alana Klaus, Boca Pacemakers
P – Susie Parra, Team Texas (2-1)
C – Keri McCallum, Brakettes
1B – Katie Swan, Phoenix Storm
2B – Amy Pera, CIGS Twister
3B – Tairia Mims, Phoenix Storm
SS – April Scherman, Pekin Lettes
OF – Donna MacLean, Brakettes
OF – Tayla Trudell, Hurricanes
OF – Cutie Taylor, CIGS Twister
OF – Ninya Ybarra, Boca Pacemakers
UTIL – Alicia Gerlach, HITS
UTIL – Jenny Oermann, CIGS Twister
UTIL – Lorie Erie-Schmalzle, Yuengling A's
THIRD TEAM ALL-AMERICANS
P – Nikki Myers, Sun Sox
P – Lindsey Chouinard, Hurricanes
P – Kristine Karr-Jacobson, Hurricanes
C – Courtney Scott, Phoenix Storm
1B – Jolene Slama, Pekin Lettes
2B – Vanessa Villegas, Hurricanes
3B – Jennifer Weaver, Yuengling A's
SS – Chantal Pershing, Hurricanes
OF – Erin Rahn, Hurricanes
OF – Jinny Mathews, Boca Pacemakers
OF – Jenna Zimmerman, Pekin Lettes
OF – Sara Vassmer, CIGS Twister
UTIL – Nicole Victoria, Team Texas
UTIL – Erica Beach, Phoenix Storm (3-1)
UTIL – Kellie Wilkerson, Brakettes
---
FINAL STANDINGS
1. Phoenix Storm, Phoenix, AZ (8-1)
2. Team Texas, Houston, TX (4-2)
3. Brakettes, Stratford, CT (4-2)
4. CIGs Twister, Decatur, IL (3-2)
5t. Hurricanes, Perris, CA (4-2)
5t. Sun Sox, Winter Garden, FL (3-2)
7t. Pekin Lettes, Pekin, IL (3-2)
7t. Boca Pacemakers, Boca Raton, FL (3-2)
9t. Yuengling A's, Pottsville, PA (2-2)
9t. Hits, Frankfort, IL (1-2)
9t. Royal Ladies, Yardley, PA (2-2)
9t. Allentown Pates, Allentown, PA (1-2)
13t. Michigan, MI (1-2)
13t. Phoenix Firestorm, Phoenix, AZ (1-2)
13t. Memphis Saints, Memphis, TN (2-2)
13t. Clearwater Bullets, Clearwater, FL (1-2)
17t. Celina Sun, Celina, OH (0-2)
17t. Majestics, Montclaire, NJ (1-2)
17t. Clifton Cobras, Clifton, NJ (0-2)
17t. Topton VIP's, Fleetwood, PA (0-2)
17t. Vypers, Wycote, PA (0-2)
17t. Clearwater Bombers, Clearwater, FL (1-2)
17t. Elite Force, Palos Park, IL (0-2)
---