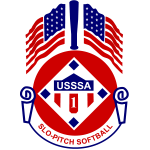 2020 held at Melbourne, Florida at Space Coast Complex on October 1-2.
---
Champion – MPT Rentals/Anarchy, Manahawkin, New Jersey
Runner Up – T's 13, Omaha, Nebraska
---
MPT Rentals knocked off T's 13 in the winner's bracket finals Thursday night by the run rule 21-6 using incredible defense and pitching to shut T's down.  Then on Friday morning T's 13 came from behind with 16 runs in the bottom of the 6th to beat Cornerstone in the loser's finals and advance to the championship.  In the championship MPT Rentals broke open a close game with a grand slam in the 5th and went on to win the 'B' Worlds 19-14 closing out the 7th inning with an incredible diving catch by the right fielder Christensen.  CGR was 4th.
---
MVP – Mike Verbasco, MPT Rentals/Anarchy
Offensive MVP – Andrew Malone, T's 13
Defensive MVP – John Rieman, MPT Rentals/Anarchy
---
USSSA B ALL TOURNAMENT TEAM
Keith Foote, T's 13
Ryan Snyder, MPT Rentals/Anarchy
Jason Payton, Cornerstone/Pauer Sports
Thomas Gothard III, T's 13
Bryan Bradler, Cornerstone/Pauer Sports
Michael Kelley, Cornerstone/Pauer Sports
William Tress, CGR/House Money/Shore Irrigation
Eric Christensen, MPT Rentals/Anarchy
Steve Cox, T's 13
Dominique Rutledge, MPT Rentals/Anarchy
Andrew Masten, T's 13
Jake Ringold, CGR/House Money/Shore Irrigation
Thomas Osenbach, MPT Rentals/Anarchy
Christopher Appell, MPT Rentals/Anarchy
Orlando Olivera, MPT Rentals/Anarchy
---
FINAL STANDINGS
1. MPT Rentals/Anarchy, Manahawkin, NJ (6-0)
2. T'S 13, Omaha, NE (6-2)
3. Cornerstone/Pauer Sports, Louisville, KY (5-2)
4. CGR/House Money/Shore Irrigation, Baltimore, MD (4-2)
5t. Chick-Fil-A/HB Sports/Shepherds, Fairfax, VA (5-2)
5t. Goodtimes, St. Petersburg, FL (5-2)
7t. Kut4 Sports/OI/D2E Trailers, Columbus, GA (5-2)
7t. Dirty Vegas/Steel/Allredi, Groves, TX (3-2)
9t. WM Comm Roofing/Ely Rd Reel/German, Dundee, OH (4-2)
9t. Lazersports/FIG, Las Vegas, NV (2-2)
9t. TRU/Mojo/CA Gear, Fairfax, VA (2-2)
9t. Platinum Fire, Shrewsbury, MA (2-2)
13t. Legion Of Boom/DFW Sports, TX (2-2)
13t. Denver Stars/HPM ,Inc, Denver, CO (2-2)
13t. Rebel Sports/Brotherhood Sports/G2, Rockwood, MI (2-2)
13t. SAL-8/LA Lawns, Sutherlin, VA (2-2)
17t. Titan/Boys, Paris, OH (2-2)
17t. Comatose/S2N/Subway/A+, Kenosha, WI (2-2)
17t. Beloli/OSS Apparel, Taunton, MA (1-2)
17t. Express Athletics, Grants Pass, OR (1-2)
17t. GS/Nally's/Contenderesportllc, Gardner, KS (1-2)
17t. Texas Edge/Budussy, Highlands, TX (1-2)
17t. Envy/Rankin/Lifetime Diamonds/ASP, TX (1-2)
17t. Russell's Paint & Body, Longwood, FL (1-2)
25t. Chanticlear/PHD Sports, Champlin, MN (1-2)
25t. Evolution/Krieger/Compressor Services, Crystal Lake, IL (1-2)
25t. Bigger Den Me/Klutch Brand, Atlanta, GA (1-2)
25t. Beehive Concrete, Ogden, UT (0-2)
25t. Lundmortgage/Easton/Whoareyou/Lazer, Phoenix, AZ (0-2)
25t. Homebridge Financial Services, Colorado Springs, CO (0-2)
25t. Smoke/Complete/Topnotch/Nextlevel, Denver, CO (0-2)
25t. Bellys/Tropics/HDLNS/Durbin Bowl, Cincinnati, OH (0-2)
33t. Texas Pure/SOG, Harker Heights, TX (0-2)
33t. Abeytu'/CSC/Salt Riot/Savon, Rock Springs, WY (0-2)
33t. Program/Worth/JTLLC/3Xtreme, Fort Worth, TX (0-2)
33t. Whut It Dew/SOG, Austin, TX (0-2)