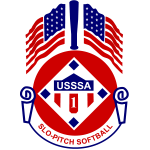 1998 held at Daytona Beach, Florida.
---
Champion – Team TPS, Louisville, Kentucky
Runner Up – Sunbelt/Dan Smith/Easton, Centerville, Georgia
---
Pre-Tournament favorite Team TPS lost early in the tournament to Wessell/Hague/SoJern and worked their way through the losers bracket even though the tournament was plagued by numerous rain delays. They reached the loser's bracket final game. They dug down deep and eliminated Sierra/TPS 23-22 in a great game. Sunbelt/Dan Smith/Easton had been sitting around for a while to see who they would play in the championship. The first final was a blowout at first as Team TPS jumped out to a 23-5 lead, only to see Sunbelt come back and make it close, but the clutch hitting of Mike Shenk carried them to a 30-20 victory. The skies were threatening again and many wondered whether they would get the final Championship game in. Sunbelt woke up and took a 20-5 lead early on. Pitcher Rick Weiterman made an emotional speech to his team and whatever he said worked. Slowly, Team TPS battled back and Weiterman baffled Sunbelt with his array of pitches. Home Runs by Doug Kissane, Mike Shenk, Rusty Bumgardner's grand slam and then Dewaynw Nevitt's homer made it 20-19. In the top of the 7th, Britt Hightower singled and then some daring base running after a Shane Dubose base hit, Hightower came home on a head first slide to make it 21-19 in favor of Sunbelt. Sunbelt had scored just one run and just 3 hits in its last four at bats against Weiterman. In the bottom of the 7th, TPS scored two runs to tie the score. With one out and two runners on base, Sunbelt elected to intentionally walk Doug Kissane and take their chances with Doug Roberson. Sunbelt pitcher Jimmy Powers pitching carefully to Roberson, ended up walking him and that what is, the winning run came trotting home with the 22-21 championship.
---
MVP – Mike Shenk, Team TPS (29-35, .829, 9 HR, 27 RBI, 21 Runs)
HR Leader – Jeff Wallace, Team TPS (20-41, .488, 27 RBI, 20 Runs) – 10
Batting Leader – Robin Higinbotham, Lighthouse – .846
Defensive MVP – Todd Martin, Team TPS
Offensive MVP – Robin Higinbotham, Lighthouse/Worth (22-26, .846, 6 HR, 22 RBI, 20 Runs)
---
USSSA MAJOR WORLD SERIES ALL WORLD TEAM
P – Greg Harding – Sunbelt/Dan Smith/Easton (20-27, .741, 7 HR, 16 RBI, 20 Runs)
1B – Jimmy Powers – Sunbelt/Dan Smith/Easton (18-27, .667, 6 HR, 16 RBI, 19 Runs)
1B – Jeff Wallace – Team TPS (23-46, .500, 10 HR, 27 RBI, 20 Runs)
2B – Bobby Gilbert – Sunbelt/Dan Smith/Easton (17-26, .654, 1 HR, 13 RBI, 13 Runs)
2B – Carl Rose – Lighthouse/Worth (21-29, .724, 9 HR, 28 RBI, 19 Runs)
2B – Jeff Hall – Sunbelt/Dan Smith/Easton (17-29, .586, 6 HR, 19 RBI, 17 Runs)
2B – Rusty Bumgardner – Team TPS (24-41, .585, 6 HR, 21 RBI, 22 Runs)
3B – Howie Krause – Wessel/Hague/So-Jern/TPS (11-17, .647, 5 HR, 14 RBI, 10 Runs)
3B – Mike Shenk – Team TPS (26-38, .684, 9 HR, 27 RBI, 21 Runs)
SS – Ron Pamell – Sierra/TPS (13-20, .650, 9 RBI, 13 Runs)
OF – Robin Higginbotham – Lighthouse/Worth (22-26, .846, 6 HRS, 22 RBI, 20 Runs)
OF – Jason Kendrick – Sierra/TPS (15-20, .750, 4 HR, 14 RBI, 14 Runs)
OF – Doug Kissane – Team TPS (22-40, .550, 8 HR, 21 RBI, 19 Runs)
OF – Shane Dubose – Sunbelt/Dan Smith/Easton (15-26, .577, 3 HR, 9 RBI, 17 Runs)
OF – Hank Garris – Sierra/TPS 13-21, .619, 6 HR, 15 RBI, 14 Runs)
OF – Dewayne Nevitt – Team TPS (24-36, .667, 5 HR, 13 RBI, 21 Runs)
UTIL – Paul Drilling – Sierra/TPS (14-20, .700, 3 HR, 13 RBI, 10 Runs)
UTIL – Slim Brant – Brandon's Trucking (13-17, .765, 13 RBI, 11 Runs)
UTIL – Todd Martin – Team TPS (21-37, .568, 7 HR, 25 RBI, 22 Runs)
UTIL – Chris Absner – Brandon's Trucking (14-20, .700, 1 HR, 11 RBI, 10 Runs)
MGR – Mike Glasscock – Team TPS
---
OTHERS
Dennis Mendoza, Lighthouse (16-21, .762, 10 RBI, 14 Runs)
Dewayne Frizzel, Lighthouse (20-28, .714, 9 HR, 17 RBI, 17 Runs)
Jimmy Devine, Steele's/R&D (10-14, .714, 2 HR, 12 RBI, 9 Runs)
Larry Carter, JWM (10-14, .714, 4 HR, 10 RBI, 9 Runs)
Billy Messina, JWM (10-14, .714, 5 RBI, 8 Runs)
Bryan King, JWM (10-14, .714, 8 RBI, 6 Runs)
Jeff Franks, Long Haul (10-14, .714, 1 HR, 2 RBI, 8 Runs)
Kurt Gleeton, Gil's Arizona Heat (7-10, .700, 6 HR, 14 RBI, 7 Runs)
David Hood, Steele's/R&D (9-13, .692, 1 HR, 6 RBI, 5 Runs)
Brett Helmer, Wessell/Hague (11-16, .688, 3 HR, 6 RBI, 10 Runs)
Lance Peterson, O&S Cattle, (11-16, .688, 5 HR, 11 RBI, 5 Runs)
Kerry Everett, Sierra/TPS (11-16, .688, 2 HR, 6 RBI, 8 Runs)
Rod Hughes, Steele's/R&D (8-12, .667, 5 HR, 13 RBI, 8 Runs)
Derek Oliver, Reece/Sports World (6-9, .667, 2 HR, 7 RBI, 4 Runs)
Scott Striebel, Lighthouse (15-23, .652, 1 HR, 6 RBI, 14 Runs)
Keith Roberts, Brandons (13-20, .650, 5 RBI, 10 Runs)
Randy Kortokrax, Steele's/R&D (9-14, .643, 2 HR, 5 RBI, 11 Runs)
Albert Davis, Lighthouse (14-22, .636, 2 HR, 11 RBI, 14 Runs)
Mark Creson, Sierra/TPS (13-21, .619, 5 HR, 14 RBI, 14 Runs_
Tim Linson, Wessell/Hague (11-18, .611, 3 HRS, 13 RBI, 9 Runs)
John Mello, Team TPS (21-35, .600, 2 HR, 17 RBI, 15 Runs)
Ricky Huggins, Lighthouse (15-25, .600, 3 HR, 9 RBI, 10 Runs)
Curtis Williams, Sunbelt/Dan Smith (15-25, .600, 1 HR, 10 RBI, 16 Runs)
Greg Cannedy, Sierra/TPS (12-20, .600, 1 HR, 8 RBI, 11 Runs)
Dennis Rulli, JWM (9-15, .600, 9 RBI, 5 Runs)
Brad Stiles, Team TPS (18-30, .600, 12 RBI, 19 Runs)
Steve Craven, Lighthouse (13-23, .565, 2 HR, 11 RBI, 13 Runs)
Phil Jobe, Team TPS (16-29, .552, 2 HR, 14 RBI, 20 Runs)
Doug Roberson, Team TPS (22-40, .550, 6 HR, 19 RBI, 19 Runs)
John McCraw, Sunbelt/Dan Smith (16-30, .533, 3 HR, 9 RBI, 12 Runs)
Scott Brown, O&S Cattle (8-15, .533, 2 HR, 7 RBI, 7 Runs)
Doug Berfeldt, O&S Cattle (8-15, .533, 2 HR, 11 RBI, 10 Runs)
Randall Boone, Team TPS (15-30, .500, 3 HR, 16 RBI, 16 Runs)
Tim Cocco, Wessell/Hague (9-18, .500, 2 RBI, 9 Runs)
Chaun Demars, Long Haul (6-12, .500, 4 HR, 9 RBI, 6 Runs)
Tot Powers, Sunbelt/Dan Smith (14-28, .500, 6 HR, 19 RBI, 14 Runs)
Britt Hightower, Sunbelt/Dan Smith (13-27, .481, 5 HR, 13 RBI, 11 Runs)
Darrell Beeler, Sierra/TPS (10-21, .476, 1 HR, 6 RBI, 10 Runs)
Larry Fredieu, Sierra/TPS (10-21, .476, 4 HR, 15 RBI, 10 Runs)
Dal Beggs, Steele's/R&D (5-14, .357, 2 HR, 5 RBI, 4 Runs)
Rick Weiterman, Team TPS (3-12, .250, 3 RBI, 3 Runs)
---
FINAL STANDINGS
1. Team TPS, Louisville, KY (8-1)
2. Sunbelt/Dan Smith/Easton, Centerville, GA (4-2)
3. Sierra/TPS, Reno, NV (3-2)
4. Brandon's, Wilmington, NC (3-2)
5t. Lighthouse/Worth, Stone Mountain, GA (3-2)
5t. Wessel/Hague/SoJern/TPS, Cincinnati, OH (2-2)
7t. Long Haul/Grover/Mizuno, Albertville, MN (2-2)
7t. O&S/TPS, South St. Paul, MN (2-2)
9t. Backstop/Easton, Aurora, IN (1-2)
9t. Herb's/KCS/TPS, San Diego, CA (1-2)
9t. Steele's/R&D/Reda, Brook Park, OH (1-2)
9t. JWM/Easton, Riverside, CA (1-2)
13t. RPM/TPS, Concord, CA (0-2)
13t. Gil's Arizona Heat/Easton, Phoenix, AZ (0-2)
13t. Reece/SportsWorld/Chip's/TPS, Lebanon, TN (0-2)
13t. Adams/RSH/Worth, Ridgeland, MS (0-2)