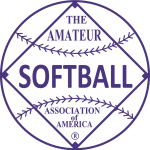 1987 held in Lubbock, Texas on September 25-27.
---
Champion – Prestige Realty, Fort Lauderdale, Florida
Runner Up – Busch Beer, North Alexandria, Ohio
---
Fort Lauderdale's Prestige Realty captured first place in the ASA Men's B Slow-Pitch Division National Tournament Sunday with a 38-14 win over Busch Beer.
Prestige picked up seven wins in the six-team, round-robin tournament which began Thursday, including a 24-16 win over Insulators of Nevada in the winners' bracket on the final day to send it into the final. Prestige won the ASA's Southern Regional Class B Championships in Tuscaloosa, Ala., earlier this month to qualify for the tournament. In the national tournament, Prestige beat its first five opponents 30-24, 17-14, 16-5, 16-3 and 16-1.
Members of Prestige are Rick Sheetz, Rich Meyers, Glenn Zakany, Dale Franklin, Jim Proctor, Eddie Mintz, Dave Coins, Steve Neville, Ted Berguvin, Curt Glassman, Greg Killbride and Al Tanner. Norm Welter is the coach.
---
MVP – Glenn Zakany, Prestige Realty (.710, 7 HR)
---
1987 ASA B FIRST TEAM ALL AMERICANS
P – Dale Franklin, Prestige Realty (.656)
Glenn Zakany, Prestige Realty
Eddie Mintz, Prestige Realty (.657)
Jim Proctor, Prestige Realty (.545)
1987 ASA B FIRST TEAM ALL AMERICANS
Rick Sheetz, Prestige Realty (.677)
Curt Glassman, Prestige Realty (.700)
---
OTHERS
Dave Coins, Prestige Realty (.750)
---
FINAL STANDINGS
1. Prestige Realty, Fort Lauderdale, FL (7-0)
2. Busch Beer, North Alexandria, OH