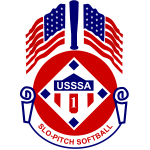 2017 held at Orlando, Florida.
---
Champion – Derby Girls/OA/Legacy/Easton, Kent, Washington (44-3)
Runner Up – Enough Said/Easton, Tallahassee, Florida (22-13)
---
Enough Said decided to make a comeback to USSSA. They gave the powerful Derby Girls all they could handle as they were sent to the loser bracket by the Derby Girls by a 21-6 score. They won two games to get back to the undefeated Derby Girls and actually beat them in the first final 24-4. The Derby Girls came back and won the Major World series soundly with a 30-19 decision. The Derby Girls finished 5-1 and Enough Said was 6-2. Bryant Express finished third.
---
MVP – Laura Harms, Derby Girls/OA/Legacy/Easton
Defensive MVP – Tara Salcedo, Derby Girls/OA/Legacy/Easton
Offensive MVP – Meagan Person, Enough Said/Easton
---
2017 ALL WORLD TEAM
Sirene Johnson, Enough Said/Easton
Rose Gressley, Smash It Sports
Kristen Shifflett, Derby Girls/OA/Legacy/Easton
Leigh Campbell, Derby Girls/OA/Legacy/Easton
Carrie Kaberline, Bryant Express
Justine Rial, Bryant Express
Dara Toman, Derby Girls/OA/Legacy/Easton
Brooke Devader, Derby Girls/OA/Legacy/Easton
Christan Dowling, Derby Girls/OA/Legacy/Easton
Auriel Jenkins, Enough Said/Easton
Delicia Brown, Smash It Sports
Windy Reeves, Enough Said/Easton
Megan Miller, Derby Girls/OA/Legacy/Easton
Savannah Brown, Bryant Express
Gina Mengwasser, Enough Said/Easton
Manager – Shannon Cooper, Derby Girls/OA/Legacy/Easton
Manager – Diana Brummer, Derby Girls/OA/Legacy/Easton
---
FINAL STANDINGS (Incomplete)
1. Smash It Sports/Miken, Lorton, VA (5-0)
2. Khaos/FAI/Klutch/Worth, Harmony, FL (4-2)
3. Bounty Hunters, Lithia Springs, GA (4-2)
4. Smash It/Derby Girls/Easton, Kent, WA (4-2)
5t. Lady Mojo Reloaded/Pure Sports, Louisa, VA (3-2)
5t. Bryant Express/OA, Bryant, AR (2-2)
7t. OH Heating/Headlines/LF/Miken/Worth, Columbus, OH (2-2)
7t. Incognito/G, Detroit, MI (2-2)
9t. Lady SNI/ATWL, Orlando, FL (1-2)
9t. ETH, Charmichael, CA (1-2)
9t. Easton Boom, Shoreline, WA (1-2)
9t. Low Bobs/Shirts & Logos, Harrodsburg, KY (1-2)
13t. West Coast Lockdown, Portland, OR (0-2)
13t. Lady Code Red/Berserk Athletics, Fayetteville, NC (0-2)
13t. Hitters Inc/Easton, Richmond, VA (0-2)
13t. Demarini Tuff, Marysville, WA (0-2)