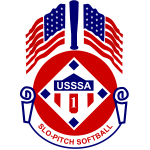 1995 held at Lexington, South Carolina.
---
Champion – UPI/TPS, Nashville, Tennessee
Runner Up – Empress Chili, Cincinnati, Ohio
---
Empress Chili only lost to one team in this tournament, but it happened to be the champion, UPI/TPS. After UPI beat Empress the first time, The Cincinnati team defeated Cannan's Illusions 11-9 to advance to the finals. Then once again, UPI defeated Empress, this time by a 13-6 score.
---
MVP – Sherri Lynn France, UPI/TPS (14-18, .778, 3 HR, 13 RBI, 9 Runs)
Batting Leader – Sherri Lynn France, UPI/TPS – .778
HR Leader – Sherri Lynn France, UPI/TPS – 3
Defensive MVP – Brenda Ryan, Empress Chili
Offensive MVP – Sherri Lynn France, UPI/TPS (14-18, .778, 3 HR, 13 RBI, 9 Runs)
---
1995 ALL WORLD TEAM
Carolyn Fiero, UPI/TPS (9-19, .472)
Lisa Davidson, Cannan's Illusions/TPS (9-17, .529)
Theresa Shephard, Empress Chili/TPS (12-23, .522)
Tammy Newman, Virginia Belles/Cavalier AC (9-17, .529)
Sandy Mader, Cannan's Illusions/TPS (13-20, .650)
Kim Edmundson, Leaverne's Road Runners (6-11, .545)
Tricia Elliott, Pro Sport (10-18, .556)
Karen Baker, UPI/TPS (9-13, .692)
Sherri Lynn France, UPI/TPS (14-18, .778, 3 HR)
Michelle Thompson, UPI/TPS (10-17, .588)
Tammy Talley, Virginia Belles/Cavalier AC (10-17, .588)
Mary Jane Ranz, Empress Chili/TPS (13-25, .520)
Monique Wolfe, UPI/TPS (10-17, .588)
Janet Anderson, Empress Chili/TPS (7-19, .368)
Marie Pesch, Cannan's Illusions/TPS (10-17, .588, 1 HR)
Charlotte Cates, UPI/TPS (5-18, .278)
Brenda Ryan, Empress Chili/TPS (11-26, .423,1 HR)
Manager – Ronnie Bennett, UPI/TPS
OTHERS:
Sue Koziol, UPI/TPS (11-20, .550, 1 HR, 13 RBI)
Allison Cole, UPI/TPS (11-21, .524, 11 RBI)
---
FINAL STANDINGS (Incomplete – 16 teams)
1. UPI/TPS, Nashville, TN (5-0)
2. Empress Chili/TPS, Cincinnati, OH (5-2)
3. Cannan's Illusions/TPS, San Antonio, TX (3-2)
4. Virginia Belles/Cavalier AC, Chesterfield, VA (4-2)
5t. Leaverne's Road Runners, Pinehurst, NC (2-2)