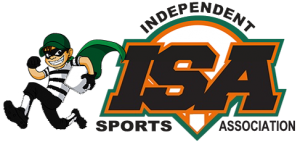 1995 held at Gainesville, Georgia.
---
Champion – Ritch's-Superior/TPS, Windsor Locks Connecticut
Runner Up – Bell/Sunbelt, Tampa, Florida
---
The R-S Express rolled to the Championship game reeling off four wins by a 158-59 scoring margin.  Bell/Sunbelt eliminated Lighthouse 55-34 in the loser's bracket final.  R-S won the championship 35-18.
---
MVP – Doug Roberson, Ritch's-Superior .(22-24, .917, 16 HR)
Defensive MVP – Albert Davis, Bell/Sunbelt/Easton
HR Leader – Wendall Rickard, Lighthouse/Worth (25-33, .758, 30 RBI) – 18
Batting Leader – Doug Roberson, Ritch's-Superior (22-24) -.917
Batting Leader – Mike Stanley, Superior/ Southland (22-24) -.917
Base Burglars – Charles Wright, Ritch's-Superior/TPS – 3
Base Burglars – Ken Pruitt, Supreme/Skyhawk – 3
---
ISA ALL WORLD TEAM
Doug Roberson, Ritch's-Superior/TPS (22-24, .917, 16 HR, 25 RBI, 21 Runs)
Dirk Androff, Ritch's-Superior/TPS (25-29, .862, 11 HR, 24 RBI, 23 Runs)
Larry Fredieu, Ritch's-Superior/TPS (23-28, .821, 16 HR, 27 RBI, 19 Runs)
Britt Hightower, Ritch's-Superior/TPS (19-28, .679, 12 HR, 21 RBI, 20 Runs)
Ron Parnell, Ritch's-Superior/TPS (20-26, .769, 7 HR, 11 RBI, 15 Runs)
Paul Drilling, Ritch's-Superior/TPS (14-21, .667, 2 HR, 6 RBI, 13 Runs)
Mike Macenko, Ritch's-Superior/TPS (18-24, .750, 6 Runs, 9 RBI, 16 Runs)
Charles Wright, Ritch's-Superior/TPS (21-28, .750, 8 HR, 17 RBI, 21 Runs)
Dave Steffen, Bell/Sunbelt/Easton (19-25, .760, 10 HR, 16 RBI, 20 Runs)
Dan Schuck, Bell/Sunbelt/Easton (20-29, .690, 13 HR, 23 RBI, 18 Runs)
Todd Joerling, Bell/Sunbelt/Easton (21-27, .778, 5 HR, 12 RBI, 19 Runs)
Greg Harding, Bell/Sunbelt/Easton (18-25, .720, 11 HR, 20 RBI, 12 Runs)
Phil White, Bell/Sunbelt/Easton (16-25, .640, 8 HR, 13 RBI, 15 Runs)
Albert Davis, Bell/Sunbelt/Easton (15-23, .652, 6 HR, 12 RBI, 14 Runs)
Ricky Huggins, Lighthouse/Worth (26-33, .788, 12 HR, 19 RBI, 23 Runs)
Kerry Everett, Lighthouse/Worth (24-32, .750, 15 HR, 22 RBI, 21 Runs)
Wendall Rickard, Lighthouse/Worth (25-33, .758, 18 HR, 30 RBI, 25 Runs)
JC Phelps, Shen Valley/TPS (21-26, .808, 13 HR, 18 RBI, 17 Runs)
Scott Elliott, Shen Valley/TPS (20-27, .741, 12 HR, 22 RBI, 18 Runs)
Mike Stanley, Superior/Southland/TPS (22-24, .917, 9 HR, 7 RBI, 18 Runs)
Mark Martin, Supreme/Skyhawk (22-27, .815, 5 HR, 11 RBI, 19 Runs)
Ken Pruitt, Supreme/Skyhawk (8-19, .421, 2 RBI, 9 Runs)
David Burch, WW Gay/TPS (15-16, .938, 11 HR, 20 RBI)
---
OTHERS
Jimmy Powers, Shen Valley (22-27, .815, 9 HR, 21 RBI)
Dewayne Nevitt, Shen Valley (20-26, .769, 10 HR, 21 RBI)
Rusty Bumgardner, Shen Valley (19-26, .731)
Jeff Hall, Bell/Sunbelt (18-25, .720, 10 HR, 17 RBI)
Tot Powers, Shen Valley (18-25, .720, 6 HR, 10 RBI)
Mike Shenk, Lighthouse (21-30, .700, 9 HR, 20 RBI)
Bobby Gilbert, Ritch's-Superior/TPS (15-22, .682, 7 HR, 11 RBI)
Todd Martin, Shen Valley (17-25, .680, 11 HR, 19 RBI)
Steve Craven, Lighthouse (21-31, .677, 11 HR, 20 RBI)
Dewayne Frizzell, Superior/Southland (15-23, .652. 9 HR, 19 RBI)
Rick Weiterman, Ritch's-Superior (13-21, .619, 1 HR, 9 RBI)
Darrell Beeler, Ritch's-Superior (17-28, .607, 8 HR, 11 RBI)
Hank Garris, Bell/Sunbelt/Easton (10-20, .500, 6 HR, 12 RBI)
Cecil Whitehead, Superior/Southland (3-10 .300, 3 HR, 3 RBI)
---
FINAL STANDINGS
1. Ritch's-Superior/TPS, Windsor Locks, CT (5-0)
2. Bell/Sunbelt/Easton, Tampa, FL (4-2)
3. Lighthouse/Worth, Stone Mountain, GA (4-2)
4. Shen Valley/TPS, Bridgewater, VA (3-2)
5t. Superior/Southland/TPS, Gainesville, GA (3-2)
5t. Supreme/Skyhawk, Parma, OH (3-2)
7t. Riverside/RAM/Taylor/TPS, Louisville, KY (2-2)
7t. WW Gay/TPS, Gainesville, GA (2-2)
9t. Steele's Hit Men, Brook Park, OH (1-2)
9t. Tri-Gems/Easton, Cedarbrook, NJ (1-2)
9t. Back Porch/Moulton Furn./TPS, Destin, FL (1-2)
9t. Johnson Builders, Hilton Head, SC (1-2)
13t. Hudson's, Samson, AL (0-2)
13t. Carpet Headquarters/Worth, Knoxville, TN (0-2)
13t. LJ's, Augusta, GA (0-2)
13t. Pacer Pools, Gainesville, GA (0-2)