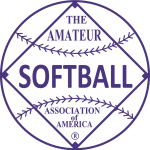 1995 held in Garland, Texas on August 10-14.
---
Champion – OC Batbusters, Santa Ana, California (63-3)
Runner Up – Gordon's Panthers, La Palma, California
---
The Orange County Batbusters completed a 63-3 season by blanking California rival 3-0. Winning pitcher Lindsay Parker, who will be a Fresno State freshman, closed out her summer with a 32-1 record. Nine of the Batbusters are eligible to return to defend their title next year.
FINAL STANDINGS (INCOMPLETE)
1. OC Batbusters, Santa Ana, CA (6-0)
2. Gordon's Panthers, La Palma, CA (6-2)
3. Panthers, Sylmar, CA (7-2)
4. Strikkers, San Jose, CA (4-2)
5t. N/A
5t. N/A
7t. Fresno Force, Fresno, CA (N/A)
7t. California Breeze, Sacramento, CA (N/A)
---
Video of the 1995 championship game: https://players.brightcove.net/6057984942001/default_default/index.html?videoId=6067750993001