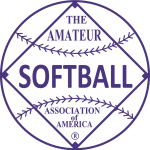 1991 held at Novi, Michigan.
---
Champion: Cannan's Illusion, San Antonio, Texas (56-17)
Runner Up: UPI, Cookeville, Tennessee
---
Cannan's won the title in the "if" game when Mitzi Davis hot a 2-run double in the bottom of the 7th inning to give them a 9-8 win. UPI defeated Cannan 5-4 in the winner's bracket final, but Cannan came back later and forced the 'if' game with an 8-3 win in the first final. Cannan's finished 7-1.
---
MVP – Marie Pesch, Cannan's Illusion
Batting Leader – Kathy Dyer, Raiders (16-25) – .640
Home Run Leader – N/A
---
ASA MAJOR WOMEN'S SLOW PITCH ALL AMERICANS FIRST TEAM
P – Charlotte Cates, UPI
C – Marie Pesch, Cannan's Illusion
1B – Kathy Dyer, Raiders
2B – Glenda Washington, Cannan's Illusion
3B – Darlebe Lowery, Bally Health & Racquet
SS – Lisa Sanchez, Cannan's Illusion
OF – Susan Chapman, UPI
OF – Cynthia Cooper, Bally Health & Racquet
OF – Sherri France, Bally Health & Racquet
OF – Stephany Braden, Cannan's Illusion
UT – Mitzi Davis, Cannan's Illusion
UT – Bev Lovett, Cannan's Illusion
UT – Charlotte Rigney, UPI
UT – Deborah Albano, Raiders
ASA MAJOR WOMEN'S SLOW PITCH ALL AMERICANS FIRST TEAM
Information missing
ASA MAJOR WOMEN'S SLOW PITCH ALL AMERICANS FIRST TEAM
Information missing
---
FINAL STANDINGS (Incomplete)
1. Cannan's Illusion, San Antonio, TX (7-1)
2. UPI, Cookeville, TN