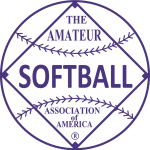 1992 held at Albany, Georgia on September 4-6.
---
Champion – Sikorsky Aircraft, Stratford, Connecticut
Runner Up – Honda Wings, Marysville, Ohio
---
Sikorsky won three games on the final day to capture another Industrial title, including a 14-13 victory over defending champion Delta Airlines on Mark Tremblay's bases-loaded single. A 16-5 romp over Honda Wings of Maryville, Ohio, was powered by Mark Berritto's four hits. A sac fly by John Danas in the bottom of the seventh beat the Honda Wings again in the title game 7-6. Tom DiBernardo was the tourney MVP.
---
MVP – Tom DeBarnardo, Sikorsky Aircraft (17-26, .654, 4 HR, 18 RBI)
HR Leader – Scott Jones, DOW Pirates – 11
Batting Leader – Robin Fennell, Comm-Scope – .700
---
ASA INDUSTRIAL MAJOR ALL AMERICANS FIRST TEAM
P – Jerry Sanders, Russell Athletic
C – Jody Perryman, Publix
1B – Scott Jones, Dow Pirates
2B – Mike Homkovics, Sikorsky Aircraft
3B – Scott Kline, Honda Wings
SS – Brian Lemaster, Honda Wings
OF – Tom DeBernardo, Sikorsky Aircraft
OF – Tony Stafford, Honda Wings
OF – Jeff Woodard, Publix
OF – Larky Russell, Big Ed's Pizza/Martin
UT – Mark Carpenter, Comm-Scope
UT – Joe Wherle, Stolle Corporation
UT – Gary Bryant, Dow Pirates
UT – Lynn Moser, Proctor & Gamble
EP – Robin Ferrell, Comm-Scope
---
FINAL STANDINGS
1. Sikorsky Aircraft, Stratford, CT (6-0)
2. Honda Wings, Marysville, OH (6-2)
3. Big Ed's Pizza/Martin, Oak Ridge, TN (6-2)
4. Dow Pirates, Lake Jackson, TX (7-2)
5t. Delta Country Fed Meats, Atlanta, GA (3-2)
5t. Amoco Oil, Texas City, TX (3-2)
7t. CPS Livewire, San Antonio, TX (3-2)
7t. Comm-Scope Catawba, NC (3-2)
9t. Metropolitan, Warwick, RI (3-2)
9t. ARMO, Texas City, TX (3-2)
9t. Stolle Corporation, Sidney, OH (3-2)
9t. Proctor & Gamble, Albany, GA (2-2)
13t. Buffalo Rock Pepsi, Birmingham, AL (2-2)
13t. Federal/Hoffman, Anoka, MI (2-2)
13t. Southern Yankees, Atlanta, GA (2-2)
13t. Publix, Lakeland, FL (2-2)
17t. Granite City Steel, Granite City, IL (2-2)
17t. Russell Athletics Alexander, AL (2-2)
17t. Hudson Poultry Contractors, Samson, AL (1-2)
17t. SNET Yellow Pages, New Haven, CT (1-2)
17t. Depuy, Warsaw, IN (1-2)
17t. APCO, Birmingham, AL (1-2)
17t. General Electric, Evansville, IN (1-2)
17t. Northwest Airlines, Apple Valley, MN (1-2)
25t. Hobart Brothers, Bradford, OH (1-2)
25t. Berry Pastic, Evansville, IN (1-2)
25t. Red Spot, Evansville, IN (1-2)
25t. DuPont, Fayetteville, NC (1-2)
25t. U.S. Air, Charlotte, NC (0-2)
25t. Buffalo Rock Pepsi, Albany, GA (0-2)
25t. Whirlpool, Evansville, IN (0-2)
25t. United North Central, Mansfield, OH (0-2)
33t. Ashland Oil/ATRAO, Ashland, KY (0-2)
33t. Champion, Cantonment, FL (0-2)
33t. Georgia Pacific, Albany, GA (0-2)
33t. Davidson Textron GA (0-2)