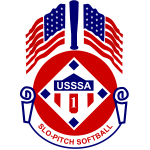 1991 held at Concord, California.
---
Champion – Lady Blue, Carrollton, Texas (60-8)
Runner Up – Salem Hawks, Bellville, Illinois
---
Pitcher Mary Hoff cemented her MVP award by going 2-3 with 2 HR and 5 RBI in the championship game. She pitched the 16-14 victory. Leslie Kanter and Anna Clements were both 3-4 for the Lady Blue squad. Sue Kozoil smashed a HR and had 4 RBI. For the Hawks, Lori Ergenbeck was 3-4, with 2 HR and 6 RBI. Manager Al Campbell won his 5th USSSA World Series title.
---
MVP – Mary Hoff, Lady Blue (11-21, .524, 5 HR, 10 RBI, 11 Runs)
Batting Leader – Lori Ergenbeck, Salem Hawks (11-15, 6 HR, 16 RBI, 10 Runs) – .733
HR Leader – Denise Day, Lady Blue (12-23, .522, 12 RBI, 11 Runs)  – 9
Defensive MVP – Gina Vitale, Salem Hawks
Offensive MVP – Lori Ergenbeck, Salem Hawks (11-15, .733, 6 HR, 16 RBI, 10 Runs)
---
1991 ALL WORLD TEAM
P – Mary Hoff, Lady Blue
C – Janet Dial, Mr. A's Express
AH – Fran Nicholson, Mich
AH – Sue Day, Mr. A's Express
AH – Lori Erpenbeck, Salem Hawks
1B – Jeril Junker, Auto Body Panels
2B – Leslie Kanter, Lady Blue
3B – Denise Day, Lady Blue
SS – Deanna Darrell, Empre
SS – Trina Hertzog, Salem Hawks
SS – Sue Koziol, Lady Blue
OF – Laura Troutman, Auto Body Panels
OF – Andy Auto Body Panels
OF – Allison Cole, Lady Blue
OF – Gina Vitale, Salem Hawks
Manager – Al Campbell, Lady Blue
FINAL STANDINGS (Incomplete – 16 Teams)
1. Lady Blue, Carrollton, TX (5-0)
2. Salem Hawks Softball, Belleville, MI (4-2)
3. Auto Body Panels, Cincinnati, OH (4-2)
4. Mr A's Express, Sacramento, CA (4-2)
5t. Empress Chili, Cincinnati, OH (2-2)