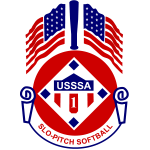 1991 held at  San Clemente, California on August 30-September 2.
---
Champion – Undercoverwear, Wilmington, Massachusetts
Runner Up – Post/Showtime Floor, Sacramento, California
---
UndercoverWear Refuses To Go Down In A World
It was a classic case of a team that wouldn't allow itself to be beaten, as Undercoverwear of Wilmington, Massachusetts captured the 1991 USSSA "A" World Championship in San Clemente, California August 30-September 2. The winners overcame long odds as well as a long series to post a 9-1 record.
After dropping into the loser's bracket after falling in game three, Undercoverwear reeled off seven consecutive victories in the loser's bracket to claim the title. The final two wins came against previously unbeaten Showtime floor of Sacrament, who finished with a 5-2 marl.
Third place went to Alliance of Woodland Hills, California with a 4-2 mark, and Arizona Elite from Mesa surprised many with a fourth place finish and a 7-2 record. In all, 34 teams from around the United States participated in the tournament.
Undercoverwear's success at world was surprising since teams from the New England region are usually not competitive in the "A" ranks. Even more impressive was the fact that Undercoverwear did it with local players from Massachusetts, Vermont, and Connecticut.
To win the title, Undercoverwear went through a lot of adversity. "People laughed at us because of our name," said coach Steve Crampton of the second year team "Our sponsor is a women's lingerie producer."
No one is laughing anymore, though.
Undercoverwear's only "easy" win came in their opening game against Schooner Tavern from Tacoma, Washington, as they breezed to a 16-5 triumph. Schooner came back strong, however, to win four straight en route to an eighth place finish.
A tidy 10-5 victory over A&W Produce out of San Leandro, California was one of many victories Undercoverwear had over California-based teams. However, in their only had game of the tournament, Undercoverwear lost 10-2 to Showtime Floor to drop into the loser's bracket.
At the same time, most of the attention was focused on local favorites such as Itchy Foot, Rebs, Dynasty and Alliance — the four top-ranked teams in the "A" division at the time.
Dynasty opened with runaway wins of 19-4 over Bancroft Softball Club from Grand Prairie, Texas and 33-8 over Beloli Heating of Taunton, Massachusetts. Reb's, led by veterans Mike Cellura and Greg "C-Train" Cannedy, rolled in their first two games, including a 36-7 thrashing of Haro's Team Sports from San Jose. Alliance and Itchy Foot also breezed through their early games.
Other teams that seemed to have beat on the world title included Arizona Elite, Showtime Floor, RAM/Unocal '76 from Richmond, California and Bull on the Beach from Ocean City, Maryland. However, since many of these teams had the misfortune to play each other at this point, some of the favorites began to fall out of the picture.
Alliance edged rival Itchy Foot 14-13 to knock them into the loser's bracket. RAM/Unocal 76 topped Dynasty and Arizona Magic to remain in contention. Maryland's Bull on the Beach surprised Reb's with a narrow 15-14 win, a loss which Reb's wouldn't recover from.
As Alliance Showtime Floors and Arizona Elite began to emerge from the pack in the winner's bracket, Undercoverwear began what would prove to be a glorious run to the top. The East Coast team began to make their move with an efficient 12-6 win over Mizuno/Cooper from Martinez, California.
Reb's was next, and Undercoverwear jumped out to a narrow lead and maintained it for most of the contest. However, they could never pull away from Reb's and held a slim 13-11 lead going into the bottom of the seventh.
In the bottom of the inning, Reb's put the tying and winning runs on second and third with two outs. Reb's sent the consistent Donnie Furnald to the plate. Furnald couldn't deliver, however, as he one-hopped the first pitch back to the mound, resulting in the third out and the win for Undercoverwear.
As Undercoverwear continued to climb through the loser's bracket, the equally surprising Showtime Floor squad continued their run through the winner's bracket. Their 27-14 rout of RAM/Unocal set Showtime up for a showdown with the other undefeated club, Alliance.
As North met South for California supremacy, Showtime Floor upended Alliance 20-10 to gain a spot in the championship final against the survivor of the loser's bracket.
Meanwhile, Arizona Elite defeated Bull on the Beach 29-12 to knock them out of the tournament, while Undercoverwear eaked out a tough 8-7 decision over RAM/Unocal. Arizona Elite and Undercoverwear clashed for the right to meet Alliance in the loser's bracket final, and the Wilmington-based squad recorded another narrow victory, 11-10, to win their third straight.
Playing in its fourth consecutive game on Labor Day, the hard-charging New Englanders fell fell behind once-beaten Alliance early in the contest. Undercoverwear trailed by two runs after six innings, but the tide seemed to turn when Alliance's John thrown "Bull" Kramer was out at the plate to end the top of the seventh.
With the bases loaded in the bottom of the seventh, a two-run single by Gino Espinal was disputed by Alliance players and coaches. Complaining that there was too much pine tar on the bat, the intensity of the game reached a fever pitch. However, the play stood and the score was knotted at 14-14. This dispute seemed to fuel Undercoverwear's fire, however, and a fly ball to left scored the winning run from third to give Undercoverwear a 15-14 win and another crack to Showtime Floor.
In the championship game, Showtime Floor jumped out to an early 6-0 lead over Undercoverwear, and seemed on the verge of blowing the contest open. But over the next three innings, the Easterners came back to knot the score at 6-6.
After battling back and forth over the next few innings, Showtime held a slim 11-10 lead before Undercoverwear put two runs on the board in the bottom of the sixth to take a 12-11 lead. Showtime couldn't respond, as they left runners on second and third to end the game.
Despite losing the first game, coach Rudy Rodriguez of Showtime Floor wasn't worried. "We had never been beaten twice in a row like this," he said. "We felt that they were tired. We honestly felt we could beat them." It was almost a carbon copy of the first game, as Showtime Floor erupted for seven runs to take an early lead. Undercoverwear came back with four of its own the bottom of the inning to keep the game close.
Showtime padded its lead by scoring four more runs midway through the game to take a 11-4 lead. However, Undercoverwear roared back for seven runs in the fifth inning to Showtime's one to edge closer, 12-11.
Showtime held a 14-13 lead going into the bottom of the sixth, but Undercoverwear struck with two runs to take a 15-14 lead, which held to the end.
"It was incredible because the team jelled a the right time," said Crampton. "It was sweet to win it in their backyard."
Rodriguez, though disappointed to lose two straight games to Undercoverwear, had no complaints. "The story in those two games was they got the timely hits, and we didn't," he said. "They wanted to win it really bad, and everything was going their way. They deserved to win, because they played better than we did."
Espinal collected the MVP award, despite a bad shoulder that almost force the standout to stay at home. It was this type of dedication and perserverence that helped Undercoverwear go all of the way. "We just kept coming back and winning," said Crampton. "We were like mosquitos out there."
---
MVP – Gino Espinol, Undercoverwear
HR Leader – N/A
Batting Leader – N/A
Defensive MVP – N/A
Offensive MVP – N/A
---
1991 USSSA MEN'S CLASS "A" WORLD TEAM
---
FINAL STANDINGS
1. Undercover Wear, Wilmington, MA (9-1)
2. Post Oil/Showtime Floors, Sacramento, CA 5-2)
3. Alliance, San Fernando Valley, CA (4-2)
4. Arizona Elite, Mesa, AZ (7-2)
5t. Ram/Unocal 76, Richmond, CA (3-2)
5t. Bull on the Beach, Ocean City, MD (3-2)
7t. Rebs, North Hollywood, CA (3-2)
7t. Schoner Tavern, Tacoma, WA (4-2)
9t. Muzuno/Cooper, Martinez, CA (3-2)
9t. Arizona/Majic, Tempe, AZ (3-2)
9t. Trygg's/Edina Realty/Ed's Body Shop, Crystal, MN (3-2)
9t. Itchy Foot, San Gabriel, CA (2-2)
13t. Haro's/Team Sports/Mizuno, San Jose, CA (2-2)
13t. Beloli Heating, Taunton, MA (2-2)
13t. Dan Smith Plastering, San Jose, CA (2-2)
13t. Dynasty, Downey, CA (2-2)
17t. Roof Mechanics/GES, Wichita, KS (1-2)
17t. A&W Produce, San Leandro, CA (1-2)
17t. All Line Construction, Clearwater, FL (1-2)
17t. Hutchinson Softball Club, Hutchinson, KS (1-2)
17t. House of Travel, Waco, TX (1-2)
17t. Keystone/Bahama Bob's, Fairfield, CT (1-2)
17t. Herb's, San Diego, CA (2-2)
17t. Chipper's Pub, South Beloit, IL (1-2)
25t. Bancroft Softball Club, Grand Prairie, TX (1-2)
25t. Steichen's/Keller Lake Lounge, Roseville, MN (0-2)
25t. Landsharks/Rancho Suspension, Phoenix, AZ (0-2)
25t. Jimmies, Kalamazoo, MI (0-2)
25t. Coors, Midland, TX (0-2)
25t. Hopkins Bowl/Hopkins JC's, Hopkins, MN (0-2)
25t. Softball Express, Lunwood, WA (1-2)
25t. Precision Construction, Independence, MO (0-2)