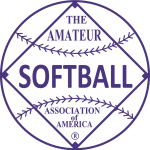 1991 held at Little Rock, Arkansas.
---
Champion – Sunbelt/Worth, Centerville, GA
Runner Up – Ritch's-Superior/TPS, Windsor Locks, CT
---
Sunbelt/Worth defeated Starpath/Le-Al-Co 25-18 in the winners  bracket final to advance to the championship game. Ritch's-Superior then eliminated Starpath to advance to the Championship against Sunbelt. The Legendary Bruce Meade of Starpath was only 7-1 (.412), but hit 5 HRs in the tournament. Sunbelt came from behind in the game to win the title 25-21 over R-S.  Sunbelt came into the tournament with 1679 HRs, as 9 of the top 11 home run leaders in the country play for Sunbelt.
---
MVP – Steve Craven, Sunbelt/Worth (14-19, .737, 5 HRs)
HR Leaders – Jim Fuller, Ritch's-Superior  – 8
HR Leaders – Jeff Arnold, Williams/Finke – 8
HR Leaders – Britt Hightower, Ritch's/Superior- 8
HR Leaders – Danny Williams, Sunbelt (.632) – 8
Batting Leader – Carl Rose, Sunbelt/Worth (16-20, 7 HRs) – .800
Wilson Field Master Award – Greg Whitlock,  Starpath
---
1991 ASA MEN'S SUPER SLOW PITCH ALL-AMERICAN FIRST TEAM
P – John Keigley, Williams/Worth
C – Dave Steffen, Ritch's Superior
1B – Mike Macenko, Worth/Sunbelt
2B – Mark Baker, Bell Corp
3B – Carl Rose, Worth/Sunbelt (16-20, .800, 7 HRs)
SS – Greg Whitlock, Starpath
OF – Britt Hightower, Ritch's/Superior (8 HRs)
OF – Steve Craven, Worth/Sunbelt (14-19, .737, 5 HRs)
OF – Cody Wyatt, Starpath
OF – Larry Friedeau, Starpath
UT – Dennis Graser, Ritch's/Superior
UT – Jim Fuller, Ritch's/Superior (8 HRs)
UT – Danny Williams, Worth/Sunbelt (8 HRs)
---
FINAL STANDINGS (need final records)
1. Worth/Sunbelt, Centerville, GA
2. Ritch's-Superior/TPS, Windsor Locks, CT
3. Starpath, Monticello, KY
4. Williams/Finke, Houston, TX
5t. Ohio Transport, Cleveland, OH
5t. Bell Corp., Tampa, FL
7t. Dan Smith Plastering, San Jose, CA
7t. New Construction, Shelbyville, IN
9t. Seta Corporation, Charlotte, NC 0-2
9t. Lemoyne Sleeper, Harrisburg, PA 0-2
9t. Gooslin Construction, Columbus, OH 0-2
9t. Wilson Softball, Little Rock, AR 0-2