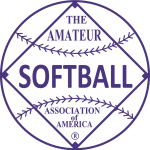 1991 held in Decatur, Alabama on August 29-September 2.
---
Champion  – Riverside Paving, Louisville, Kentucky (103-26)
Runner Up – Vernon's, Jacksonville, Florida
---
Riverside Paving won seven games without a loss in sweeping to the champion-ship of the Amateur Softball Association's Major National Slow Pitch Men's Softball Tournament two weekends ago at Decatur, Ala.
Riverside is the first Louisville team to win the ASA National Slow Pitch tournament since Jiffy Club did it in 1972.
Riverside upset tournament favorite Williams/ Thompson from Houston in the finals of the winners' bracket, then defeated three-time national champion Vernon's of Jacksonville, Ha., 27-15 in the final.
Don Rardin of Riverside was named the tournament's most valuable player, while five others made the All. American team
They were pitcher Matt Johnson, shortstop Tony Stansbury, second baseman David Crawley and outfielders Mike Jackson and Billy Adams.
Riverside completed its season with a record of 103-26, including titles in several local and regional tournaments.
---
MVP – Don Rardin, Jr., Riverside Paving

HR Leader – Dewayne Nevitt, Wildcat Fence – 17

Batting Leader – Dewayne Nevitt, Wildcat Fence – .897
---
FIRST TEAM ALL-AMERICANS
P – Matt Johnson, Riverside Paving (18-26, .692)
C – Vernon Hensley, New Construction
1B – Dewayne Nevitt, Wildcat Fence (26-29, .897, 17 HR)
2B – Mike Gunnels, Williams/Finke/Worth
3B – Don Rardin, Jr., Riverside Paving (23-30, .767)
SS – Tony Stansbury, Riverside Paving (14-23, .609)
OF – Ray Eppley, Vernon's
OF – Tim Williamson, Mike's Gym
OF – Kelly Stanley, SETA Corporation
OF – John Adams, Wildcat Fence
EP – Randy Lucas, New Construction
UTIL – Mike Jacobs, Vernon's
UTIL – Mike Jackson, Riverside Paving (17-26, .654)
UTIL – Gary Whitefield, Daton/Argus
UTIL – Brian Devitz, New Construction
---
OTHERS
Ed McCauley, Riverside (19-26, .731, 11 HR, 22 RBI)
David Crawley, Riverside (19-25, .760)
---
FINAL STANDINGS
Riverside Paving, Louisville, KY (7-0)
Vernon's, Jacksonville, FL (5-2)
Williams/Finke/Worth, Spring, TX (4-2)
Wildcat Fence, Lexington, KY (6-2)
Mississippi Grand Slam, Toomsube, MS (3-2)
Miller & Miller, Huntsville, AL (4-2)
Gary's BBQ, China Grove, NC (3-2)
New Construction, Shelbyville, IN (4-2)
Ohio transport, Cleveland, OH (3-2)
Datom-Argus/Mounton, Lebanon, TN (2-2)
Time Out Sports, Jackson, MS (2-2)
Ditt's Liquors, Indianapolis, IN (4-2)
SETA Corporation, Charlotte, NC (2-2)
St. Louis Softball, St. Louis, MO (2-2)
Mike's Gym, Elba, AL (3-2)
Worth/Back Porch, Niceville, FL (2-2)
Atlas Van Lines, Oak Ridge, TN (1-2)
Cougars, Huntsville, AL (1-2)
Armed Forces Military, Washington DC (2-2)
Sports Heroes, Eagan, MN (1-2)
Nanney's/Worth, Taylors, SC (1-2)
Big Daddy's, Dalton, GA (2-2)
Grand Slam Services, Douglassville, GA (1-2)
Converters Unlimited, LaGrange, NC (1-2)
Jocks Nitch/Wilson, Louisberg, KS (0-2)
Coors/Atkins, Dodge City, KS (0-2)
Grey Back Transport, Cincinnati, OH (0-2)
Barbee Construction, Chattanooga, TX (0-2)
Beaver's Bud Dry, Springfield, IL (0-2)
Jay's Cincinnati, OH (0-2)
St. Claire Park Athletic, Belleville, IL (0-2)
Century Glass, Garland, TX (0-2)
Rocky's, Decatur, AL (0-2)
Beefeaters, (0-2)