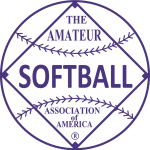 1997 held at Kingman, Arizona.
---
Champion: Taylor's, Glendale, Maryland
Runner Up: Eglin Armed Forces, Fort Walton Beach, Florida
---
Taylors, leading 15-5 needed just 2 more runs to win the championship via the 12-run rule. Laura Elmore stepped to the plate with the bases loaded and calmly unloaded a long drive over the left fielder's head scoring 2 runs giving them a 17-5 victory and winning their first ASA Women's Major National Championship. Taylors scored 48 runs in its 4 games they played, going undefeated along the way. Wanda Graham's towering 3-run Homer was the highlight for the Armed Forces.
---
MVP – Mary Beck, Taylor's (outfielder, who played tremendous defense)
Batting Leader – Laura Elmore, Taylor's (12-15) – 800 (17-21, .810)
Home Run Leader – Carolyn Ford, Armed Forces – 2
---
ASA MAJOR WOMEN'S SLOW PITCH ALL AMERICANS FIRST TEAM
P – Lois Buckmaster, Taylor's
C – Carolyn Ford, Eglin Armed Forces
1B – Laura Elmore, Taylor's
2B – Sandy Wilson, Taylor's
3B – Robin Baxter, Taylor's
SS – Cheryl Trapnell, Eglin Armed Forces
OF – Paige Nichols, Taylor's
OF – Sue McGinley, Spooks
OF – Mary Beck, Taylor's
OF – Mary King-Espinal, Eglin Armed Forces
DP – Ann Gust, Taylor's
UT – Tammy Jo Purcell-Cowles, Eglin Armed Forces
UT – Denise Hall, Shiva
UT – Tina Donald, Eglin Armed Forces
UT – Wanda Graham, Eglin Armed Forces
ASA MAJOR WOMEN'S SLOW PITCH ALL AMERICANS FIRST TEAM
P – Diane Broe, Spooks
C – Sharon Dudley, Taylor's
1B – Teri Taylor, Shiva
2B – Venisa Dinius, Spooks
3B – Pam Smith, Eglin Armed Forces
SS – Chris Minto, Shiva
OF – Jeannie Murray, Taylor's
OF – Patty Harmon, Shiva
OF – Sara Reiser, Spooks
OF – Teresa Held, Spooks
DP – Dianne Dingmann, Spooks
UT – Kristen DeAndreis, Shiva
UT – Nancy Archer, Taylor's
UT – Jaymee Ross, Eglin Armed Forces
UT – Linda Nelson, Spooks
---
FINAL STANDINGS
1. Taylor's, Glendale, MD (4-0)
2. Eglin Armed Forces, Ft. Walton Beach, FL (5-2)
3. Shiva, San Francisco, CA (2-2)
4. Spooks Anoka, MN (3-2)
5t. Yankees, Santa Monica, CA (1-2)
5t. Prime Time, Phoenix, AZ (1-2)
7t. Kingman, Kingman, AZ (0-2)
7t. Lakerettes, Conneaut Lake, PA (0-2)
9. Sprint, Las Vegas, NV (0-2)