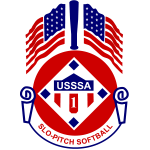 1991 held at San Clemente, California.
---
Champion – Dan Smith Plastering, San Jose, California
Runner Up – Gooslin Construction, Columbus, Ohio
---
Coach Tim Millette of Dan Smith Plastering recently waxed retrospective. Amidst all of the excitement that has surrounds his 1991 "AA" World Champion club from San Jose, California, Millette's thoughts harkened back to long summer days and nights of the past, talk with the "Bear".
"You know, the Bear and I used to talk for hours and hours about winning the 'AA" Championship," said Millette. "Sometimes, that was all we would talk about.
The "Bear", better known as Dennis Fransen, the longtime coach of Pro Team Sports and its recent moniker, Dan Smith Plastering, wasn't able to enjoy his dream of winning a world title, as he died of a heart attack early this season.
The indescribable loss of this man – who served as a friend, coach and mentor to all members of Dan Smith Plastering – would have destroyed most softball teams. The team seemd to follow this pattern at first, as the veteran ball club slumped at the beginning of '91.
But despite early problems, Millette knew it was only a matter of time before Dan Smith turned it around. After all, this team was on a mission – to win it all for the "Bear."
Dan Smith Plastering did eventually turn it around, and completed its mission by capturing the "AA" World title at San Clemente, California Labor Day weekend with a 5-0 record.
For Millette and the rest of his charges, it wasn't a matter of "if' they would take the trophy back to San Jose, but of "how" they would do it. "We had to win – that's why we were here," said Millette. "Coming in second wasn't good enough – we would just as soon as come in last than do that."
Behind the MVP performance of outfielder Jeff Peterson, who hit .882, and the offensive power of Gary Robertson, Wes Lord, and Dave Feather, Dan Smith Plastering was able to put the runs on the board with regularity, as an opening 28-10 win over Budweiser from Omaha can attest.
However, Dan Smith presented itself as a champion in a field of winners by winning the money games. Down and nearly out in the bottom of the seventh to Taylor Brothers from Rhode Island 15-9 with one out, divine intervention seemed to be taking place.
"It was a miracle – a couple of those hits didn't have a chance to get through," said Millette of the rally. In probably the biggest inning in the team's long history, Dan Smith Plastering completed the miracle with a three-run homer from Robertson to give the team a shocking 17-15 win.
"Dennis must have been up there helping us," said Millette.
The defense, led by infielders Chris Alverado, Tim Allen and Todd Verner, served as gatekeepers in a 7-2 win over Michigan's Bunca Car Wash, as few balls found the outfield grass. The Plastering crew completed its storybook finish with dual wins over Gooslin Construction of Columbus, Ohio, 29-13 and 13-11.
With the team still on cloud nine after winning at San Clemente, Dan Smith Plastering brought their amazing brand of softball to the cast coast with a remarkable fourth place finish at the Major World Series in Daytona Beach, Florida two weeks later. "Teams were looking right past us, but when we beat them, they were amazed," said Millette. "I hope that a west coast teams will get more respect."
Dan Smith's torrid post-season finish culminated a complete turnaround from 1990, when the ten-named Pro Team Sports went 0-2 at the "A" Worlds after tearing up the west coast during the year.
"Some people in the grapevine were saying we couldn't win the big one, and that hurt:' said Millette.
But amid all of the hoopla that still surrounds Dan Smith, Millette is still thoughtful of the past season, and what it meant to all of those involved, past and present.
Millette could almost hear "Bear" say "Timmy, we did it!"
---
MVP – Jeff Peterson, Dan Smith Plastering
HR Leader – N/A
Batting Leader – Jeff Peterson, Dan Smith Plastering – .882
Defensive MVP – Brad Farrar, Gooslin Construction
---
1991 USSSA MEN'S CLASS "AA" WORLD TEAM
Kevin Birkofer, Gooslin Construction
Rich Courtney, Dan Smith Plastering (.700, 4 HR, 7 RBI)
Steve Dickinson, Gooslin Construction
Bill Dunlap, Slo-Pitch News
Brad Farrar, Gooslin Construction
Dave Feather, Dan Smith Plastering (.737, 10 RBI)
Tim Linson, Gooslin Construction
Wes Lord, Dan Smith Plastering (.687, 7 HR, 17 RBI)
Ron Pease, Slo-Pitch News
Jeff Peterson, Dan Smith Plastering (.882, 5 HR, 19 RBI)
Gary Robertson, Dan Smith Plastering (.813, 7 HR, 10 RBI)
Doug Shaneyfelt, Gooslin Construction
Todd Verner, Dan Smith Plastering
---
FINAL STANDINGS
1. Dan Smith Plastering, San Jose, CA (5-0)
2. Gooslin Construction, Columbus, OH (4-2)
3. Slo-Pitch News, Seattle, WA (5-2)
4. Stottler Stagg, Cocoa, FL (4-2)
5t. Bunca Car Wash, Kalamazoo, MI (2-2)
5t. Spectrum Screen Printing, Crystal, MN (2-2)
7t. Boys of Summer, Naples, FL (2-2)
7t. Pace Electronics, Rochester, NY (2-2)
9t. Rainbow Carpets, Houston, TX (2-2)
9t. Murls/Sonny's/Worth, Broomfield, CO (1-2)
9t. Budweiser of Omaha, Omaha, NE (1-2)
9t. Taylor Brothers, Providence, RI (1-2)
13t. R&M/Midwest Metals, Waterloo, IA (0-2)
13t. Las Vegas Aces, Las Vegas, NV (1-2)
13t. Worley's Maverick's, Jefferson City, MO (0-2)
13t. McDonald's Survival, Wylie, TX (0-2)
17. Pacific Blues, Seattle, WA (0-2)