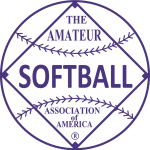 1990 held at State Road Park in Parma, Ohio on August 30-September 3.
---
Champion – Vernon's, Jacksonville, Florida
Runner Up – Laborers 310, Parma, Ohio
---
The ASA Men's "A" Slow Pitch National Championship goes through Jacksonville, FL.
Laborers 310 of the Parma Premier League found out about that roadblock the hard way at State Road Park in Parma. Needing only one victory to become the area's first class A national winner, the Laborers lost twice to Vernon's (Jacksonville, FL), the defending champions, in the finals.
Vernon's claimed its second consecutive title by winning three games in the losers' bracket, then derailing the Laborers in the finals, 32-28, and 21-16. It was a cruel ending to the four-day, double-elimination tournament for the union-sponsored team, which won its first five games, plus a dramatic 31-27 triumph over Vernon's in the early morning hours September 3 to send the champs into the losers' bracket.
"We played well, they just out-hit us." Laborers manager Andy Okulovich, Sr. said. "We made some errors and that didn't help. You can't give these guys the extra at bats."
In the first game of the finals, the Laborers had a 15-7 lead entering the fourth, only to have Vernon's put together a 17-run, 17-hit attack to take a 24-15 advantage. Laborers came back, scoring eight runs with two out in the fifth. Shortstop Steve Skladany's three-run homer put the local team up 25-24.
Vernon's tied it in the sixth and scored seven runs in the top of the seventh.
Vernon's broke a 10-all tie in the fourth inning of the championship game with seven runs. Right fielder Ronnie Ford had a pair of two-run homers for the champs and was named the tournament MVP. He hit nearly .800 with nine home runs.
---
MVP – Ron Ford, Vernon's (.738, 9 HR)
HR Champion – Roy Eppley, Vernon's (13)
Batting Champion – Steve Skladany, Larborers 310 (28-36, .778)
---
ASA A ALL AMERICANS FIRST TEAM
P – Ron Wood, Laborers 310
C – Jack Kerrigan, Laborers 310
1B – Doug Cullen, Vernon's
2B – Rick Haggy, McDonald's of Washington CH
3B – Tom Hannigan, Marino
SS – Steve Skladany, Laborers 310
OF – Ron Ford, Vernon's (9 HR)
OF – Larry Heise, Vernon's
OF – Rick Allred, Polo Sports Pub/Parkway Shell
OF – Randy Holsopple, Smith Transport
UTIL – Jeff Edwards, Polo Sports Pub/Parkway Shell
UTIL – David Heald, Armed Forces
UTIL – Randy Scales, Polo Sports Pub/Parkway Shell
UTIL – Gary Fisher, Hollywood Inn
EH – Roy Eppley, Vernon's
---
OTHERS
Scott "Rook" Othoudt, Viking Coke (15-17 .882)
Jeff "Pork" Franks, Viking Coke (.883, 4 HR, 10 RBI)
Billy Miller, Viking Coke (.642)
Mike Montgomery, Viking Coke (.642)
Fran Headline, Viking Coke (.533)
---
FINAL STANDINGS
1. Vernon's, Jacksonville, FL (9-1)
2. Laborers 310, Parma, OH (7-2)
3. Armed Forces, Washington, DC (5-2)
4. Polo Sports Pub/Parkway Shell (5-2)
5t. Kenova Construction, West Palm Beach, FL (7-2)
5t. Smith Transport, Roaring Springs, PA (7-2)
7t. Hollywood Inn, Bloomington, MN (6-2)
7t. Marino Construction, Peabody, ME (6-2)
9t. Hague/Murphy's, Columbus, OH (3-2)
9t. MacDonalds of Washington CH, Washington Court House, OH (3-2)
9t. Spanky's, St. Louis. MO (3-2)
9t. Thompson's Sporting Goods, Savannah, GA (3-2)
13t. Barnhill Construction, Jacksonville, FL (4-2)
13t. Conrad Patterson, Wyoming, MI (3-2)
13t. Farrell's Holiday Jacks, Ephrata, PA (4-2)
13t. Sonny's, Casper, WY (3-2)
17t. Brothers (3-2)
17t. Craig Avionics, Bangor, ME (2-2)
17t. Indiana Fan, IN (2-2)
17t. Medina Body Shop, Medina, OH (3-2)
17t. R&D Softball Club, Lima, OH (2-2)
17t. Rivertown Realty/Nazzy's Sports (2-2)
17t. Schreppler Chiropractors, Smyrna, DE (3-2)
17t. Wilson/TPF Bale Chevrolet, Little Rock, AR (3-2)
25t. Arensberg Pharmacy, Inc., Newark, OH (3-2)
25t. Funkstown Tavern, Funkstown, MD (3-2)
25t. Gregg & Associates, Pittsburgh, PA (2-2)
25t. Minnesota Merchants, Minneapolis, MN (2-2)
25t. Schaggy's (2-2)
25t. Tri-Gems Builders, Cedarbrook, NJ (2-2)
25t. Viking Coke, Elk River, MN (2-2)
25t. W.E. Ruth Realty, Seattle, WA (3-2)
33t. Budweiser Clydesdales (1-2)
33t. Cuyahoga Dunham Supply, Cuyahoga, OH (1-2)
33t. Dixie Carpet (1-2)
33t. Imperial Printers, El Centro, CA (1-2)
33t. Lower Alabama Softball Team, AL (1-2)
33t. Midas Touch Jewelers, Fairfield, CT (1-2)
33t. Pete's Mobil Car Wash, Poughkeepsie, NY (1-2)
33t. PJ Greco, Kittanning, PA (1-2)
33t. Softball With Class, Detroit, MI (1-2)
33t. Rox Club, Las Vegas, NV (1-2)
33t. Specialty Metals (1-2)
33t. Texas Ironworks, Anchorage, AK (1-2)
33t. Thomas Oil, Little Rock, AR (1-2)
33t. Wally's Sports Center, Cleveland, OH (3-2)
33t. Wexler's (1-2)
33t. Worth Astros, Carmel, IN (1-2)
49t. Abby T's (0-2)
49t. Bender Plumbing Supplies, New Haven, CT (0-2)
49t. Catco (0-2)
49t. Chaney Enterprises, Lothian, MD (0-2)
49t. Coors Country (0-2)
49t. County Sports Blues, Levittown, NY (0-2)
49t. Delta Eagles Lo-Temp, Toledo, OH (0-2)
49t. Holland Construction, Portsmouth, VA (0-2)