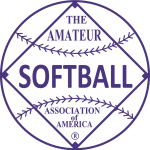 1974 held at Charlotte, North Carolina on August 1-8.
---
Champion – Aetna Life & Casualty, Charlotte, North Carolina
Runner Up – Easy-Shop-WACO, Louisville, Kentucky
---
Chris Cammack led the Aetna Life Insurance team to the title with his powerful hitting. Cammack rewrote the ASA Industrial National record books as he had 25 hits in the tournament of which 15 were home runs. His home run total was twice as much as anyone ever had in the Industrial Nationals since they first started in 1956. Mac Richardson also came up big for Aetna (27-37, .730, 12 HR, 29 RBI, 24 Runs) as did Dan Carver (29-40, .725, 10 HR, 24 RBI, 28 Runs). The hot men for Waco's was Donald Hylton (21-35, .600, 13 HR, 31 RBI) and Paul Genardi (22-36, .611, 8 HR, 20 RBI). Aetna won the final game 33-18 as they hit 14 home runs during the game boosting their 7-game total to 72 HR. They also had 37 hits.  Earlier in the tournament, they beat the Portland, ME Police 52-3.
---
MVP – Chris Cammack, Aetna Life & Casualty (25-38, .685, 15 HR, 33 RBI, 27 runs scored)
HR Leader – Chris Cammack, Aetna – 15
Batting Leader – Bob Hurd, Sikorsky Aircraft – .933 (14-15, 5 RBI, 12 Runs)
---
ASA INDUSTRIAL MAJOR ALL AMERICANS FIRST TEAM
P – Alex Creek, Aetna Life & Casualty
P – Dave Evilsizer, Pabst International
C – Don Hylton, Easy-Shop-WACO
C – Ron Boling, Pabst International
1B – Danny Carver, Aetna Life & Casualty
2B – Bob Price, Pabst International
3B – Mac Richardson, Aetna Life & Casualty
SS – Chris Cammack, Aetna Life & Casualty
OF – James Dwiggins, Pharr Yarn
OF – Paul Gennardi III, Easy-Shop-WACO
OF – Rich Chowning, Easy-Shop-WACO
OF – Joe Brown, Aetna Life & Casualty
UTIL – Larry Garrard, Pabst International
UTIL – Bob Hurd, Sikorsky Aircraft
ASA INDUSTRIAL MAJOR ALL AMERICANS FIRST TEAM
P – Thad Cowens, Seaboard Coastline
C – James David, Phillip Morris
C – Bob McMahan, Pharr Yarn
1B – Bob Burnett, P.P.G.
2B – Bill Whaley, Easy-Shop-WACO
3B – J.D. McDonald, Pharr Yarn
SS – Rick Montgomery, Armco Triangles, Ohio
OF – Dennis Mitchell, Delta Airlines
OF – Tom Brown, Honeywell
OF – Rick Blackwood, Aetna Life & Casualty
OF – Dennis Punch, Aetna Life & Casualty
UTIL – Bill Johns, Phillip Morris
UTIL – Gregory Woodward
FINAL STANDINGS
1. Aetna Life & Casualty, Charlotte, NC (8-0)
2. Easy-Shop-WACO, Louisville, KY (7-2)
3. Pabst International, Springfield, OH (5-2)
4. Pharr Yarn, McAdenville, NC (5-2)
5t. Delta Airlines, Atlanta, GA (5-2)
5t. Armco Triangles, Middletown, OH (5-2)
7t. PPG, Jamestown, PA (5-2)
7t. Phillip Morris, Richmond, VA (5-2)
9t. Honeywell, Minneapolis, MN (3-2)
9t. Westinghouse, Pittsburgh, PA (4-2)
9t. Allen Bradley, Milwaukee, WI (2-2)
9t. Houston Fire Fighters, Houston, TX (2-2)
13t. Bruce Johnson, Blaine, MN (3-2)
13t. Grumman Aircraft, Bethpage, NY (3-2)
13t. Combustion Engineers, Chattanooga, TN (4-2)
13t. Champion Sparkplug, Toledo, OH (3-2)
17t. Seaboard CL, Jacksonville, FL (3-2)
17t. DuPont, Parkersburg, WV (2-2)
17t. Budweiser, St. Louis, MO (2-2)
17t. Fraternal Order of Police, Cleveland, OH (2-2)
17t. Local 662, Anderson, IN (2-2)
17t. RTE, Waukesha, WI (2-2)
17t. Sikorsky Aircraft, Bridgeport, CT (3-2)
17t. Sweet Life, Springfield, MA (2-2)
25t. Pan-Am, New York City, NY (2-2)
25t. ETS, Princeton, NJ (2-2)
25t. Fraternal Order of Police, Cincinnati, OH (1-2)
25t. Eaton, Battle Creek, MI (1-2)
25t. Raffield Fisheries, St. Joe, FL (1-2)
25t. Safeway Dist., Kansas City, KS (1-2)
25t. Bell Booster, Omaha, NE (1-2)
25t. La France, Ind., La France, SC (1-2)
33t. R.I. Hospital TRN B., Providence, RI (1-2)
33t. Remington Arms, Illion, NY (1-2)
33t. Wilson & Co., Oklahoma City, OK (0-2)
33t. Kennecott Copper, Magna, UT (0-2)
33t. Norfolk Fire Fighters, Norfolk, VA (0-2)
33t. Edgecomb Steel, Nashua, NH (0-2)
33t. Riegel Rifles, Trion, GA (0-2)
33t. John Morrell Meats, St. Paul, MN (0-2)
33t. Alabama Power Co., Mobile, AL (0-2)
33t. IIT, Corinth, MS (0-2)
33t. Christina Lab, Newark, DE (0-2)
33t. ACIP, Co., Birmingham, AL (0-2)
33t. Dupont, Shipman, VA (0-2)
33t. Jones & McKnight, Kankakee, IL (0-2)
33t. Portland Police, Portland, ME (0-2)