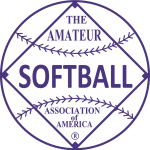 1989 held at Marietta, Georgia.
---
Champion: Cannan's Illusions, Houston, Texas
Runner Up: Busch Wiz Kids, Belleville, Illinois
---
Busch Wiz Kids played seven games on the final day of the tournament, including the two final games, but just could not overcome the talented Cannan's Illusions squad of Houston. Cannan's won the championship game 7-3. Kathy Riley's 2-run triple and Bev Lovett's single gave Cannan's three runs in the fifth inning to pull away from a close game.
---
MVP – Kathy Riley, Cannan's Illusions
Batting Leader – Joanne Zayac, WW Gay Rebels (14-21) – .667
Home Run Leaders – Kathy Riley, Cannan's Illusions – 1
Home Run Leaders – Joanna Rickman, Kinder Investments – 1
Home Run Leaders – Sue Kragseth, Team Choice – 1
Home Run Leaders – Diane Dingman, Spooks – 1
Home Run Leaders – Amanda Morgan, Trumps – 1
---
1989 FIRST TEAM ALL AMERICANS
P – Roz Washington, Cannan's
C – Lisa Hoffman, Busch
1B – Kristi Delaney, Cannan's
2B – Brenda Smith Foster, UPI
3B – Gina Vitale, Raiders
SS – Nancy Kaselbaum, Busch
OF – Bev Lovett, Cannan's
OF – Cynthia Cooper, Cannan's
OF – Kathy Riley, Cannan's
OF – Renee Harper, Busch
UT – Mary Stratton, Kinder Investments
UT – Lisa Sanchez, Cannan's
UT – Patrica Silye, Raiders
EP – Joanne Zayac, WW Gay Rebels
1989 SECOND TEAM ALL AMERICANS
P – Lynn Renner, Busch
C – Marilyn Booker, WW Gay Rebels
1B – Joanne Rickman, Kinder Investments
2B – Julie Shakleford, WW Gay Rebels
3B – Susan Hausman, Busch
SS – Deborah Albano, Raiders
OF – Debbie Williams, Raiders
OF – Charlotte Dent, UPI
OF – Debbie Hackman, Kinder Investments
OF – Karen Baker, UPI
UT – Maureen Rickey, WW Gay Rebels
UT – Kim House, Kinder Investments
UT – Melissa Siekman, Busch
UT – Tammy Turner, UPI
EP – Marie Peach, Cannan's
1989 THIRD TEAM ALL AMERICANS
P – Charlotte Cates, Key Ford
C – Bonnie Young, Connection
1B – Sandy Wilson, York Imaging Pacers
2B – Pam Mowery, York Imaging Paces
3B – Lorraine Hudson, Key Ford
SS – Trina Hertzogm Key Ford
OF – Rowanda Dozier, Connection
OF – Myra Williams, Key Ford
OF – Janet Gordon, Sluggerettes
OF – Patricia Veargis, Sluggerettes
UT – Gina Florio, Sluggerettes
UT – Sandy Edwards, McLaughlin Oilers
UT – Linda Garbett, Spooks
UT – Nancy Anderson, Spooks
EP – Becky Schnell, Connection
---
FINAL STANDINGS (Incomplete)
1. Cannan's Illusions, Houston, TX
2. Busch Wiz Kids, Belleville, IL