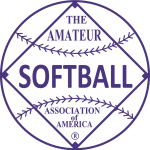 1989 held at Decatur, Illinois.
---
Champion – Whittier Raiders, Whittier, CA (39-5)
Runner Up – Hi-Ho Brakettes, Stratford, Connecticut (71-3)
---
Lisa Longaker hurled the 1-0 11 inning championship game victory and struck out 10. She outdueled the legendary Kathy Arendsen for the win. Whitter Raiders Denise Correa doubled off Kathy Arendsen in the top of the 11th inning of the championship game. She then scored the winning run on Joy Steiner's hard ground ball up the middle to give the Raiders the title 1-0. Longaker and Tiffany Boyd teamed up to lead the Raiders to the title. Longaker was 3-0 and Boyd was 3-1 with 30 IP, 3 shutouts and surrendered the only 2 runs given up by the Raiders.
Brakettes forced the final game by defeating the Raiders 3-2 in 11 innings behind Barbara Reinalda's 10 innings and relief help from Tracey Compton, who picked up the save.
Lisa Longaker hurled 40 scoreless during the tournament, including a 1-hit shutout in which she struck out 14, She also pitched an 18 inning 1-0 victory over the West Covina Invasion and Pitcher Michele Smith. Longaker struck out 46 total in 40 IP without giving up a run.
Barb Reinalda was 2-0.
A youngster from New Jersey named Michele Smith pitched for the Southern Cal Invasion, she was 1-1 and struck out 22 batters in 25 innings and threw a shutout.
---
MVP – Dot Richardson, Hi-Ho Brakettes
HR Leader – N/A
Batting Leader – Dot Richardson, Hi-Ho Brakettes – .393
Bertha Tickey Pitching Award – Lisa Longaker, Whittier Raiders
Erv Lind Defensive Award – Kris Peterson, Hi-Ho Brakettes
---
FIRST TEAM ALL-AMERICANS
P – Pat Dufficy, St. Louis Classics
P – Debbie Doom, Orange County Majestics (3-0, 3 shutouts, 35 K, 21 IP, gave up only 4 hits in 3 games)
P – Lisa Longaker, Whittier Raiders (3-0, 3 shutouts. She struck out 10 and won 1-0, 11 inning championship over Kathy Arendsen)
C – Karen Sanchelli, Raybestos Brakettes
C – Tammy Holloway, St. Louis Classics
1B – Sheila Cornell Douty, Raybestos Brakettes
2B – Pam Newton, Southern Cal Invasion
3B – Kris Peterson, Raybestos Brakettes
SS – Dot Richardson, Raybestos Brakettes (11-28, .393, 6 2B)
OF – Mary Lou Flippen, Redding Rebels
OF – Jill Justin-Coffel, Raybestos Brakettes
OF – Denise Eckert, Whittier Raiders
OF – Xan Silva, Southern Cal Invasion
DP – LeaAnn Jarvis, Raybestos Brakettes
UTIL – Suzy Brazney, Orange County Majestics
SECOND TEAM ALL-AMERICANS
P – Tiffany Boyd, Whittier Raiders
P – Kathy Arendsen, Raybestos Brakettes (3-1, 2 Shutouts)
P – Lori Sippel, Redding Rebels (4-1, 4 Shutouts)
C – Michelle Gromacki, Redding Rebels
C – Kim Katzenmeyer, Twin City Automatix
1B – Julie Parmenter, Orange County Majestics
2B – Michelle Deloso, Raybestos Brakettes
3B – Cindy Cooper, Redding Rebels
SS – Liz Mizera, Whittier Raiders
OF – Suzie Gaw, Orange County Majestics
OF – Pat Dufficy, Raybestos Brakettes
OF – Libby Kestell, Bartlesville Caps
OF – Dee Brewer, Phoenix Sunbirds
DP – Cathy Hall, Redding Rebels
UTIL – Cathy Casarez, Southern Cal Invasion
THIRD TEAM ALL-AMERICANS
P – Michele Smith, Kirin Invasion
P – Tracy Compton, Raybestos Brakettes (3-1, save, 2 Shutouts, perfect game)
P – Debbie Day, Southern Cal Invasion
C – Stacy Sunny, Whittier Raiders
C – Denise Correa, Twin City Automatix
1B – Gena Strang, Whittier Raiders
2B – Julie Smith, Orange County Majestics
3B – Michele McAnany, Whittier Raiders
SS – Tracy Beadlescomb, Michigan Cruise
OF – Lorraine Maynez, Whittier Raiders
OF – Mary Ivy, St. Louis Classics
OF – Rina Foster, Redding Rebels
OF – Gretchen Larson, Twin City Automatix
DP – Joy Stiner, Whittier Raiders
UTIL – Cheri Kempf, St. Louis Classics
---
FINAL STANDINGS
1. Whittier Raiders, Whittier, CA (6-1)
2. Hi-Ho Brakettes, Stratford, CT (7-2)
3. Redding Rebels, Redding, CA (4-2)
4. Orange County Majestics, Orange, CA (4-2)
5t. Classics, St. Louis, MO (4-2)
5t. Southern Cal Invasion, West Covina, CA (4-2)
7t. Caps, Bartonville, IL (3-2)
7t. Phoenix Sunbirds, Tempe, AZ (3-2)
9t. Lady Hearts, Bloomington, IL (2-2)
9t. Lettes, Fresno, CA (2-2)
9t. Twin City Automax, Minneapolis, MN (2-2)
9t. Michigan Cruise, Mt. Pleasant, MI (2-2)
13t. Cardinals, West Frankfort, IL (1-2)
13t. Dynasty, Houston, TX (1-2)
13t. Metros, Washington, DC (1-2)
13t. Shamrocks, Tonowanda, NY (1-2)
17t. Blue Wave, Plymouth, MA (1-2)
17t. Melton Electric Majic, Bartonville, IL (1-2)
17t. Avantis, East Peoria, IL (0-2)
17t. Blazers, Chattanooga, TN (0-2)
17t. Delina Suns, Celina, OH (0-2)
17t. Dolls, Downers Grover, IL (0-2)
17t. Rockettes, Decatur, IL (0-2)
17t. Topton VIPs, Topton, PA (0-2)
25. Capitaland Jimmies, Albany, NY (0-2)
---