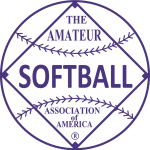 1989 held at Oklahoma City, Oklahoma.
---
Champion – Ritch's Salvage, Harrisburgh, North Carolina (67-10)
Runner Up – Starpath/Kirk's Glass, Lexington, Kentucky (52-23)
---
One week prior to this event, Ritch's Salvage upended favored Superior/Apollo 26-24 in the bottom of the 7th inning of the "if" game as Greg Whitlock's walk off homer with Mike Nye on base won the "Major" title for Ritch's.  In an unprecedented event, Ritch's Salvage came from the loser's bracket as they lost their opening game to Stewart's of Pittsburgh 45-14.  They then won six straight games and defeated Starpath/Kirk's Glass 30-25 to capture the "Super" title.
In the Championship Game, Fred Trice (4 HR), Bill Gatti (3 HR), Jeff Stamps (3 HR), Dan Griffin, Britt Hightower, Mike Nye, and Charles Wright all hit 2 HR.
For Starpath, Bruce Rains and Gary Jones both his 2 HR. This was the first and ONLY time a team won the Major and Super titles in the same season.  The wind was a big factor in this tournament as it was blowing out hard in the first two days of competition. 125 HR were hit in the four games played Thursday Night and on Friday in the nine games played, 363 HR were hit.
Steele's hit 56 in one game.
The last two days, the wind turned and was blowing in and things were very different. The format was two 7-team brackets playing double elimination with the two winners playing a one game championship.
In some individual accomplishments, Charles Wright (Super MVP) was first team All American in both Super and Major.  Rick Scherr, Mike Nye, and Cody Wyatt also garnered first team selections on both.  Don Clatterbaugh, Dale Mayo and Stave Yancey were all first team Super and second team Major.
Dave Steffen was 2nd team Super and 1st team Major, while Steve Craven and Doug Roberson were second team in both Super and Major. Worth Mentioning was the fact that the HR champ, Britt Hightower made an incredible diving catch to save the game for Ritch's in the bottom of the 7th inning with two outs and two men on base.
Former Major Leaguer Doug Flynn earned the ASA Wilson Field Master Gold Glove award as the outstanding defensive player in the tournament.  For the record, Charles Wright and Mike Nye were the only two Ritch's players to be named first team All-American in both the Major and Super events.
---
MVP – Charles Wright, Ritch's Salvage
HR Leader – Britt Hightower, Ritch's Salvage – 16
Batting Leader – Bruce Rains, Starpath/Kirks – .875
Wilson Field Master Award – Doug Flynn, Starpath/Kirks
---
FIRST TEAM ALL-AMERICANS
P – Mike Nye, Ritch's Salvage (21-37, .568, 6 HR, 17 RBI)
C – David Dale, New Construction (11 HR)
1B – Charles Wright, Ritch's Salvage (31-39, .795, 14 HR, 24 RBI)
2B – Steve Yancey, New Construction (4 HR)
3B – Rick Scherr, Superior/Apollo (18-21, .875, 7 HR)
SS – Doug Flynn, Starpath/Kirk's Glass (2 HR)
OF – Cody Wyatt, Starpath/Kirk's Glass (8 HR)
OF – Britt Hightower, Ritch's Salvage (25-39, .641, 16 HR, 33 RBI)
OF – Jeff Stamps, Ritch's Salvage (25-36, .695, 9 HR, 22 RBI)
OF – Russell Weilbacher, Century/Coors/Worth
EP – Don Clatterbough, Starpath/Kirk's Glass (3 HR)
UTIL – Dale Mayo, New Construction (14 HR)
UTIL – Leland Nelson, Century/Coors/Worth
UTIL – Jim Fuller, Superior/Apollo (6 HR)
UTIL – Gary Jones, Starpath/Kirk's Glass (11 HR)
SECOND TEAM ALL-AMERICANS
P – Ted Larson, Century/Coors/Worth
C – Dave Steffen, Superior/Apollo (4 HR)
1B – Bruce Rains, Starpath/Kirk's Glass (22-25, .880, 12 HR)
2B – Scott Jones, Starpath/Kirk's Glass (7 HR)
3B – Larry Neff, Ritch's Salvage (19-37, .514, 6 HR, 16 RBI)
SS – Fred Shipley, New Construction (4 HR)
OF – Dan Schuck, Starpath/Kirk's Glass (2 HR)
OF – Roger Snatchko, Stewart's Lounge (5 HR)
OF – Dewayne Frizzell, Lighthouse (6 HR)
OF – Steve Craven, Lighthouse (7 HR)
EP – Joe Rabbiutt, Stewart's Lounge
UTIL – Doug Roberson, Superior/Apollo (6 HR)
UTIL – Carl Rose, Lighthouse (9 HR)
UTIL – Tony Foschia, Stewart's Lounge (9 HR)
UTIL – Steve Sharp, New Construction (9 HR)
THIRD TEAM ALL-AMERICANS
P – Scott Wallisa, Stewart's Lounge (11 HR)
C – Baxter Burris, Ritch's Salvage (16-27, .593, 6 HR, 15 RBI)
1B – John Grissom, Steele's Silver Bullets (7 HR)
2B – Bill Gatti, Ritch's Salvage (19-33, .576, 11 HR, 28 RBI)
3B – Steve Skladany, Stewart's Lounge
SS – Calvin Linglebach, Instant Landscaping
OF – Andy Sanzaro, Superior/Apollo (3 HR)
OF – Dan Griffin, Ritch's Salvage (25-37, .676, 10 HR, 16 RBI)
OF – Cliff Carpenter, Bell Corp. (8 HR)
OF – Jon Meyer, Bell Corp. (7 HR)
EP – Roger Wilt, Lighthouse (4 HR)
UTIL – Brad Beattie, Century/Coors/Worth
UTIL – Scott Virkus, Steele's Silver Bullets (6 HR)
UTIL – Bucky Autry, New Construction (5 HR)
UTIL – Dirk Androff, Steele's Silver Bullets (9-17, .529, 8 HR, 14 RBI)
---
OTHERS
Freddie Trice, Ritch's Salvage (16-23, .696, 11 HR, 26 RBI)
Greg Miller, Ritch's Salvage (18-34, .529, 6 HR, 19 RBI)
Greg Whitlock, Ritch's Salvage (19-39, .487, 5 HR, 13 RBI)
Craig Elliott, Steele's Silver Bullets (8 HR)
Mike Ambers, Bell Corp. (8 HR)
Bill Blake, Steele's Silver Bullets (7 HR)
Bruce Meade, Ken Michaels/Franny Parr (7 HR)
Ted Cox, Ken Michaels/Franny Parr (7 HR)
Todd Joerling, Steele's Silver Bullets (7 HR)
Danny Holder, Lighthouse (7 HR)
Ed Berg, Stewarts Lounge (7 HR)
Doug Johnson, Premier Sports (7 HR)
Kerry Everett, Premier Sports (6 HR)
Rich Plante, Superior/Apollo (6 HR)
Darrell Beeler, Superior/Apollo (5 HR)
Wendell Rickard, Lighthouse (5 HR)
John Beasley, Bell Corp. (5 HR)
Kevin Tiny Giddens, Lighthouse (5 HR)
Ron Parnell, Steele's Silver Bullets (5 HR)
Dave Johnson, Starpath/Kirk's Glass (5 HR)
Ken Loeri, Steele's Silver Bullets (5 HR)
Ernie Montgomery, Steele's Silver Bullets (5 HR)
Monty Tucker, Steele's Silver Bullets (4 HR)
Larry Fredieu, Steele's Silver Bullets (4 HR)
Clyde Guy, Superior/Apollo (4 HR)
Dennis Graser, Superior/Apollo (4 HR)
Gregg Fuhrman, Superior/Apollo (3 HR)
Rick Wheeler, Ken Michaels/Franny Parr (3 HR)
Cecil Whitehead, Steele's Silver Bullets (3 HR)
Mike Macenko, Steele's Silver Bullets (2 HR)
Curtis Williams, Lighthouse (2 HR)
Mike Bolen, Ken Michaels/Franny Parr (2 HR)
---
FINAL STANDINGS
1. Ritch's Salvage, Harrisburg, NC (6-1)
2. Starpath/Kir's Glass, Monticello, KY (4-2)
3. New Construction, Shelbyville, IN (3-2)
4. Superior/Apollo, Windsor Locks, CT (2-2)
5t. Century/Coors/Worth/Atkins, St. Louis, MO (2-2)
5t. Steele's Silver Bullets, Grafton, OH (1-2)
7t. Lighthouse, Stone Mountain, GA (2-2)
7t. Stewart's Lounge, Pittsburgh, PA (1-2)
9t. Bell Corp, Tampa, FL (0-2)
9t. Bryan Tours, Jackson, MS (0-2)
9t. Instant Landscaping, West Palm Beach, FL (0-2)
9t. Dynasty, Cerritos, CA (0-2)
13t. Ken Michael's/Franny & Parr, Rockville, MD (0-2)
13t. Premier Sports, Tempe, AZ (0-2)