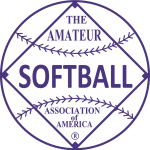 1988 held at Bloomington, Minnesota.
---
Champion: Spooks, Anoka, Minnesota
Runner Up: UPI, Cookeville, Tennessee
---
Ed Ghostley's Spooks went undefeated winning 5 straight games. They had a tough road to the championship winning they won over AES of Cincinnati 3-1 in 8 innings, they trailed Phenix of Georgia 8-0 and came back to win 9-8, They then beat the Pro Mac of California 4-3. This brought them to the winners bracket final against UPI. UPI had allowed just 7 runs in their 5 wins. But the Spooks won 5-2. UPI then had to face defending champs Key Ford Mustangs in the semi final and beat them 10-7. The Mustangs had lost to Cannan's Illusions in the second round and won 8 games in 40 hours. UPI now advanced to the title game and another shot at the Spooks. The championship game was no contest, Spooks jumped out to a 5-0 lead in the first inning. The Spooks slapped out 17 hits winning 11-4. They were led by Tournament MVP Linda Polley, who went 3 for 4 with 3 RBI and 3 Runs scored. UPI's Jenni Harp Oliver had a monster tournament as she went 20-30 (.667 Average) and drove in 14 runs.
---
MVP – Linda Polley, Spooks (17-34, .500)
Batting Leader – Trina Hartzog, Key Ford Lady Mustangs (17-22) – .773
Home Run Leader – Mary Stratton, Brentwood Center/Kinder – 2
---
1988 FIRST TEAM ALL AMERICANS
P – Charlotte Cates, Key Ford Mustangs
C – Jennifer Harp Oliver, UPI (20-30, .667, 14 RBIs)
1B – Brenda Pena, Key Ford Mustangs
2B – Mary Papiersky, Steele's
3B – Dee Christensen, Spalding/Kinder
SS – Trina Hartzog, Key Ford Mustangs
OF – Karen Baker, UPI
OF – Teresa Held, Spooks
OF – Carol Bemis, Spooks
OF – Lynn Putnam, Steele's
DP – Debbie Thompson, Pro-Mac
UT – Linda Polley, Spooks
UT – Linda Boatright, Zanderettes
UT – Cheryl Autry, Phenix
UT – Charlotte Dent, UPI
1988 SECOND TEAM ALL AMERICANS
P – Brenda Beyer, Steele's
C – Jamesie Booth, Pro-Mac
1B – Stephanie Monahan, Vernon's
2B – Gina Green, Key Ford Mustangs
3B – Laurie Gouthro, Vernon's
SS – Lisa Sanchez, Illusions
OF – Cynthia Cooper, Illusions
OF – Carol Moeling, UPI
OF – Robin Richardson, Key Ford Mustangs
OF – Anna Clements, Steele's
DP – Demetrise Thomas, Vernon's
UT – Tony Breidenbach, Hub Chrysler Plymouth
UT – Cindy Bell, Pro-Mac
UT – Tracey Kruger, Spooks
UT – Phyllis Allen, Zanderettes
1988 THIRD TEAM ALL AMERICANS
P – Nancy Garbett, Spooks
C – Rael Hodgson, Spalding/Kinder
1B – Bonnie Cox, Spalding/Kinder
2B – Judy Knight, Spooks
3B – Kelly Sutherland, Pro-Mac
SS – Sue Koziol, Steele's
OF – Lori Brenner, Spalding/Kinder
OF – Linda Garbett, Spooks
OF – Cheryl Snyder, UPI
OF – Tammi Terrell, Key Ford Mustangs
DP – Laura Fillipp, Hub Chrysler Plymouth
UT – Ann Morton, Vernon's
UT – Jamie Friedman, Vernon's
UT – Wendy Schake, Americ's
UT – Julie Morgan, Hub Chrysler Plymouth
---
FINAL STANDINGS
1. Spooks, Anoka, MN (7-0)
2. UPI, Cookeville, TN (6-2)
3. Key Ford Mustangs, Pensacola, FL (9-2)
4. Steele's, Plymouth Township, MI (7-2)
5t. Pro-Mac, Yorba Linda, CA (4-2)
5t. Spalding/Kinder, Kansas City, MO (6-2)
7t. Illusions, Houston, TX (3-2)
7t. Vernon's Jacksonville, FL (4-2)
9t. Bill Fraley's Wildcats, Lexington, KY (3-2)
9t. Phenix, Lawrenceville, GA (3-2)
9t. Mr. Dario's Pacers, York, PA (2-2)
9t. R&R Concrete, Lexington, KY (4-2)
13t. The Trumps, Atlanta, GA (3-2)
13t. Turner Express, Youngtown, OH (3-2)
13t. Rings, Dubuque, IA (3-2)
13t. Americs, Bloomington, MN (3-2)
17t. Hub Chrysler-Plymouth, Milwaukee, WI (3-2)
17t. Tosti Raiders, Farmington Hills, MI (1-2)
17t. AES, Cincinnati, OH (2-2)
17t. WW Gay Rebels, Jacksonville, FL (2-2)
17t. Martino's, Muncie, IN (1-2)
17t. Tuscaloosa Connection, Tuscaloosa, AL (3-2)
17t. Zanderettes, Apopka, FL (3-2)
17t. Pursuit, Midland, TX (2-2)
25t. B&I Sports, Tacoma, WA (1-2)
25t. Tuffies, Bloomington, MN (2-2)
25t. Hooligan's, Anamosa, IA (1-2)
25t. McGlaughlin Oil, Columbus, OH (2-2)
25t. Suburban Sporting Goods, Eastlake, OH (1-2)
25t. Busch Whiz Kids, Belleville, IL (1-2)
25t. Hogan's, Huntsville, AL (2-2)
25t. Atkinson Oil Company, Joplin, MO (2-2)
33t. Tuscaloosa Tops, Tuscaloosa, AL (0-2)
33t. Brentwood Center/Kinder, Springfield, MO (1-2)
33t. TC Merchants, West St. Paul, MN (0-2)
33t. Dairy Queen Fazers, Moberly, MO (0-2)
33t. Barberton Sokol Club, Akron, OH (0-2)
33t. Bud Light Spirits, Manchester, NH (1-2)
33t. Hide-a-Way Café, Colchester, CT (0-2)
33t. Destin Merchants, Destin, FL (1-2)
33t. Pederson's Fryer Farms, Seattle, WA (1-2)
33t. Ultimate Sports, St. Cloud, MN (0-2)
33t. Big Jim's Foxes, Phenix City, AL (1-2)
33t. Ozark Aces, Springfield, MO (1-2)
33t. Sullivan's Realtors, Bloomington, MN (1-2)
33t. County Sports Mice, East Northport, NY (0-2)
33t. Lakerettes, Conneaut Lake, PA (1-2)
33t. Tulsa Good Times, Tulsa, OK (1-2)
49t. Team Choice Sultans, Bloomington, MN (0-2)
49t. Gabe's by the Park, St. Paul, MN (0-2)
49t. Pittsburgh Debs, Pittsburgh, PA (0-2)
49t. Pacers, Moline, IL (0-2)
49t. Three Brothers, Milford, CT (0-2)
49t. RAX, Evansville, IN (0-2)
49t. Bracers, Bloomington, MN (0-2)