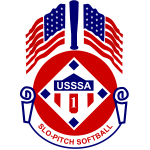 1987 held at Garland, Texas.
---
Champion – Empress Chili, Cincinnati, Ohio (67-20)
Runner Up – Hub Chrysler Plymouth-South, Milwaukee, Wisconsin
---
After Hub Chrysler defeated Empress Chili 16-0 in the losers bracket, the Cincinnati club had to come back and then beat Hub Chrysler twice, which they did.  For the first time in USSSA Women's World Series history, a player not on the winning team was named MVP. As a matter of fact, she was not on the runner-up team either. But Sue Kozoil of Steele's Sports made such an impact on the teams, players and officials with her pure athleticism, that it was an obvious choice.
---
MVP – Sue Kozoil, Steele's (.700, 11 HR)
Batting Leader – Sue Kozoil, Steele's – .700
HR Leader – Sue Kozoil, Steele's – 11
Defensive MVP – N/A
---
1987 ALL WORLD TEAM
P – Brenda Beyer, Steele's Sports
C – Jan Deters, Empress Chili
1B – Marianne Thomas, Empress Chili
2B – Sharon Graham, Empress Chili
3B – Cheryl Hanks, Hub Chrysler
SS – Sue Kozoil, Steele's Sports
OF – Lyn Rose, Empress Chili
OF – Velma Lehman, Empress Chili
OF – Debbie Blazer, Hub Chrysler
OF – Dottie Davis, Steele's Sports
UT – Shelly Stanicek, Hub Chrysler
UT – Denise Eckert, Huntel Systems
Manager – Gloria Hill, Empress Chili
FINAL STANDINGS (Incomplete)
1. Empress Chili, Cincinnati, OH
2. Hub Chrysler Plymouth-South, Milwaukee, WI
3. Steele's Sports, Grafton OH
4. Orlando Strikers, Orlando, FL