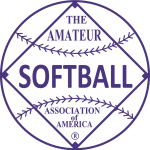 1987 held at Pensacola, Florida.
---
Champion: Key Ford Lady Mustangs, Pensacola, Florida
Runner Up: Spooks, Anoka, Minnesota
---
The Key Ford Mustangs reached the National Semi Finals for the fourth straight year, finishing third in 1984, 1st in 1985 and fourth last year. They went through this year's tournament undefeated with a 7-0 record. They defeated The Ghostley Spooks from Minnesota in the championship 6-1. Tournament MVP Myra Williams and Trina Hartzog both singled and scored in the first inning to make it 2-0. After the Spooks scored and the Mustangs countered with a couple more runs, the score was at 4-1. In the sixth inning, Myra Williams singled again and scored on Tammi Terrell's drive to left. Charlotte Cates singled and she scored Stephanie Sugg's hit to make the score 6-1. The Mustangs defense was incredible with Charlotte Cates pitching, giving up only 10 runs in 7 games.
---
MVP – Myra Williams, Key Ford Lady Mustangs
Batting Leader – Joanne Zayac, WW Gay Rebels (16-25) – .640
Home Run Leader – Myra Williams, Mustangs – 1
Home Run Leader – Gina Green, Mustangs – 1
Home Run Leader – Tracey Kruger, Spooks – 1
Home Run Leader – Freda Miller, Lakerettes – 1
---
1987 FIRST TEAM ALL AMERICANS
P – Charlotte Cates, Key Ford Mustangs
C – Helen Kelchner, Key Ford Mustangs
1B – Debbie Bregler, WW Gay Rebels
2B – Judy Knight, Spooks
3B – Judy Krantz, UPI
SS – Kelly Henderson, WW Gay Rebels
OF – Carol Moeling, UPI
OF – Tammi Terrell, Key Ford Mustangs
OF – Myra Williams, Key Ford Mustangs
OF – Carol Bemis, Spooks
DP – Joanne Zayac, WW Gay Rebels
UT – Linda Polley, Spooks
UT – Lorraine Hudson, Key Ford Mustangs
UT – Teresa Held, Spooks
UT – Trina Hartzog, Key Ford Mustangs
1987 SECOND TEAM ALL AMERICANS
P – Nancy Garbett, Spooks
C – Patricia Nealing, WW Gay Rebels
1B – Brenda Pena, Key Ford Mustangs
2B – Sharon Mancil, Keen Carpet Tomboys
3B – Shelley Johnson, Spooks
SS – Judy Wrather, UPI
OF – Valerie Mercado, Bay Brats
OF – Anna Clements, Bay Brats
OF – Vivian Langley, WW Gay Rebels
OF – Lori Wright, WW Gay Rebels
DP – Libby Parrish, Keen Carpet Tomboys
UT – Melissa Tanner, Bay Brats
UT – Linda Nelson, Spooks
UT – Jody Trimmer, Mr. Dario's Pacers
UT – Karen Baker, Atlanta Trumps
1987 THIRD TEAM ALL AMERICANS
P – Gaye Wilson, WW Gay Rebels
C – Ann Peters, Mr. Dario's Pacers
1B – Lee Delk, Atlanta Trumps
2B – Tracy Shellnut, Atlanta Trumps
3B – Marilyn Proher, WW Gay Rebels
SS – Denize Wentz, R&R Concrete
OF – Toni Robinetter, Bay Brats
OF – Lisa Robinson, Sheriff's Stars
OF – Linda Garbett, Spooks
OF – Tracey Kruger, Spooks
DP – Karen Murphy, Bobby Gene's Comets
UT – Peggy Begy, Tosti Raiders
UT – Jennifer Harp Oliver, UPI
UT – Darby Cottle Veazey, Keen Carpet Tomboys
UT – Anne Barlow, Sheriff's Stars
---
FINAL STANDINGS
1. Key Ford Mustangs, Pensacola, FL (7-0)
2. Spooks, Anoka, MN (6-2)
3. WW Gay Rebels Jacksonville, FL (6-2)
4. UPI, Cookeville, TN (5-2)
5t. Bay Brats, Tampa, FL (5-2)
5t. Mr. Dario's Pacers, York, PA (6-2)
7t. Tosti Raiders, Farmington Hills, MI (3-2)
7t. Atlanta Trumps, Atlanta, GA (4-2)
9t. R&R Concrete, Lexington, KY (4-2)
9t. Keen Carpet Tomboys, Tifton, GA (3-2)
9t. Sheriff's Stars, Pensacola, FL (3-2)
9t. Bobby Gene's Comets, Omaha, NE (4-2)
13t. Busch Whiz Kids, Belleville, IL (3-2)
13t. Star Precision, Mentor, OH (3-2)
13t. Olympic Sports, Seattle, WA (3-2)
13t. Holiday Hill, Mansfield, CT (2-2)
17t. Tuffies, Farmington Hills, MI (2-2)
17t. Illusion/Chance, Houston, TX (2-2)
17t. Tele Power Services, Muncie, IN (2-2)
17t. State Farm Insurance, Mansfield, LA (3-2)
17t. All Pro Line Inc., Brookpark, OH (1-2)
17t. Lakerettes, Conneaut Lake, PA (2-2)
17t. Macon Chargers, Macon, GA 1-2
17t. Zanderettes, Apopka, FL (2-2)
25t. Kwik-Way Roadrunners, Charlotte, NC (2-2)
25t. McBride's, Champaign, IL (1-2)
25t. Ozark Express, Springfield, MS (1-2)
25t. Cobra Trucking, Pearl, MS (1-2)
25t. Three Brothers, Milford, CT (1-2)
25t. Brentwood Center, Springfield, MO (1-2)
25t. Turner Express, Youngtown, OH (1-2)
25t. Sports Page, Ames, IA (1-2)
33t. Little Falls Stingers, Little Falls, MN (0-2)
33t. Jack Daniel Chapter Debs, Pittsburgh, PA (0-2)
33t. Mid America, Detroit, MI (0-2)
33t. Arkansas Naturals, Little Rock, AR (0-2)
33t. Cannan's Flames, San Antonio, TX (0-2)
33t. Spencer Water Filters, Shreveport, LA (0-2)
33t. Kruse Furniture, Elida, OH (1-2)
33t. Andre's, Medford, MA (0-2)
33t. Cannan's Blazers, Bryan, TX (0-2)
33t. Joe's Pharmacy, Montgomery, AL (0-2)
33t. McGlaughlin Oil, Columbus, OH (0-2)
33t. B+1 Sports, Tacoma, WA (0-2)
33t. Bud Light Spirits, Hooksett, NH (0-2)
49t. Dahco's Wichita A's, Derby, KS (0-2)
49t. Pacers, Moline, IL (0-2)