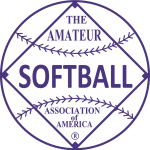 1987 held at Parma, Ohio.
---
Champion – Steele's Sports, Grafton, Ohio (340-15)
Runner Up – Budweiser, Youngstown, Ohio
---
Steele's did what it was expected to do and that was win their third straight ASA Super National Championship. They defeated Budweiser of Youngstown, OH in the championship game 18-5. Steele's went undefeated, winning their four pool play games and then three straight in the double elimination portion of the event to go 7-0 on the weekend and they hit 76 HR over the special 320 foot fence that was constructed for the event.
---
MVP – Mike Macenko, Steele's (27-36, .750, 12 HR, 26 RBI)
HR Leader – Scott Virkus, Steele's (22-33, .667) – 16
Batting Leader – Mike Macenko, Steele's – .750
---
ASA SUPER ALL AMERICANS FIRST TEAM
P – Rick Weiterman, Steele's Sports
C – Craig Elliott, Steele's Sports
1B – Dennis Graser, Steele's Sports
2B – Mike Macenko, Steele's Sports (27-36, .750, 12 HRs, 26 RBIs)
3B – Ken Dain, Steele's Sports
SS – Ron Parnell, Steele's Sports
OF – Mark Odabashian, ABC Driveway/Holy Name
OF – Doug Roberson, Steele's Sports
OF – Scott Virkus, Steele's Sports (22-33, 667, 16 HRs)
OF – Fred Trice, Steele's Sports
EP – Phil Adams, Budweiser
UT – Dick Marlow, Budweiser
UT – Jeff Stamps, Steele's Sports
UT – Jim Kuhl, Budweiser
UT – Mickey Vittardi, ABC Driveway/Holy Name
---
FINAL STANDINGS (overall record counting Pool Play games)
1. Steele's Sports, Grafton, OH (3-0) 7-0 including pool play
2. Budweiser, Youngstown, OH (1-2) 2-5 including pool play
3. ABC Driveway/Holy Name, Parma, OH (0-2) 1-5 including pool play