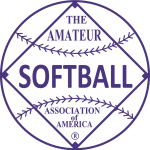 1976 held at Stratford, Connecticut.
---
Champion – Raybestos Brakettes, Stratford, Connecticut (44-12)
Runner Up – Plain American, Washington, D.C.
---
Even with Joan Joyce leaving the team in 1975, the Raybestos Brakettes somehow come up with a new superstar by the name of Barbara Reinalda. All she did was pitch every single inning and lead the Brakettes to a 6-1 record. She only gave up 3 ERs and if that's not enough, she won the batting crown with a 9-21 performance (.429) and 5 of her 9 hits were doubles. Reinalda won 5 straight games and then lost the first final 1-0 to the Plain Americans. But she came back to pitch in the final Championship game and won 3-2.
---
MVP – Barbara Reinalda, Raybestos Brakettes
HR Leaders – Six tied with 1 HR
Batting Leader – Barbara Reinalda, Raybestos Brakettes – .429
Bertha Tickey Pitching Award – Barbara Reinalda, Raybestos Brakettes
Erv Lind Defensive Award – Dorie Anderson, Orlando Rebels
---
FIRST TEAM ALL-AMERICANS
P – Barbara Reinalda, Raybestos Brakettes (6-1, 51 IP, 3 ER; 9-21, .429, 5 Doubles)
P – Bessie Phillips, Plain Americans (4-1)
P – Dottie Davidson, Orlando Rebels (3-2)
C – Diane Seery, Raybestos Brakettes
C – Marilyn Rau, Sun City Saints
1B – Diane Schumacher, Raybestos Brakettes
2B – Lydia Estes, Plain Americans
3B – Maureen Ahern, Tonawanda Shamrocks
SS – Debbie Langevain, Northridge Royals
OF – Sue Enquist, Raybestos Brakettes (9-22, .409)
OF – Linda Coats, Sun City Saints
OF – Judy Hoke, Sun City Saints
OF – Susan Bachman, Sun City Saints
UTIL – Nancy Naze, West Allis Bankettes
SECOND TEAM ALL-AMERICANS
P – Melannie Kyler, Sun City Saints (3-1)
P – Carol Townsend, West Allis Bankettes
P – Paula Noel, Sun City Saints (2-1)
C – Mary Hutton, Plain Americans
C – Janet Leising, Tonawanda Shamrocks
1B – Mary Lou Carroll, Plain Americans
2B – Mary Lou Cushing, Orlando Rebels
3B – Beth Quesnel, Raybestos Brakettes
SS – Sue Paylor, Raybestos Brakettes
OF – Lisa Dennis, Raybestos Brakettes
OF – Becky Rice, Sun City Saints
OF – Betty Wright, Plain Americans
OF – Marge Voith, Plain Americans
UTIL – Marlys Taber, West Allis Bankettes
---
FINAL STANDINGS
1. Raybestos Brakettes, Stratford, CT (6-0) (Defending Champ)
2. Plain American, Washington DC (5-2) (Central Atlantic)
3. Sun City Saints, Sun City, AZ (5-2) (Cactus)
4. Shamrocks, North Tonawanda, NY (3-2) (Mid-Atlantic)
5t. Orlando Rebels, Orlando, FL (3-2) (Southern)
5t. Northridge Royals, Los Angeles, CA (2-2) (South Pacific Coast)
7t. Lowry Construction, Memphis, TN (2-2) (Southwestern)
7t. West Allis Bankettes, West Allis, WI (3-2) (West Central)
9t. Chico Peppers, Chico, CA (1-2) (North Pacific Coast)
9t. Travelers, Spokane, WA (1-2) (Northwestern)
9t. Wichita Arrows, Wichita, KS (1-2) (Western)
9t. Waltham Drifters, Waltham, MA (1-2) (New England)
13t. Warehouse Records, Houston, TX (0-2) (Texas)
13t. Lorelie Ladies, Atlanta, GA (0-2) (South Atlantic)
13t. Precision Plating, St. Paul, MN (0-2) (Northern)
13t. Wyoming Whirlpool, Wyoming, MI (0-2) (East Central)
17. Law Equipment, Greeley, CO (0-2) (Rocky Mountain)
---
NOTES
Canada Champ – Vancouver Doc's Blues, Vancouver, BC did not attend