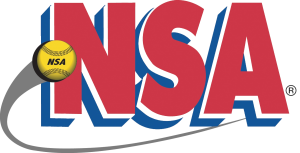 1986 held at Houston, Texas.
---
Champion – Steele's Sports, Grafton, Ohio
Runner Up – Texas Sports, Houston, Texas and CDI, Oklahoma City, Oklahoma (CDI won coin flip for 2nd)
---
Steele's beat Texas Sports 25-4 in the Winner's Bracket finals. Texas Sports upset Smythe Sox 22-19 to reach the winner's bracket final. Once in the loser's bracket, CDI of Oklahoma City eliminated Smythe Sox 17-16 and then eliminated Stone City Cannans of San Antonio 18-9 in the loser's bracket. Then, while they were about to play Texas Sports in the loser's bracket final for the right to play Steele's for the championship, the rains came and washed away the tournament. Undefeated Steele's (7-0) was declared the champ, CDI won a coin flip over Texas sports to claim second place. Stone City was fourth, while the Smythe Sox (5-2) and Budweiser Right On of Houston tied for fifth. Mike Macenko recorded 21 consecutive hits to start the tournament on his way to the MVP Award.
---
MVP – Mike Macenko, Steele's Sports (27-31, .871, 15 HRs, 24 RBIs)
HR Leader – Charles Wright, Steele's (31-54, .574, 39 RBIs) – 21
Batting Leader – Mike Macenko, Steele's – .871
---
NSA Super Worlds All-World Team (incomplete)
Mike Macenko, Steele's Sports (27-31, .871, 15 HRs, 24 RBIs)
Charles Wright, Steele's Sports (31-54, .574, 21 HRs, 39 RBIs)
Craig Elliott, Steele's Sports (27-35, .771, 17 HRs, 31 RBIs)
Mike Bolen, Steele's Sports
Dennis Graser, Steele's Sports
Doug Roberson, Steele's Sports
Greg Schulte, Texas Sports
*No info available on remainder of all-tournament team (Texas Sports, CDI and Stone City players)
---
FINAL STANDINGS (incomplete)
1. Steele's Sports, Grafton, OH 7-0
2. Texas Sports, Houston, TX
2. CDI, Oklahoma City, OK 6-2
4. Stone City Cannans, San Antonio, TX
5t. Smythe Sox, Houston, TX 5-2
5t. Budweiser Right-On, Houston, TX
*No info available on the remaining teams (20 total), records and their finish
Wamble Insurance, Houston TX
Houston Hawks, Houston TX
Williams' Stars, Houston TX
Traux, Houston TX
Kace, Houston TX
Phelps Insurance, Houston TX
Dallas, DeSoto TX
Austin Toyota, Austin, TX
Ardis Roofing, Greenwood, SC
Athletic Shop, Hammond, LA
– plus the 4 other teams that also entered